15 years' work brings community a holiday gift: opening of new CMH development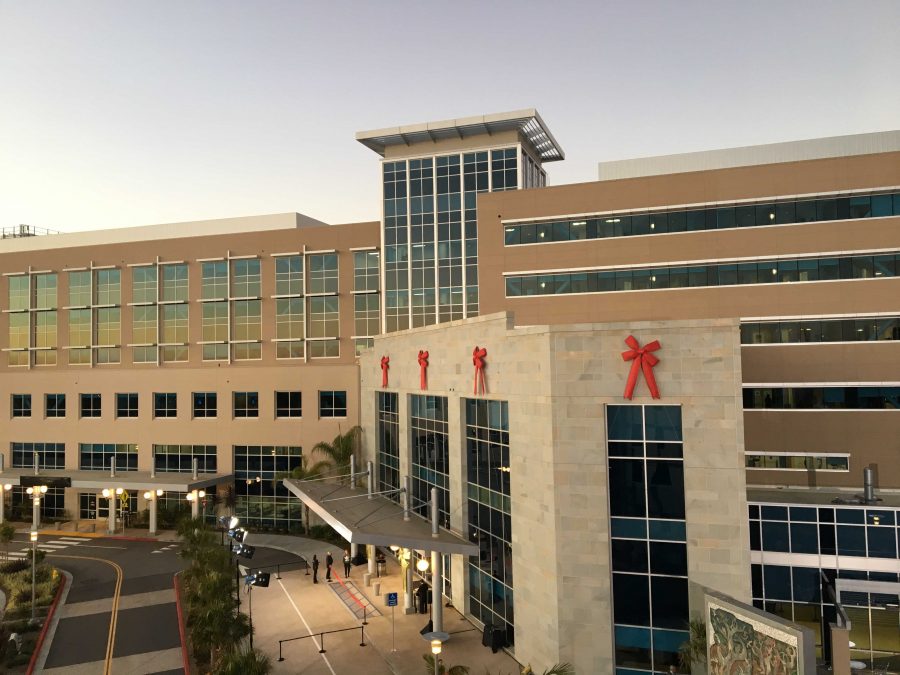 Noelle Hayward
December 13, 2018
In the spirit of the holiday season, Ventura will be presented with a gift: the grand opening of the "Ocean Tower" development of the Community Memorial Hospital (CMH) that launches on Sunday, Dec. 16th.
On Dec. 11th, Community Memorial Hospital (CMH) held an intimate celebration for the opening of the new additions to the hospital, all of which are part of a structure called the Ocean Tower. Physicians, architects and donors alike gathered to enjoy the benefits of the projects that have been in the works since 2003. The reception, which included speeches and songs, was able to happen thanks to CMH's Development Office.
The night began with remarks from Ventura Mayor Matt LaVere, CMH Chief Executive Officer (CEO) Gary Wilde and others, which was followed by a special song production.
Wilde claimed that the night was significant as it characterized a "very important milestone for our community" as "a hospital like this lasts for about 50 or 60 years."
"It marked about 15 years of actual work, preparing from the very initial plans and getting approval and funding and so forth, and finally being able to open the new hospital," Wilde continued.
In these subsequent years, Adam Thunell, the Chief Operating Officer for CMH, suggested that "there will be hundreds of thousands of births here [and] surgeries here," so the opening of this new segment is a "significant point" in time.
"There'll definitely be individuals that either start their life or end their life here," he said.
According to Lamar Bushnell, Chief of Medical Staff and Cardiothoracic Surgeon of CMH, said the construction of the new Ocean Tower was proposed because "the state assembly passed a law that all the hospitals had to meet new earthquake codes."
He views these newly-instated requirements as "an excuse" to build the new hospital.
Wilde believed the changes and additions provided by the new hospital would serve both the staff and general community much more efficiently.
He explained that "there are two important categories that are an improvement from what we [had]: high tech and high touch."
Regarding the implementation of "high tech," Wilde noted that "we have now acquired the most advanced imaging equipment in the world," which "benefits the patients and the community, [and] it attracts physicians who know how to use that equipment."
Pursuant to the idea of higher terms of technology, CMH Vice President of Marketing and Development Mike Ellingson stated that before the new addition, physicians were "in a building that was built 50 years ago."
As these physicians are practicing in a building that doesn't "match up to their expertise," Ellingson said that the new technology will give these physicians "a facility that matches their medical expertise."
High touch aspects, Wilde stated, are the "amenities for both patients and visitors," including private rooms, gardens and "art that gladdens the heart," all of which he believes is something "patients will appreciate even more."
Wilde added that although the new hospital greatly benefits the community, "the downside […] is there are some departments […] where physicians and staff have been used to working literally side by side, […] and now we're going to be in departments where it's spread out." However, he believes that "90% of it is very positive" change.
Additionally, Ellingson said that "it's a great economic boom for the area," because there are "a lot of businesses that exist being attached to the hospital."
Ellingson explained that "the old building now will be considered just our outpatient services, so all of our outpatient services and our administrative offices and our support offices will be in the old building." The Ocean Tower will be utilized for "inpatient services."
The evening celebrating the new hospital was concluded with three ceremonial ribbon cuttings: one for hospital contributors, another for medical staff and a third for architects and contractors.
Thunell concluded that now with this new development, instead of having to "travel elsewhere" for medical expertise, "state of the art healthcare" can be found by patients and practitioners "locally."