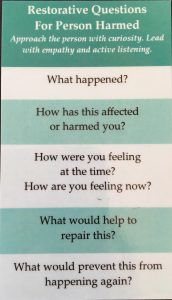 Following tumultuous weeks of school board meetings, community forums and investigations that culminated in Superintendent David Creswell's resignation, the community gathered to discuss restorative justice at the E.P. Foster Library. The meeting, which was initially planned to take place at Buena High School, was convened at 9 a.m. on Saturday, Dec. 8.
Ventura High School teacher Karen Reynosa, along with Buena High School teacher Karen Rodrigues, opened the restorative justice discussion, which was intended to spark the process of reconciliation in the aftermath of Creswell's resignation. Reynosa believed that throughout the discussion, attendees were likely "not going to agree," but believed that "that's okay" because it's a time for "moving forward and coming together."
"It's not for them to feel comfortable," she said. "It's for us to get out what we truly believe in, so as a community we can go out and help others."
Foothill parent Lori Franco, confused about the exponential "blow up" of conflict, was concerned that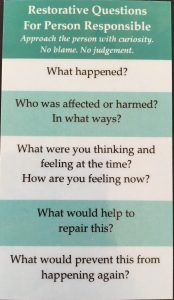 "there's a climate in the classroom that [her] daughter has experienced that if you speak up for your beliefs, for your political views and they're not the same as the general population, that you're attacked."
In a similar sentiment, teacher Sheryn Ward questioned whether Creswell's resignation "set a precedent that your personal beliefs will be held against you."  
Franco also expressed that she wishes that "teachers could just teach," instead of imparting their opinions upon students.
Another parent, Tom Weisel, believed that the process of dealing with the coming to light of Creswell's sermon "got a little out of hand."
"We had an opportunity to give our kids a lesson about giving a second chance," he said. "We blew [that] chance.[..] We have to take this as a learning opportunity for our kids because it is about those kids," he concluded.
Speaking as a member of the school board, Sabrena Rodriguez said that the board "didn't do our job in communicating with our community in the way that we could, and I think that has further lead to divides rather than helped us to work through that."
Aside from commentary on how the situation affected students, parents, teachers and the broader community, the conversations included opinions regarding how to repair and recover from the damage.
Some suggested for staff to continue remaining impartial, as stipulated by their duties as government employees.
Karrie Carey, a parent and staff member at Foothill, stated that "as a public employee," she strives "to leave [her] personal, political, social, whatever thoughts at the door" to refrain from showing partiality at work.
"Especially being a forward facing employee in the front office," Carey doesn't want visitors "to feel like [she's] going to treat them any differently."
Others suggested for attention to be shifted to aiding student recovery.
Parent Beth Mansfield wanted to shift "the focus" to now "be on the 17 thousand students in our district."
She wants to "ensure that all those students get a seamless transition from the superintendent," and suggested the incorporation of more social and mental health resources at schools to help mediate this change.
Teacher Caroline Becker believed that for such an issue, one must "have a heart for both sides." For the future, she recommended that authorities "slow […] down when there are a lot of disagreements," "talk about it" and "give forgiveness."
Audrey Ford, Program Coordinator for Rainbow Umbrella, claimed, alongside teacher Halina Cheung, that conversation is critical for recovery, as "shame and bias can't live when we're not talking about [the issue]," but it can "when we name it and acknowledge it, which is what we're doing today."
Ford encouraged the audience to "keep having these conversations."
Reynosa contributed that her "number one goal in life is for every kid to be loved and for every kid to be accepted." She believed that "this is going to be the thing we need to grow and to come together."
As for the marginalized population, Ford announced that "what we're really talking about is carving out space for those who feel small, those who feel silenced."
With a diverse array of perspectives elucidated at the meeting, Rodriguez was appreciative that people were unified in the process of "sharing their perspectives."
"As a community, the only way we're going to heal is through conversation," she said. "Every voice is important."