California Lutheran honors victims of the Borderline shooting in chapel service
On Nov. 7, 2018, yet another mass shooting claimed the lives of 12 at Borderline Bar & Grill in Thousand Oaks, Ca. Today, on Nov. 8, 2018 at 11:15 a.m., loved ones, students and faculty at California Lutheran (Cal Lutheran) University gathered to mourn those lost in this tragedy.
Today is the 312th day of the year. https://t.co/8pCV1jRPyJ

— Chelsea Clinton (@ChelseaClinton) November 8, 2018
As part of college nights on Wednesday evenings, the Borderline Bar & Grill was the common place for students to gather and connect after long school days.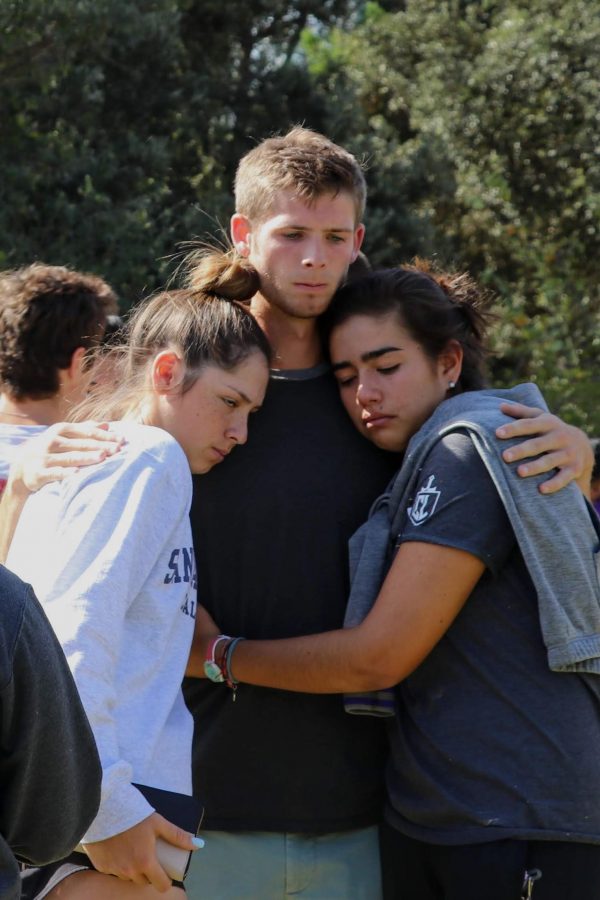 Foothill Technology alumna and current Cal Lutheran student Suvee Ranasinghe describes the college night at Borderline to be "a really popular event here."
"It's the go-to thing," Ranasinghe said.
According to Cal Lutheran student Marissa Chavira, Thousand Oaks is "such a safe community that you never think that it will happen to you" and "that it has been talked about a lot with Thousand Oaks being a really safe community."
In response to the event, the Cal Lutheran faculty organized a chapel service in commemoration of the 23-year-old Cal Lutheran student Justin Meek whose life was taken.
Many from the Thousand Oaks community came together to attend the service, held at Cal Lutheran's chapel. Family, friends and strangers gathered in support for one another, honoring the lives lost and paying their respects. A general chapel on Thursdays is a weekly occurrence, but it took on an unprecedented level of meaning today.
Religion Professor Colleen Windham-Hughes explained how the faculty redesigned the service "to be appropriate for a community that is grieving."
The main purpose of this chapel service was to assure students they aren't alone and to offer resources to begin the healing process. "The space is open and it's important to be together," and moving forward, "it's important to show up with and for each other," Windham-Hughes said.
According to Cal Lutheran student Leah Marty, this is a time to "connect with people and really be a community." She also believes that now is the time when "it's important to connect with each other because we can all relate to this and we are all hurting."
Along with fostering emotional support within the community, several others organized events to assist with the physical ramifications of the shooting. For example, United Blood Services parked blood donor trucks at La Reina High School to raise units of blood to give to hospitals within the community, with lines lapping the school to donate. While many felt hopeless, this gave them an opportunity to make a difference.
On the night of Nov. 7, Ventura County became a statistic in America's history of mass shootings. Thousand Oaks and surrounding towns are expected to feel the ramifications of this devastation for years to come, as such an event in one's hometown creates a different perspective on the reality of mass shootings.

With strangers acting as family, community members and students found comfort in the the chapel.
Marty believes America can avoid additional mass shootings in the future by "calling our Congressmen and emailing your Senator and everyone who will listen, because this will happen again and it will continue to happen. It might be one of us next time. We have voices and we need to use them now."