Cross country starts off season strong at UCSB Gaucho Invitational
On Saturday, Sept. 1, the Foothill Technology cross country team kicked off their season with a solid race. The varsity girls' team, who are reigning California Interscholastic Federation (CIF) and State Champions, look to defend their title. Meanwhile, the boys placed third in CIF and State in 2017. The University of California, Santa Barbara (UCSB), quite possibly the "most scenic cross country course in the state" according to head coach Jason Dinkler, was the course location. Along with the great weather conditions, the Dragons had a very successful day. The four different races featured in Saturday's Gaucho Invitational consisted of the boys and girls 1.43 mile course, as well as the boys and girls three mile course.
@FoothillTech Cross Country Teams will compete in their first meet of 2018 – UCSB Gaucho Invitational on 9/1/18! Well wishes to our Dragon Runners and all our friends from visiting schools! S/O to @UCSBgauchos for sharing your space with us! pic.twitter.com/2EzZdl3k1J

— FTHS Athletics (@fths_athletics) August 31, 2018

In the three mile race, the girls upheld their previous titles and placed eight girls in the top 17, along with a team finish of second with 50 points; Westlake claimed first place with 28 points.
Hana Vrablik '19 led the pack, finishing fifth out of 128 while coming in at 19:25.00.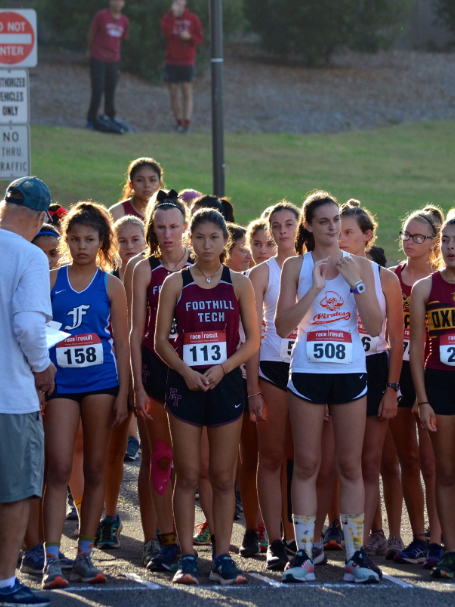 Dinkler described Vrablik's effort as "a great tactical race."
She was followed by teammates Blythe Blakeman '19 (11th place), Lauren Kearney '19 (12th place), Gretchen Scherrei '20 (13th place), Kennedy Gomez '19 (14th place), Brooke Secreto '21 (15th place) and Addy Munroe '20 (17th place).
Although Vrablik is accredited with Foothill's fastest finish, she emphasized that "the way to win is to have a good team that can run fast in a pack."
"It's so much easier to race when you're racing next to your teammates," Vrablik said.
Meanwhile, Dinkler is confident that the girls' team will "continue to improve individually and as a team as they get stronger and fitter."
Following an action-packed beginning, the boys' three mile racers took to the course. Oliver Pick '21 finished ninth out of 134 at 16:27.83. Overall, the boys tied for fourth place at 118 points.
Although the boys' team took a hit last year as plenty of key seniors graduated, a younger team simply means "fantastic potential for improvement," according to Dinkler.
Leadership from several veterans like Jason Messner '19 and Daniel Montes '19 help encourage the team to push forward.
For the Dragons, the first race on the 1.43 mile course was dominated by freshman girls. Maya Diaz '22 (ninth place) led for Foothill at 9:56.60, followed by Angel Gray-Reyes '22 (15th place) and Isabella Edgmond '22 (18th place).
It's the front of the pack (Girls Long Course) at the UCSB Invitational pic.twitter.com/RJAFxP7wsI

— FTHS Athletics (@fths_athletics) September 1, 2018
Even after a delay due to an injury in the previous girls' race, the boys' 1.43 mile course had a very strong pack finish, securing first as a team. The boys' team stayed disciplined and was able to maintain focus even after standing at the starting line much longer than expected. When it was all said and done, four of the top eight spots were obtained by Aidan Smith '21 (fourth place) at 8:47.40, Brendan McCormick '20 (fifth place), John Scherrei '22 (seventh place) and Jacob Walker '22 (eighth place).
Overall, the Dragons kicked off the season with a "solid opening meet" in the eyes of Dinkler and created lots of positive energy to put forward towards their goal to once again be CIF and State Champions.
According to Vrablik, "there's a […] lot of work to be done," but "both teams are really motivated and that's super exciting."
This momentum and determination will follow the Dragons to their second meet: the Morro Bay Invitational on Saturday, Sept. 8.
To view the full results from Saturday's invitational, click here.
Editor's Note: Jason Messner and Hana Vrablik are staffers for this publication. They were not involved in the reporting of this article.