Starting the school year strong with no backpacks in sight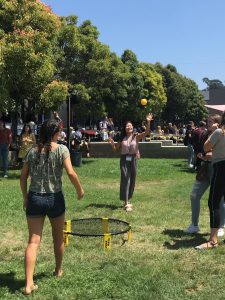 As the swarm of Foothill's new and returning students trickled onto campus, returning students were greeted with a familiar event that proved to be a new thing for freshmen and transfers. For the second year in a row, Associated Student Body (ASB) organized a "No Backpack Day," in which students were told to leave school supplies at home, and instead participate in stress-relieving and icebreaking activities during class. Bonding games and music during break and lunch was also included.
ASB Advisor Melanie "Captain" Lindsey planned the event along with ASB President Abby Sourwine '19 and ASB Vice President Josiah Beharry '19. They have been adding and revising the event for many months, going off of the feedback from last year.
Lindsey stated that the goal of this event was to "change the focus" of the first school day from academic to social, allowing students to "connect with peers and teachers," rather than worrying about launching straight into classes.
Assistant Principal Tina Perez was enthusiastic about the atypical back to school bonding.
"You make relationships on this day, specifically with teachers and other people in your class, that you don't have the opportunity to make anywhere else at Ventura Unified," Perez said.
She also noted that the day was mostly intended for the incoming freshmen who would hopefully use the opportunity to make "a connection to somebody on campus."
Sourwine said that because school usually begins with a dive into academics, No Backpack Day "gives you a chance to see the school in a way that isn't academic."
On the other hand, Diego Gorostiza '22 was surprised by the relaxed atmosphere of "No Backpack Day." He said that it surrounded Foothill with a "non-academic vibe," which contradicted his expectation that Foothill was a strictly academic school.
Clare Duganne '19 stated that the ambiance of the school felt "more chill" and the teachers were "less uptight." This provided the opportunity for bonding with new classmates, learning about teachers and viewing the school as less of a strictly academic environment.
Editor's Note: Abby Sourwine is a staff member of our publication; she was not involved in the reporting or writing of this article.