For many Dragons, the school day started at 6:00 a.m. on May 18. Although it was hours before the show had even begun, blankets were laid down, chairs were propped up and spots were quickly claimed, signifying Foothill's annual outdoor show.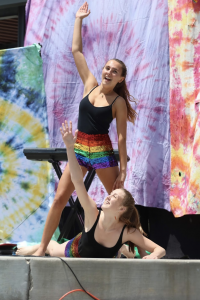 After 30-minute classes, students had the opportunity to choose from five food catering options which lined the back parking lot: Jamba Juice, Mister Softee, Kona Ice, Pizza Man Dan's and El Tapatío.
The tye-dye themed and groovy vibe of this year's Air Guitar was kept alive by hosts Claire Renar '19 and Ceci Goncalves '19. The coordination of the event was overseen by Associated Student Body (ASB) student Ella Growdonstark '18.
Judging the 15 acts performed were teachers Rick Villano, Tina Perez, Brooke Schmitt and Heather Ferris.
Winning first place was Colin Boyle '18, Tristan Arana '21 and Rodrigo Gonzales '18, a group of musicians that performed three different songs, putting their own twist on the combination of three different genres.
Taking second place was Amazing Oakes '20, who played the keyboard while serenading the audience with the song "Hallelujah."
Giovanni Recinos '18 took third place with his original rap, dedicating it to "anyone who has ever been discriminated against, […] lonely, [or] in love"
Unlike in the past, there were two teacher acts. One was an eighties-themed lip-syncing band called MLF, which included teachers Kurt Miller, Yiu Hung Li and Dan Fitzpatrick, who gave an electric performance. The other act was brimming with teachers, song variety and had the whole student body up and dancing by the end.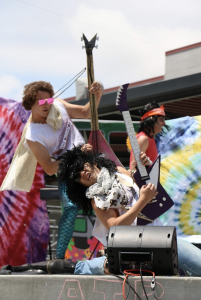 This year, a new award called the Renaissance Student of the Year was introduced and will be an annual tradition. The inaugural awards for each grade level went to Hannah Dearman So '21, Thomas Weldele '20 and Annika Kinnaman '19.
The Tanner Alvara Award, given out every year to a freshman that exemplifies strength, perseverance and positivity, went to Gina Trevason '21. The award was named after former Dragon Tanner Alavara and it commends those who overcome adversity and come to school with a smile on their face.
Per usual, Air Guitar had an overwhelmingly positive reaction from students from all grade levels. Corey Mendez '21, experiencing his first of four Air Guitars, was excited to see the teacher act and to "watch everyone do silly things on stage."
"It's different from what most schools do, [and] that's what makes it unique about Foothill in general," Mendez said. "A lot of students need a break from all the school and from finals coming up, [and] this is a good way of relieving students of stress and letting them have fun."
After his fourth Air Guitar, Kekoa Akuna '18 will miss it because "it's a time that the whole school actually gets together."
Akuna enthusiastically stated that "showing performances and people's talents" is "just amazing!"

Thinglink Credit: Jill Vallance / The Foothill Dragon Press
Editor's Note: Amazing Oakes is a News writer for the publication. She was not involved in the production of this article.