Growing up in the shadow of gun violence, students across America participated in a school walkout on April 20, 2018, to advocate for their representatives to take legislative measures constituting effective gun reform.
However, Foothill students attempting to leave campus for the effort were met with red slips listing potential consequences, including the possibility of losing their privilege of attending this weekend's prom. This was an attempt by the Foothill administration to remind students of the consequences of truancy and the responsibility school faculty has in being liable for student safety.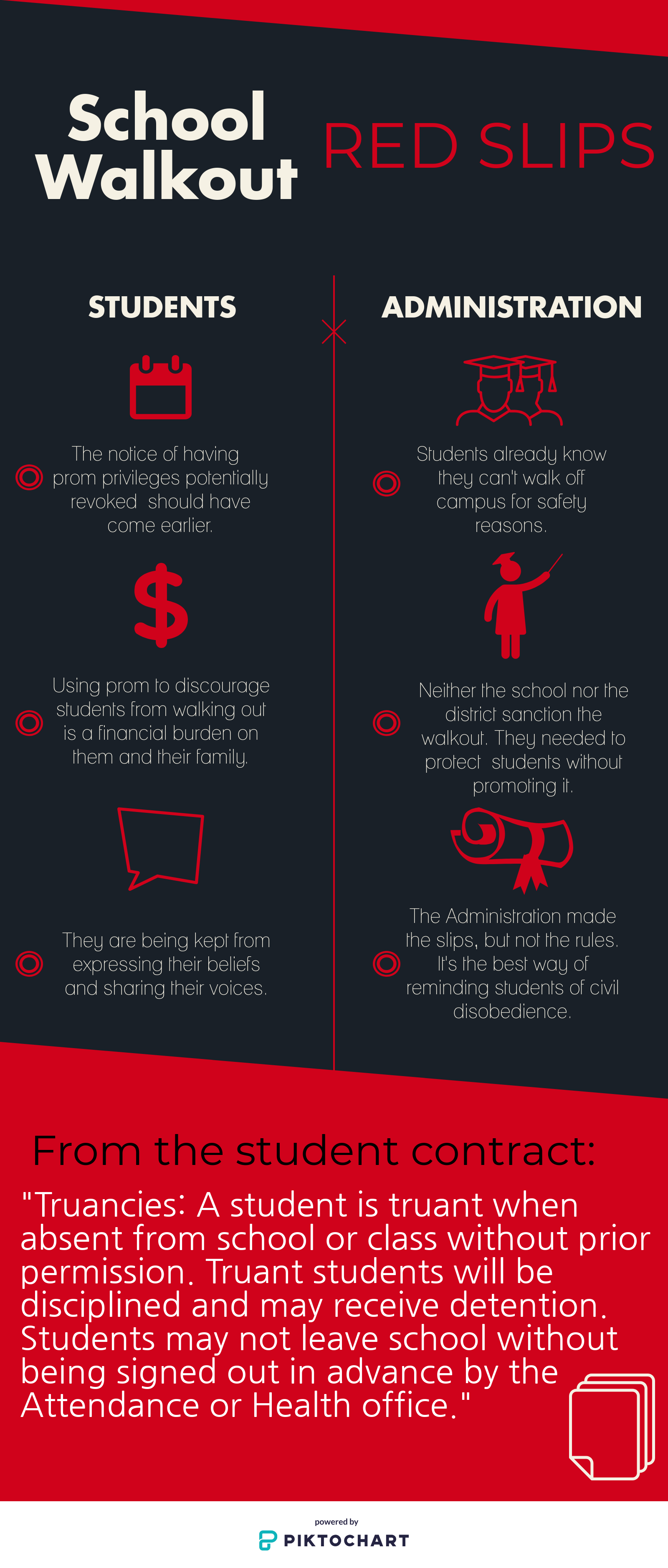 This action has spurred controversy regarding whether the use of these red slips was a reasonable and timely means of demonstrating the rules of truancy, without placing too much of a burden on students who wanted to express their voices.
In particular, students felt that the potential restriction from attending prom was too extreme to be given at such a sudden notice.
When Annie Castañeda '18 received the red slip which warned that her act of civil disobedience could potentially disallow her from attending prom, she "was really mad" because she "felt like this came out of nowhere." Both of her parents had put in a lot of effort for her to go to prom, and she had to make a decision between standing up for what she believes in and facing the dire consequences that she was previously unaware of.
She understands that engaging in acts of civil disobedience naturally brings repercussions which have to be faced. Yet, she felt that she was led astray by the administration in thinking that there would be no further disciplinary action beyond an unexcused absence.
Castañeda mentioned that "if they had told us that we possibly couldn't go to prom, people wouldn't have bought tickets and put that much effort into it." She feels that the notice should have come before the morning of the walkout, as they were leaving campus.
Students also feel that the use of prom as leverage to follow the civil disobedience rules is an infringement on the respect they feel owed as students.
Te'a Whitney '18 feels that these red slips show that "Foothill values money over students" and that they are using the monetary loss of going to prom as an incentive to not participate in the walkout.
"They told us previously that the only consequence would be truancy and everyone was okay with that," Whitney claims, "and then today we were handed this […] red slip that says all these things that we were not party to, and I think that's absolutely despicable."
Whitney feels that the immediate risk of losing prom was unfair for the administration to use and that the students were not properly informed to make a clear decision between pursuing their expression or partaking in prom.
In fact, Whitney feels that this effort undermined her right to engage in civil discourse. She was enraged that she "could not have [her] voice heard and express [herself] in the way that [she] wanted to."
Many feel that it is in their right to feel as though their voices are being dismissed, but on the other hand, it has become apparent that the termination of students' prom privileges is not desired by the administration, nor is it ideal.
Teacher Cherie Eulau, who had discussed the matter with the staff, speculates that the slip was issued in order to "fulfill an obligation to the district" by telling students that there would be consequences.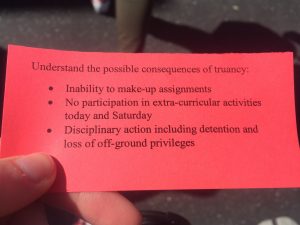 On the part of the administration, the walkouts are a multi-faceted complication: the administration isn't allowed to give voice to the walkouts or sanction them, but on the other hand, they also want to ensure that students understand the consequences that may come with being truant.
Vice Principal Tina Perez "would have liked to have brought this to [students'] attention earlier." However, she felt it was important for students to be able to "recognize the consequences that they could be met with and have the ability to stop at that point and return to class."
She noted that "most students know you can't just walk off campus, and the reason is because of safety, so these rules are not something that they didn't know."  
Students at Foothill are taught to be true to their ideals regardless of the consequences which may be imposed; it wasn't intended that they would be discouraged by the unlikely prospect of missing out on prom. Perez made clear that "the administration created the red slip, but we didn't create the rules."
Ultimately, it's a question of whether going forward with the red slips was a good idea for the school as a whole. On the administrative side, it was necessary to uphold the rules and protect students from truancy based off a contract they signed. On the student's side, it's a precipitous and alarming use of leverage for something they wanted to participate in. When it comes down to it, Foothill's staff supports their student's right to stand up for what they believe in, but they also have an obligation to ensure that the safety of their students is taken into account.
Update: Participants in the April 20, 2018 walkout are allowed to attend prom, according to students in the Associated Student Body (ASB). This article was updated on April 21, 2018 at 2:30 p.m.