The 52nd installment of arguably the most popular sporting event worldwide has arrived. This year's Super Bowl, also referred to as the championship game of the National Football League (NFL), features the Philadelphia Eagles and New England Patriots. The game on Feb. 4, 2018, will be a rematch from the 2004 version of the Super Bowl.
For those who are not aware of the game's storyline and the stakes that come along with it, here is some key background information you may want to know.
The Eagles appeared to be a surefire Super Bowl contender until their star quarterback, Carson Wentz, tore his ACL late in the season against the Los Angeles Rams. Wentz was the clear frontrunner to win the NFL Most Valuable Player (MVP), so Philadelphia had a major void to fill at the signal-caller position. Enter Nick Foles, the Eagles' backup quarterback.
With Foles under center, the Eagles were considered 'underdogs' in their Divisional Round matchup against the defending National Football Conference (NFC) champion Atlanta Falcons. Despite this, they pulled off the win at their home venue, Lincoln Financial Field. Once again, the Eagles were underdogs against the Minnesota Vikings in the NFC Championship game, but they simply responded with a 31-point blowout win, advancing to the Super Bowl.
Eagles defensive end Chris Long and offensive tackle Lane Johnson started the trend of wearing dog masks to represent them being 'underdogs' throughout the playoffs. It has captivated the spirits of Philadelphians and has become a rallying cry for their team. Once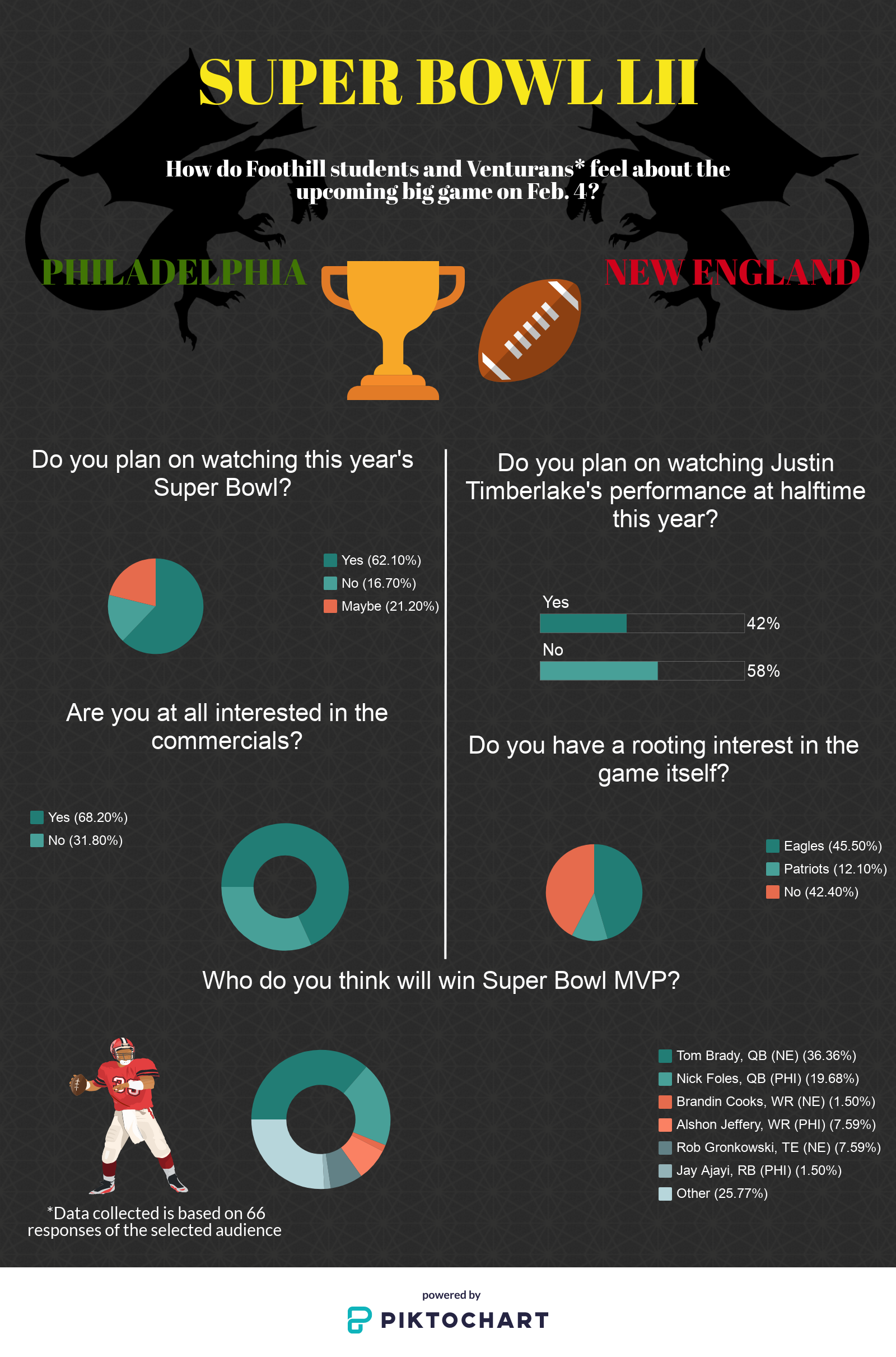 again, the Eagles are an underdog in the Super Bowl. New England is favored to win by 4.5 points as of Friday, Jan. 26.
The big stage is extremely familiar for the Patriots. The franchise has won five Super Bowl championships under the reign of head coach Bill Belichick, quarterback Tom Brady and owner Robert Kraft. Their journey to the Super Bowl was via two wins in the playoffs: they beat the Tennessee Titans and Jacksonville Jaguars, both home games at their stadium in Foxborough, Massachusetts.
Meanwhile, the city of Philadelphia seeks their first Super Bowl victory in franchise history.
It's the underdogs versus the perennial contenders in Super Bowl LII. Who will prevail? In a survey released by the Dragon Press, we collected a handful of responses from Foothill students and Venturans alike concerning their predictions for the big game. The results are included in the infographic.