Through dusty hills, rocky turns and the classic hot, dry weather of Ojai, the Foothill Cross Country team pushed through and managed to gain what coach Jason Dinkler called "really important experience" in Wednesday's Twilight Invitational. In the non-league meet, Foothill hosted 20 schools in a somewhat atypical fashion.
Not all runners ran the usual 5 kilometer (or 3.1 mile) course, nor were they in heats separated by gender and varsity or junior varsity status, as they would at a traditional meet. Instead, heats were separated by distance, with some running 2 kilometers (or 1.9 miles), and others the 5k they're used to.
This was partially because the "flagship runners of Foothill's cross country team," as Zen Li '21 calls them, sat out in preparation for the Asics Clovis Invitational, a prestigious meet held at the same site that the California Interscholastic Federation (CIF) State Meet will be held in November.
Though these runners were absent on the course itself, they could be seen lining its sides with energetic smiles and cheers of encouragement.
"They really helped me," said Kristin Thow '20. "Whether it was on the bus, or before or when they were cheering, it really helped my mindset to stay positive," she said.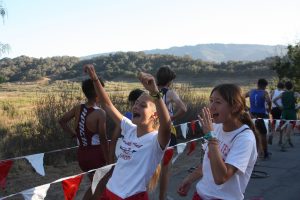 Thow was the fifth Foothill runner and overall 64th runner to cross the finish line in the "girls' two," as runners called it. Coming off a knee injury, she wasn't happy with her race, feeling that she went out too fast.
Her teammate Estelle Santini '18, however, felt that Thow helped her to perform well in the race, and that Thow's fast start pushed her to perform well. Santini was the first Foothill runner to finish, and 32nd overall.
Santini reminded Thow that "everybody has bad days," and that "Coach Reeves always says 'what you do on your bad days is what makes you stronger.'"
As a team, Foothill girls placed seventh in the girls' 1.9 mile race.
Foothill had better luck when it came time for the girls' 5k race, or the "girls' three," as in 3.1 miles. Though Foothill's first runner, Gretchen Scherrei '20, passed the finish line over four minutes behind Malibu's Claudia Lane '19, the leader of the race, the girls' team as a whole performed well enough to earn first place in the race, with a total of 57 points.
Kianna Flores '21 finished 24th overall and eighth for Foothill. She, like many of her teammates, has an injury in the way of peak performance. Six seconds away, to be exact. After holding a season-long goal of finishing in less than 22 minutes, she finished with the "upsetting and frustrating time" of 22:05.5, but she doesn't dwell on it because "there's always next meet."
She doesn't let injury get her down, either, seeing it as "just a speed bump" that "you'll get over eventually."
She believes that "once you start cross country and once you find the love for it and find the love for running you just want to keep going and getting better," and injuries can't get in the way of that.
Similarly, Li, who ran the 5k, is just getting over sickness. For any athlete, sickness is a struggle that "really puts you down," but Li had the perfect way to overcome it: meditation. Before the race, he sat down, closed his eyes and focused his thoughts on what he would think about as he was racing, namely pace and "the balances of my racing."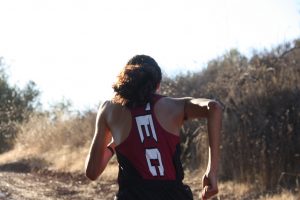 Finishing in 83rd place, he felt that he "learned a lot during this race in terms of pacing and room to grow," and that with practice he can improve.
"I believe in Coach Reeves and his coaching and I believe that he can lead me to successful races," he said.
The boys came together to earn first place in the 5k race, with a total score of 87.
In the shorter boys' race, only four runners represented Foothill and were therefore unqualified to compete as a team. However, they were able to get valuable experience under their belts.
According to coach Jason Dinkler, experience is what this meet is all about, seeing as both league and county championships are held at the very same course.
"It's a great opportunity to be on the course, for them to learn where to go, learn some of the places where maybe they didn't push as hard or they went out too quick. It's just getting experience on this court is really important, and this [meet] is perfect for that," he said.
With an "overall pretty successful" day at Lake Casitas, the Dragons can use this experience in the future. Dinkler hopes they'll become "mentally stronger" by the time they face this "hillier course" again.