An 18-foot-tall inflatable bounce slide, the scent of a smoking grill and approximately 200 of the school's 239 seniors filled Foothill's quad from 5 to 8:30 p.m. on June 9.
What brought them all there? The Senior Barbecue: an annual rite of passage put on by the Associated Student Body (ASB) in the hopes of giving the seniors a "last hurrah," as Senior Class President Alli Shields '17 put it.
"It's the last event before we check out so it's a time where we sign yearbooks, […] we eat food together, we celebrate, we cry, we're nostalgic," Shields said. "It's just a bonding experience."
The main focus of the event was spending quality time with fellow students and capturing some last memories, so the event was very laid back. There was no payment or ticket required, as the event was funded by the senior donations, which were made at the beginning of the school year.
Activities included a photo booth, an inflatable bounce slide and of course, time to eat.
Available dinner options included tri-tip, grilled courtesy of math teachers Rick Villano and Wayne Powers and Principal Joe Bova, and various sides from Wood Ranch, like mac and cheese, steamed vegetables, salad and rolls.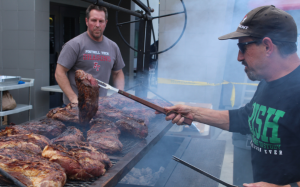 On the stage, there was a table where seniors made their contributions to their time capsules. The time capsules contain an artifact, a written explanation of the artifact, a playlist of 17-18 songs, and a written explanation of each song.
The artifact can be anything that "resonates with you or that really encapsulates who you are," said Shields. For example, Shields included her school agenda, and Jewelia Stevenson '17, senior class vice president, included a "Star Wars"-inspired lightsaber keychain.
The playlist is meant to be a "playlist of your life," most of which include "a few songs from elementary school, a few from middle school, a few from early high school, and then current," Shields explained.
The capsules are returned to each senior ten years from graduation.
The most popular activity, however, was not something to be organized or planned by ASB. Yearbooks were signed constantly throughout the event, which was no surprise considering this was one of the seniors' last chances to do so.
[soundcloud url="https://api.soundcloud.com/tracks/327495902″ params="color=ff5500&auto_play=false&hide_related=false&show_comments=true&show_user=true&show_reposts=false" width="100%" height="166″ iframe="true" /]
This style of activity was a favorite for Alondra Lozano '17.
"I like how we're all together as a family celebrating our last couple hours together and it's very meaningful," she said.
Knowing that it was the last time they would be all together for a while, many seniors reflected on the year and the class.
Becky Blair '17 feels "a little bit sad, just to be leaving everybody here, but I'm also excited" to be moving forward. She will miss feeling so close her class.
In putting on their final event, Shields and Stevenson wish to express their gratitude to the senior class for being so participatory this past year.
"Our senior class participated a lot in the things that Alli and I planned and it means a lot to me, to us, that they care enough to show up and support us, and want to bond with each other," Stevenson said. "They're just great and I'm so glad I'm graduating with them."