The Dragon speaks with 'Glee' star Lauren Potter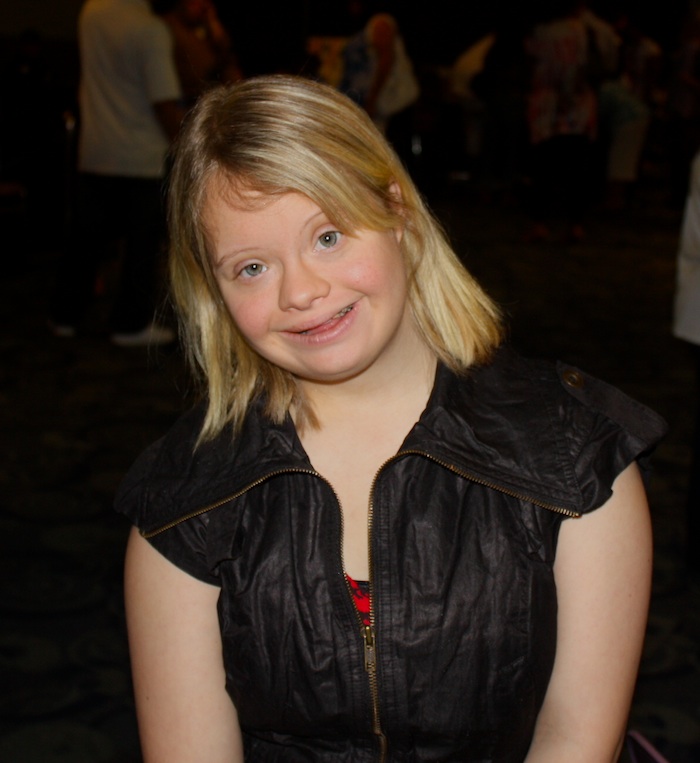 Lauren Potter poses at a fundraiser for Down syndrome research. Credit: Bryn Gallagher/The Foothill Dragon Press.
Striding across the purple bowling-pin carpet on a warm May evening and despite being nearly a head shorter than everyone else,  "Glee" actress Lauren Potter commanded the room.
Dressed in sneakers, jeans, houndstooth shirt, and cap-sleeved jacket, she was stylishly unaffected by the hot California day and the crowded bowling alley.
The bowling alley was the site of a Down syndrome fundraiser Potter was attending. She shook hands and took compliments like any Hollywood star ready for her close-up.
Potter plays the character Becky Jackson, a cheerleader with Down syndrome at McKinley High.
"I like Becky," Potter said. "She is the best character, a comedian and a little sassy."
Potter says that even the first time shooting for Glee was "easy as pie."
This might be because Glee is not Potter's first acting gig, she played the young Andrea Little in the 2009 film "Mr. Blue Sky" and is a regular on the 2010 web-series "Leader of The Pack"
As the conversation turned back to Glee, a beaming Potter talked a little about the Prom episode that  aired May 9.
"It's amazing, Becky has a love interest in the episode, he is great."
The new character was played by actor Luke Spinelli, whom she met on the set of "Leader of The Pack".
Like the character she plays, Potter has her own love interest.
"I do have a boyfriend, Sean Austin McElwee. We met at the Orange County Buddy Walk. We have been together for a wonderful three months."
She laughed as she said it was love at first sight.
Potter talked a little about the atmosphere of "Glee" being much like a family and about her character Becky in relation the menacing Cheerio coach Sue Sylvester.
"Becky is a great character and Sue is not always nice to her and I don't really like that," she said. "But it is really fun working with everyone."