A spotlight on the artists of the Chalk Festival
The Chalk Festival made its way to Foothill and was yet again a hit. The annual event brings students of all grades together, filling the quad with laughter, music, and lots of chalk. Many art classes came together to create many individual art pieces using chalk pastels.
Title: "Baile Folklorico"
Jayne Abbe '17 created a piece for the Chalk Festival that was centered around a "baile folklórico" dancer. Abbe decided to choose this piece due to the fact that she went to Montalvo, a bilingual elementary school.
"In kindergarten and also third grade, I participated in baile folklórico… I want to go back to childhood memories that I had."
Abbe choose the distinct colors of yellow and blue because she knew that they are "great compliments for each other."
Abbe is taking on this piece solo, rather than participating in a group, and is quite excited.
"I've never worked with chalk before, so I'm trying to test my abilities solo, and I'm hoping it'll turn out very well."
Title: "Acid Trip Caterpillar"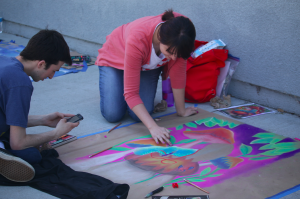 Eloise Cervon '17 and her partners chose to create a piece of art that centered on the caterpillar from Alice in Wonderland perched on a mushroom. "We were originally going to do a different piece, but it wasn't as colorful as the other pieces, so we decided to change it." Cervon explained.
Despite the hot sun, Cervon said she enjoyed the experience. "It feels nice to be a part of the school, make something nice and get your hands a little dirty." Cervon is excited to see how the piece turns out the way she hoped.
Title: "Winnie the Pooh and Piglet"
Melissa Brigham '17 chose to do a piece that pictured a baby Winnie the Pooh and Piglet sitting in the grass and blowing bubbles together. This was her first year doing the Chalk Festival and despite having some difficulty in getting the paper to stick to the pavement, she had fun with the experience.
Brigham chose to do a piece on Winnie the Pooh, simply because her mother loves Winnie the Pooh. "It's cute, it's fun. It's kind of more when they're babies. " Brigham said.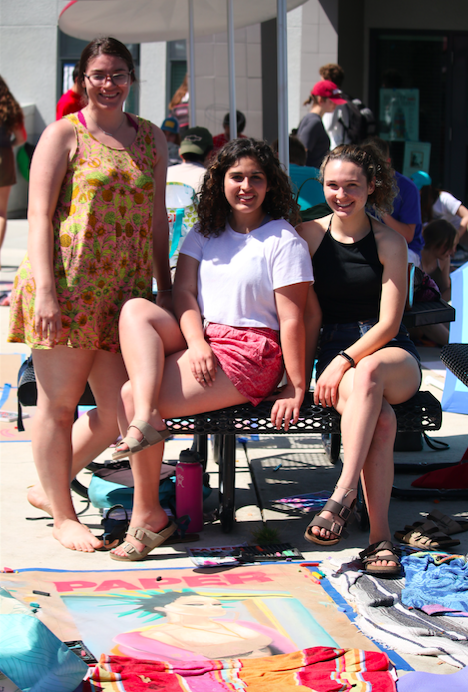 Brigham was also excited at the possibility of selling her artwork to a teacher at Foothill.
Title: "Rihanna Breaks the Rules"
Jewelia Stevenson '17, Allison Shields '17, and Alexis St. Germain '17 chose to step outside the box for their piece. "Its from a recent photo shoot with Rihanna and she has really spiky green hair." Stevenson explained. All the three girls thought it was a "really cool" picture and decided to recreate it in chalk pastels.
"It was a really cool, different piece. The idea was to do something that was different, because a lot of the time people kind of do stereotypical things." Stevenson explained.
"I just love being able to spend time outside all day and it's fun to hang out with lots of people. It's really a cool atmosphere and it's really relaxing to just get to do artwork all day, especially just before Spring Break." Stevenson said. 
Title: "Rainbow Octopus"
Vineta Sondors '18, Olivia Morales '18 and Erick Grewe '18 chose a "busy" piece for the Chalk Festival, but with two days to complete it, Sondors is confident that they can get it done.
"We decided to do this rainbow octopus that we found on Pinterest… It caught my eye because it's just really colorful, and the colors were already blended, and I thought that it would look really nice on chalk," Sondors explained.
This picture pretty much has "all of the colors of the rainbow," according to Sondors, and "we know that these pictures are going to be auctioned off later, so we wanted to pick something that we thought people would be interested in and would want to buy," she adds.
She's looking forward to "visiting other people and seeing what they're doing…and I like how everyone plays their own music, and it's like every part of the quad that you visit is a whole different area with a different environment," Sondors said.
Title: "Arch Rock"
Emma Tan '17 and Natasha Urban '17 were originally going to do something that related to the ocean, but chose to direct their piece on Arch Rock in Channel Islands as a way to stay local and focus more on one of Ventura's "landmarks."
"We ground it out just so we can have a purpose of where everything's going. We're going to make it like just a light sketch and then just fill it in with chalk," says Tan.   
This is Tan's first year participating in the Chalk Festival and she is looking forward to "seeing our artwork done and also everyone else's ideas, because they all seem pretty good."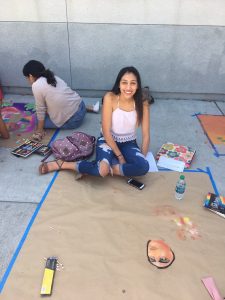 Title: "The Warrior"
Solo artist Janae Rodriguez '17 chose to focus her chalk piece around an Aztec Warrior, which her father drew many years back. "I wanted to recreate it and honor him," Rodriguez said.
Rodriguez felt very passionate about her piece because "The Warrior" represents her Indian culture and "wanted to honor a culture that is amazing."
During the Chalk Festival, Rodriguez was looking forward to "skipping class, chilling, and drawing."
Title: "Portrait"
Serafina McClain '18 and Yael Bouzaglo '18 worked together to create a piece called "Portrait."
McClain and Bouzaglo selected their muse based off of "the colors and the scheme and [they] liked the fact that it's a face and it is really light and bubbly."
McClain and Bouzaglo are very excited to work on this piece and are looking forward to the end product. "I am also really excited for the atmosphere of the Chalk Festival," McClain said.
Title: "Julia Roberts"
Travis Dabbous '18, Maya Holbrook '18, and Natalie Brook '18, chose Julia Roberts from Pretty Woman as their muse for the art.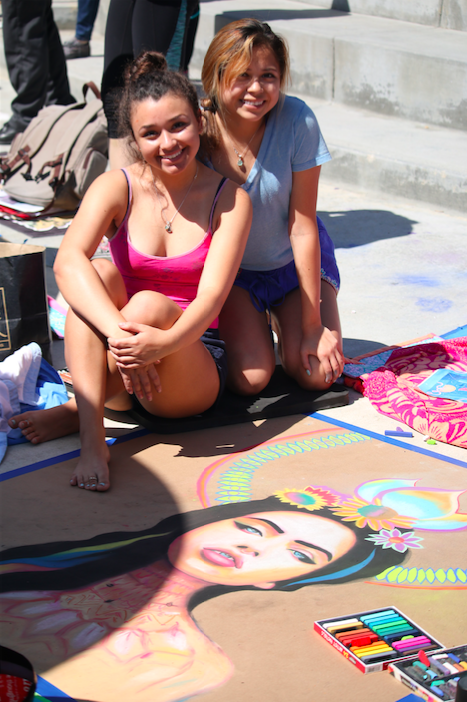 "We all really love Julia Roberts," Holbrook said.
Although the group had some arguments about Julia Roberts being their muse, they ultimately decided she was the best choice.
Title: "Gypsy"
Katie Hernandez '17 and Stephanie Gallegos '17 doubled up in creating their piece called the "Gypsy." Hernandez and Gallegos got their artwork from someone they follow on Twitter because they "really like her paintings."
"The colors and the way that the girl looked" is what drew Hernandez and Gallegos in when they were looking for a piece to recreate. The appeal to the art is the "angelic look and so many colors going on" said Gallegos, "The more colorful it is, the more I like it."
Hernandez and Gallegos are looking forward to "seeing everyone's art because it really shows the person's personality."
Title: "Colorful Bear"
Taylor Wreesman '18 and Teagan Costa '17 decided on a colorful bear as the base of their art.
"Since we're using chalk, we thought to do something really colorful since chalk blends really easily," Wreesman said.
She added in they wanted to be original yet have a colorful design, so they chose the bear instead of a flower or portrait etc.
Title: "Woman on Beach"
Hannah Block '18 and Mena Torres '20 decided on a woman on the beach for their art.
"In history class we're talking about the cold war time period and I thought doing a picture of it would commemorate the women of the time," stated Block.
Block also added that she most looked forward to the piece being completed.
Title: "Yellow Submarine"
Alex Abele '18, Logan Flair '18, Troy Lindemann '18 and Cisco Lomax '18 chose an album cover of the Beatles, " Yellow Submarine."
"We picked this because we all really like the album and I'm most excited to blend the blue in the background and coloring it a nice yellow."
Flair added in that it's his first year participating in the event but will return for next year.