Earthquakes, fires, lockdowns, oh my: Foothill's preparation for a disaster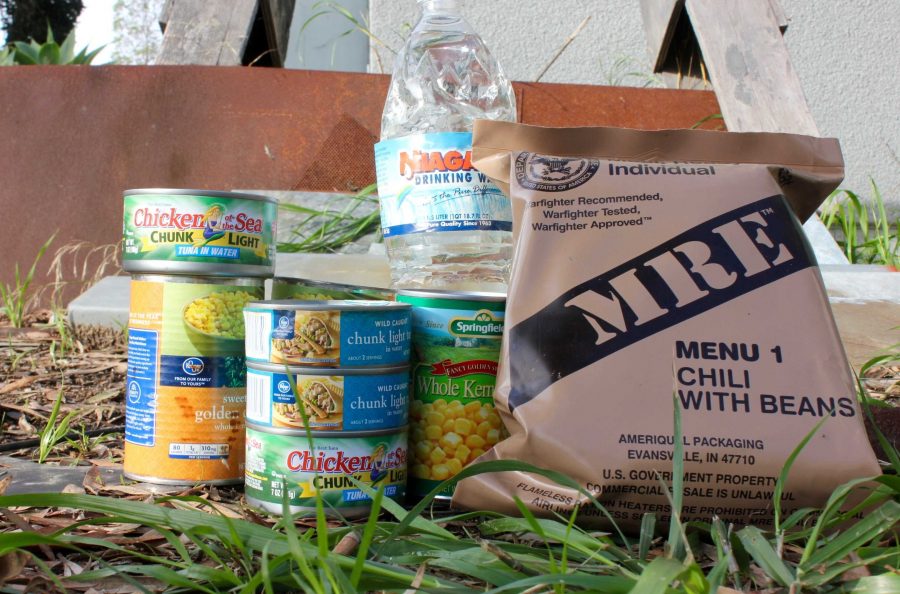 Chloe Hilles
March 17, 2017
Due to Southern California's susceptibility to earthquakes, a drought increasing fire sensitivity and the current issue of gun control, it is time to evaluate Foothill's safety plans and preparedness for a disaster or emergency.
Assistant Principal Ron Briggs is responsible for the safety plans for Foothill, which includes any type of emergency drill, fights, bullying, drugs and any type of emergency drill. Foothill's safety plan was last updated November of 2015.
"I know that if there is a real emergency, I know the culture of the school, kids are going to stay calm and do what the teacher says. I know all my teachers and they are all responsible, caring, they would save a student's life and probably give their own to do so. So with that community, that's how you get prepared," Briggs commented.
One fire drill and one lockdown drill are required annually. Earthquake drills are not mandatory.
Briggs explained that Foothill's one-story configuration makes evacuations easier.
A survey of 90 students was conducted to get an indication of students' knowledge of safety at Foothill. Forty-five point five percent of students believed Foothill to be between a seven or eight on safety on a scale from one to ten.. There were a few ones and a few tens, but the average was six point five three.
[alert type=blue ]Click the tabs to check how Foothill is prepared for different types of emergencies[/alert]
"There is really no fire danger," Briggs said. "Because if your classroom is on fire, what are you going to do? Nobody is going to get stuck in there […] You go out the door."
Evacuation routes for classrooms are dependent on their location. Every teacher and pod configuration knows their individual route. Routes may include, but are not limited to, departing to the front or back parking lot and/or the quad.
[soundcloud url="https://api.soundcloud.com/tracks/307263237″ params="color=ff0000&auto_play=false&hide_related=false&show_comments=true&show_user=true&show_reposts=false" width="100%" height="166″ iframe="true" /]
"It's pretty self explanatory, you go to the nearest open space," Briggs said. "If you are closer to the front parking lot, you go there. If you are closer to the back parking lot, you go out there. And if you're an inside class, you go to the quad."
In the survey, 54.4 percent of students answered that they would not know where to go if there was a fire at Foothill.
Foothill's fire drill preparedness was tested on Thursday, December 8, 2016 due to a chemistry experiment faux pas.
"[During an earthquake] most people forget all their training but also the safety instinct, most people are all like 'Oh no!' and everybody dives under their desk," Briggs said.
Evacuation routes for earthquakes are the same as fire routes: open space closest to classroom.
"We've been doing earthquake drills since kindergarden: get under your desk until the shaking stops, don't get up and run around, and when the shaking stops we assess the damage and we walk out to the evacuation routes" Briggs said.
Supporting Briggs' claim, 82.2 percent of students surveyed agreed that they would know what to do during an earthquake however the remaining 17.8 percent believe they would not.
The buildings and lights on campus are built to earthquake infrastructure codes. The windows are made with safety glass that would spiderweb shatter instead of breaking in large sheets of glass.
Briggs still advises to stay clear of windows during an earthquake.
"Lockdowns: probably the biggest threat. Statistically it's small, but you've haven't heard about many schools that caught fire and people didn't get out or earthquake killed people, or anything like that," Briggs said.
A lockdown is any scenario in which the safety of the students and faculty is at risk. This could include active shooters, unidentified persons on campus, danger in the surrounding vicinity and more.
"The main thing is get the doors locked, get everybody inside [and] stay down," Briggs said.
[soundcloud url="https://api.soundcloud.com/tracks/307263376″ params="color=ff0000&auto_play=false&hide_related=false&show_comments=true&show_user=true&show_reposts=false" width="100%" height="166″ iframe="true" /]
Internally, the teachers will then email administration with "green" or "all clear" when their doors are secure and students are accounted for.
Then the police will arrive on campus and they take over. According to Briggs, the police are given a key to the school, a map and any other details administration has. From there, it is in the hands of the police.
Based on the survey, 70 percent would know how to react if there was an intruder on campus.
A few weeks ago, on Feb. 27, Foothill went into lockdown due to a local police chase. The lockdown lasted about 20 minutes, and Foothill remained unscathed. 
Every classroom at Foothill is equipped with a kit of basic first aid supplies, to be administered for trauma wounds or primitive injuries. Kits are not necessarily supplied with materials for cardiac arrest, allergic reactions or other extensive health crises.
If a student is pre-diagnosed with something like an allergy or diabetes, all teachers are aware of special health needs and are trained on how to handle the equipment needed for that particular student.
In case of a healthy emergency, Briggs doesn't see a reason for students to administer first aid because of the liabilities it poses.
"I can't imagine why [a student would need to know where the first aid kit is]. We wouldn't want the students administering first aid to other students, because of liabilities and stuff. The adult would have to take over," he said.
The survey shows that 50 percent of students evaluated did not even know that classrooms contained first aid kits, 46.7 percent know where some are, but not all, and 3.3 percent know where the first aid kit is located in all classrooms.
For any health emergency, Briggs explained that administration and the nurse would run down to the site and call 9-1-1.
"Just like CPR training, you check, make sure everything is safe, then call 911," Briggs said.
Briggs commented that with cell phones being everywhere, teachers or students would most likely call 9-1-1 in that type of situation. There is also a radio in each pod that can be used to contact administration in any situation.
If a teacher has a health emergency, Briggs would like students to alert another teacher immediately.
"If the kids see a teacher go down, if they feel comfortable and confident enough to help them, then yeah we want them helping them and […] they will naturally do it. But definitely yell across the hall, run to the next classroom," he concluded.
Regarding a teacher health emergency, 65.6 percent of students surveyed claimed that they would know how to react, whether that includes alerting another teacher or executing CPR is up for discretion.
Foothill does not have an (Automated External Defibrillator) AED on campus, nor does any other school in Ventura Unified School District. The AED is a device that automatically analyzes heart rhythm and administers an electrical shock if necessary to restart heath rhythm. The omission of them from campuses was a district made decision based on a cost/benefit analysis.
Briggs is confident in the intimacy of the school to provide communication in case of a health emergency.
"The fact that it's such an intimate school […] usually a student yells, runs to another teacher and the other teach calls down to the office," Briggs said.
[alert type=blue ]Scroll back up and click on a different tab to see how Foothill is prepared for other types of emergencies.[/alert]
"The schools that are unsafe are the schools where kids bring weapons on campus, drugs on campus, there are fights on campus, there's a lot of bullying on campus," Briggs said. "When I hear 'school safety' […] that's what pops into my head."
There are bullying, sexual harassment, drug and weapon protocols that administration follows if there is any threat, big or small, involving one of those issues.
"Well I think statistically […] we are one of the safest schools around," Briggs commented.
How well do you think Foothill informs students about disaster and safety plans / protocol?

— The Dragon Press (@FTHSDragonPress) September 25, 2016
In regards to educating on safety at Foothill, 43.3 percent of students believe that Foothill does not  inform very well about disaster and safety plans/procedures; 38.9 percent thinks that it was somewhat well taught; 8.9 percent thinks very well and 8.9 percent believes not at all.
"We could spend everyday preparing for disasters, and not do any school work. But that would be ridiculous. Or we could do zero, but that would be ridiculous. So it's kind of that fine line of spending as much resources and time," Briggs said.
[soundcloud url="https://api.soundcloud.com/tracks/307263500″ params="color=ff0000&auto_play=false&hide_related=false&show_comments=true&show_user=true&show_reposts=false" width="100%" height="166″ iframe="true" /]
Many comments left by students that took the survey were concerning the "rarity to disaster drills for earthquakes or fires," according to one Foothill student.
"What makes the school safe, it's not drills, it's not tall fences, it's not have cops on campus , it's having a community or family like atmosphere and communication," Briggs concluded.