Dragons soaring towards 70% A-G completion rate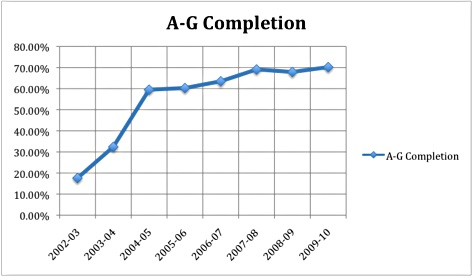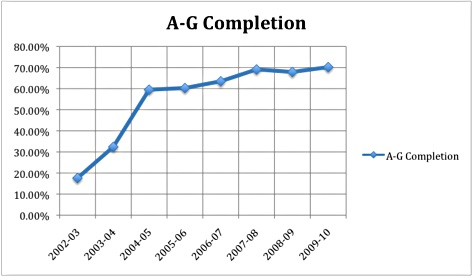 With the number of Foothill students fulfilling the A-G requirements on the rise, Foothill is expected to reach its goal of a 70 percent A-G completion rate.
The WASC, or Western Association of Schools and Colleges, is a program that gives accreditation to schools in California, Hawaii, and most Pacific island territories.
When they visited in 2009, WASC found Foothill to be a "great" school and gave accreditation but said that the percentage of students meeting A-G requirements (67.9 percent) was merely "okay".
Foothill immediately set a goal to reach 70 percent of students completing the A-G requirements.
"A lot of it was the culture of the school," said Counselor Steven Boyd when asked about how the school managed to reach its goal.
Boyd recalled a time at a district meeting where members discussed how students with Fs would make up the class in summer school. 
"I asked about the kids with Ds and the speaker said, 'only at Foothill,'" said Boyd, referring to the high expectations Foothill places upon its students.
Almost since the very beginning of the school year, A-G completion rates have been on the rise from 17.6 percent in 2002-2003 to 32.4 percent in 2003-2004. Another leap was made in the next year when the number rose to 59.5 percent in 2004-2005. The next years saw small rises in 60.3%, 63.5%, and 69.1%, respectively. There was then a small decrease in the 2008-09 year where it fell back to 67.9%.
In the 2009-2010 school year Foothill finally crossed the threshold with 70.2%.
"These numbers have not gone to state yet, but we are pretty sure they are correct," said Principal Joe Bova.
Even last year, before reaching the 70 percent goal, Foothill was over 25 percent above the district, county, and state averages.
Foothill is not taking this most recent success for granted, however and has no intentions of relaxing its efforts.
"One year, that might be a fluke. Three years, it probably isn't" said Boyd. 
The ultimate goal is to have 100 percent A-G completion because the requirements are not only important for accreditation, UCs, and CSUs, they are also important criterion for most private colleges.
"If you applied to USC, for instance," Boyd explained. "They might not care if you have a fine art like a UC would, but you had better have everything else."
Even with a school focused on A-Gs such as Foothill, acceptance into a state school is not guaranteed. According to Boyd acceptance rates have gone down even in cases of well qualified students because of growing budget cuts and increasingly overcrowded campuses.