Actors shine in VHS's "Hairspray" (18 photos)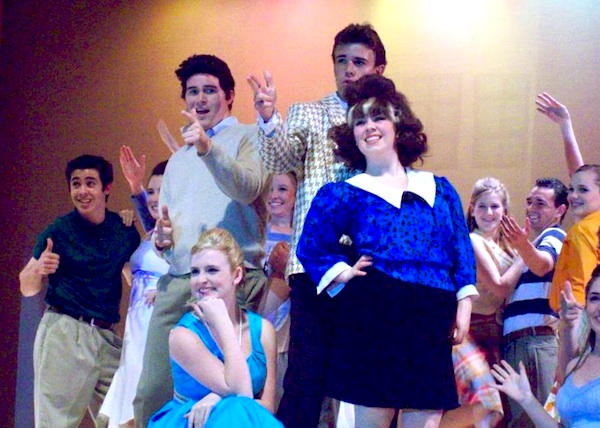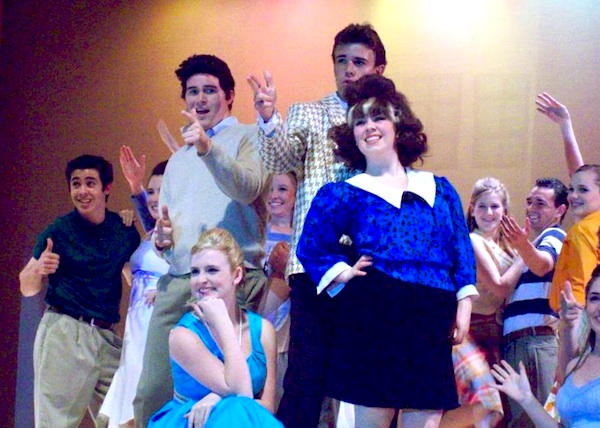 Lights? Check. Vocal warm-ups? Check. Music, costumes, and choreography? Check, check, and check. Hairspray? No one can leave the dressing rooms without it!
A big cast with big voices and even bigger hairdos welcomed audience members Friday to Ventura High School's take on Broadway's big, fat, musical comedy hit, "Hairspray."
After several weeks of juggling homework and rehearsals, the cast put on their show for a second night that was "awesome, [and] even better than last night," according to Ventura senior Jake Herbold.
Director Stefoni Rossiter Burgi agreed.
"Friday night's performance was even better than opening night because all elements of production are beginning to tighten up," she said. "As you probably noticed we have been having trouble with our mics and are still ironing out some kinks in that area. I must say that I am very proud of the way my technicians and performers have handled the technical difficulties."
Despite these difficulties, audience reception was very positive.
"I really liked it," said Foothill sophomore Mallory Woertink. "And since I've seen the movie before, it's nice to see how people I know interpret and perform it."
In the opening number, "Good Morning, Baltimore," all were introduced to plus-sized Tracy Turnblad, played by senior Kate Danker, who donned a 'fat suit' for the role. Adding more excitement to this opening number were the live band (which mainly consisted of high school students) and the all-star ensemble cast.
Set in the 60's, "Hairspray" follows the energetic, toe-tapping inducing story of Tracy, who with her charming personality and dance skills makes her big break on the Corny Collins Show. She quickly finds that all that glitters is not gold, and experiences prejudice from her costars for her over-average weight.
But Tracy's newfound career is quickly put on the line in order to stand up for those facing a different kind of prejudice. Throughout the performance, Tracy and her unlikely group of friends can be seen campaigning to make the once-monthly "Negro Day" an everyday occurrence, as television programs were racially segregated in this time period.
"Hairspray is an incredible script throughout," said Burgi. "I love the high energy score which inspired my choreography. In addition, I wanted to do a play that made an important statement. I wanted them [the cast] to feel proud to bring an important message to Ventura High School and to the community at large."
Monica Rexford, a special education teacher at Saticoy Elementary School, enjoyed her night at the theater.
"…The performance is great, the music is great…I like the spirit of the actors, [they're] very positive," she said.
Foothill alumni Dillon Francis also had words of praise for "Hairspray."
"I'm here to have a good time, and it doesn't disappoint," said Francis, noting the number "Run and Tell That" as one of his favorites.
Ventura senior Tyler Ferreria said, "It was extremely clever and witty, very entertaining and well put together…I had no idea we had so much talent at this school."
"My favorite part was the detention part," Ferreria added. "That's when the play developed a bit. It turned from strictly singing and dancing into something with more of a theme."
Herbold noted the fact that for some of the cast members, this is their first performance.
Senior Monique Djoumessi is one actress making her musical debut in Hairspray. Djoumessi displayed powerful vocals while playing the character of Motormouth Maybelle, most notably in the ballad "I Know Where I've Been."
Another crowd favorite was "You're Timeless to Me," a lovey-dovey duet starring Joe Sartee as Wilbur Turnblad and William Peterson in the female role of Edna Turnblad.
"You Can't Stop the Beat" the show's finale, featured the entire company in a tireless frenzy of song and choreography.
Before the curtain came down, the cast received a long standing ovation. They will have even more applause to look forward to as they will perform again today at 2 p.m, and Thursday, Friday, and Saturday at 7 p.m, followed by the last matinee, Sunday at 2 p.m. 
Once Hairspray comes to a close, Burgi has more plans for the drama department.
"Senior Joe Sartee will direct a drama by Tennessee Williams called 'Suddenly Last Summer.' It auditions this month and goes up in May," Burgi said.
For those who enjoyed the Winter Showcase, there will be another night of entertainment to mark on the calendar.
"We will produce our end of the year Spring Showcase, and our What? Improvisation Troupe will perform in the Backstage Cafe one more time," said Burgi.
Dragon Press staff member Rachel Crane contributed to the reporting of this article .