Mr. Foothill contestants "wow" audience with talent (20 photos)
Spirito Hall was filled with wide-eyed girls anxiously awaiting the beginning of Foothill's first beauty pageant last night. It should be noted, however, that unlike most beauty pageants, all of the contestants were male.
The event opened with the introduction of the sixteen contestants by Freshman Class President Anna Cogswell, who organized the event, and Justin Frazier.
As Cogswell and Frazier spoke, the contestants danced the well known "Vote for Pedro" dance featured in the film, "Napoleon Dynamite."
The contestants consisted of freshmen Liam Egan, Blake Guerolla, Matt Densing and Jesse Conchas, sophomores Chandler Vu, Jackson Tovar, Stephen Mariani, and Nate Rowley, juniors Oscar Pratt, Daven Gonzales,  Henry Ashworth, and Greg Oyan, and seniors Roger Reyes, Chris Salera, Timothy Heague and Joseph Corral.
"It should be fun, and stuff," said Heague.
The show consisted of a formal wear competition, a "Wow Wear" competition, a talent competition, and a Q&A session. Each contestant tried the impress the judges by doing well in each of these sections. Senior Alex Cabral, junior Riki Schmitt, sophomore Sierra Swaffar, and freshman Hailey Winfield donned fluffy pink crowns and served as judges for the contest.
The crowd laughed during the "Wow Wear" competition in which the contestants wore an outfit that best represented themselves. Some of the more noteworthy ensembles were Jackson Tovar's leprechaun costume, and Tim Heague's  80's outfit, which he famously wore as the host at the 2010 Air Guitar. Other outfits included a gorilla suit, a pimp outfit and a Jack Sparrow costume.
Following the "Wow Wear" portion, there was the talent competition, where the contestants left the crowd in awe with their unique talents which included an interpretive dance of Enrique Inglesias' "Hero" performed by Chandler Vu and Nate Rowley.
"We selected this as our talent in order to attract the opposite sex," said Vu and Rowley.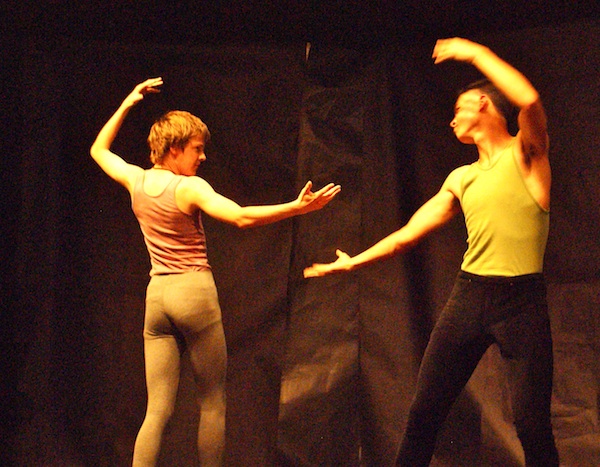 Joseph Corral decided to showcase his karate abilities and Roger Reyes and Chris Salera showcased their basketball skills. However, other contestants stuck to traditional beauty pageant talents, which included singing and playing musical instruments.
Liam Egan performed a rendition of Elton John's "Bennie and the Jets," and Timothy Heague sang his own version of Katy Perry's "Teenage Dream".
The hosts then moved along to the question and answer portion of the competition. Here, contestants were asked questions like: "If you could be on the cover of any magazine, what would it be?" and "what would you change about Foothill?"
According to Frazier, these questions were patterned after real beauty pageant questions.  Each contestant answered as gracefully as they could, stirring more laughs from the amused audience and judges.
Afterwards came the "People's Choice" winner, which was used to raise more money for the freshman class. The People's Choice was decided by the "Dash for Cash" game that the contestants participated in. They had to collect donations from the audience and whomever raised the most money was deemed the winner.  With nearly $34 and adorned with a shiny crown and a bright pink sash, the "People's Choice Winner" was junior Daven Gonzales.
Finally, the judges came to a decision for the winner of "Mr. Foothill High." Junior Oscar Pratt jumped up and down with delight as his named was announced by the hosts.
"I dedicated this experience to my mother, because I love her," Pratt said.
The contestants all appeared to enjoy this fundraiser.
"It was an experience I'll never forget," said Conchas.
Photos by Maya Morales/The Foothill Dragon Press