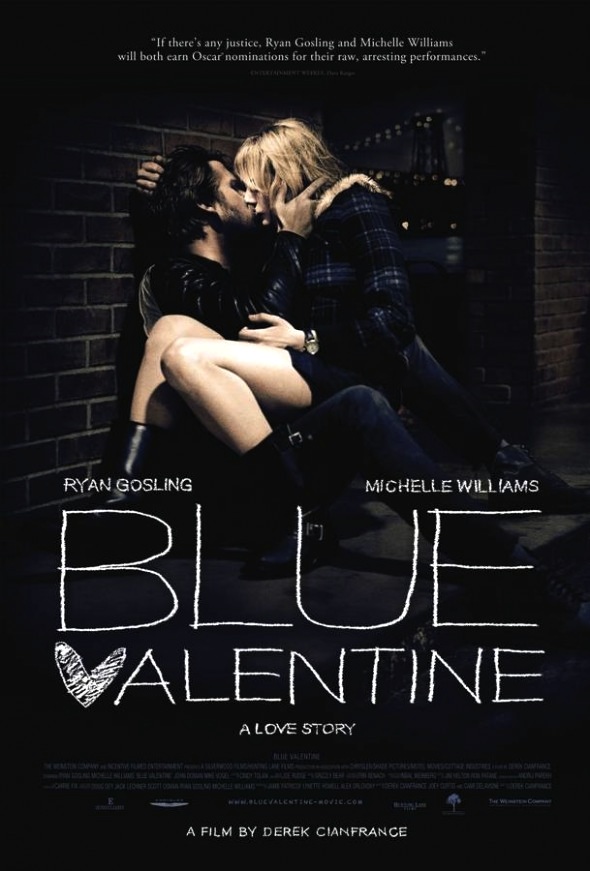 "I'm pregnant!" two words that, depending upon the status of your relationship, you either dread or can't wait to hear; and two words that in the case of a new indie film, Blue Valentine, that a couple neither expected, nor ever wanted, to hear.
But the fact of the matter remains, there's a baby on the way, and someone has to take care of it.
That, in a simplified pea-sized nutshell, is the storyline of director Dian Cianfrance's new film chronicling the rise and eventual, slow devolution of two people deeply in love with one another.
However, Blue Valentine is in no way a simple dramatic comedy, in fact it's nothing of the sort, rather it's a film about the passion of young love and the hard realities of a relationship gone awry.
The word "film" feels strangely inadequate when describing the qualities and tone of this picture, and perhaps a more adequate description might lie somewhere in-between a documentary and a tragic reality T.V. show.
As an interviewer put it while speaking with the director, "One feels as if they're a voyeur of sorts by peering into the very private lives of these two individuals on screen."
And he's right, the events that play out during the film have a real and visceral edge that slices straight through any viewer's perceived line between fiction and fact, creating scenes that both fascinate and perturb.
This is all a very much intended on the part of the filmmaker and actors. Cianfrance speaks about how he set out to shoot the film in a semi-improvisational and off-the-cuff manner that occurred on a first-take only basis.
Many of the most dramatic and touching scenes in the film were taken in a setting in which either actor was given a task involving the other that had to be accomplished within that sequence, and often this method of just letting things "run where they may" was directly responsible for this heightened sense of realism.
Cianfrance also employed a variety of other unorthodox techniques into the creation of the piece; including having the two main characters, Dean (Ryan Gosling) and Cindy (Michelle Williams), live together for over a month, even adopting a surrogate child (named Frankie, played by Faith Wladyka), to get to a place personal enough with each other that was believable in front of the camera.
This supposed couple is incredibly authentic and believable in every sense of the world, springing from a place within the screenwriters' (Dian Cianfrance, assisted by Cami Delavigne and Joey Curtis) mind that could have only come from some sort of deep-seeded emotional experience; in this case it was the divorce of the director's parents as a young adult.
Gosling and Williams both deliver very intimate and powerful performances, so much so that I often forgot that what I was watching was a movie at all.
All the way from their first and oddly romantic meeting in a nursing home to their heart-wrenching break-up, I found myself glued to my seat in a bizarre state of emotional attachment and anticipation.
The constant shifts between the past and present, revealing the roots behind the most tumultuous parts of their relationship, made the story unfolding on screen appear like a heated argument between two distraught parents.
Fans of this film could go on, forever seemingly, singing its numerous praise-worthy points. Skipping this customary fluff, I'll just say here and now, as one critic put it, that this film will be seriously cheated if Gosling or Williams don't win an Oscar for their amazing performances, and Cianfrance doesn't earn an award for his impeccable directing and writing.