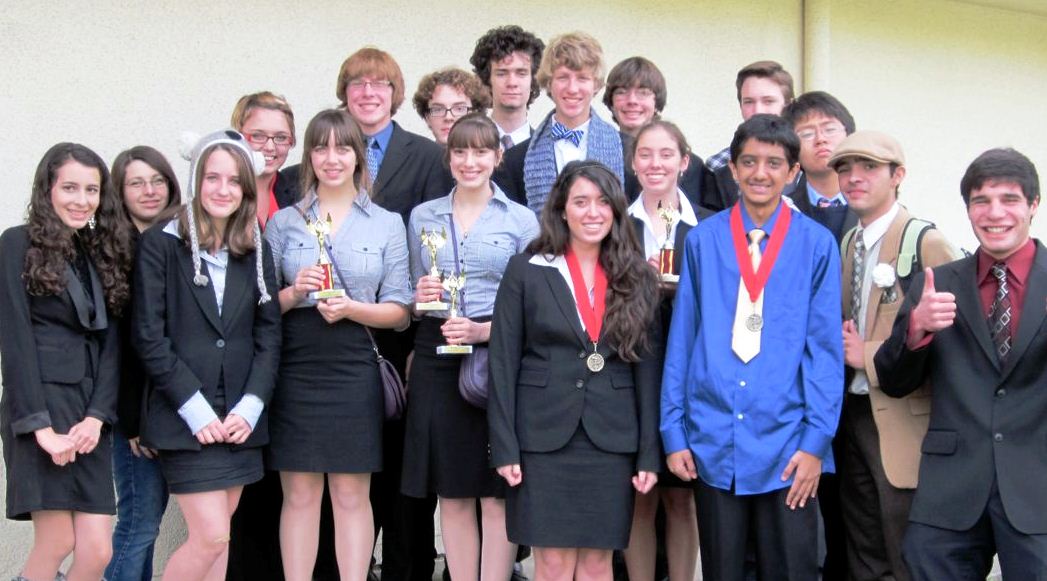 "Can you bake me a cake? I need a cake with a gun in it, and chocolate chip cookies with bullets in them," senior Colin Crilly asked Brittany Bernardi during a speech round.
Though this may seem like an odd request, the two were competing in duo interpretation in the final round at an invitational tournament at Cal Lutheran last weekend.
With over 200 entries in a variety of individual events, Bernardi and Crilly were two of several Foothill competitors to win recognition.
Of the five finalists in duo interpretation, three were Foothill teams, including Bernardi and Crilly. Karen Fox and Molly Roberts placed second, and Anaika Miller and Aron Egelko won first place with their piece, "Sure Thing," by David Ives.
In humorous interpretation, Ashish Patel was a finalist in the novice division, and Melissa Carroll was a finalist in novice oratorical interpretation. Bernardi was also a finalist in original prose and poetry with the same piece that won first place at the Fullerton Invitational in October.
In novice impromptu, sophomore Luke Ballmer took first.
"I won absolutely nothing. I stole novice impromptu," he said. Ballmer was entered in the novice division on accident, as he has competed in impromptu last year.
Foothill also did extremely well in debate. Of the top four teams in public forum debate, three were from Foothill.
Egelko and Sam O'Donnell placed second, and Miller and Kevin Kunes and freshmen Ami Ballmer and Ana Bello tied for third.
In parliamentary debate, Fox was ranked second top speaker, and Luke Ballmer was ranked tenth. In policy debate, Geneva Douma and Trenton Pham won first place.
Collectively, the Foothill team was ranked as the 4th top-scoring out of all the other schools. 
Despite the top scores and numerous awards, there were complaints about some results.
"The judging was especially bad at this tournament," Crilly remarked after receiving a ballot from a judge who gave his duo a poor rank because he didn't like the script.
Egelko and O'Donnell also lost a round because a judge didn't "like when the debate gets caught up on facts and stuff." They protested the round to the tab room, which oversees the tournament.
However, the biggest complaint from participants was food, or rather, a lack thereof. Since the campus was closed, no food was available for sale on campus.
"They can't starve these kids. It's ridiculous," coach Jennifer Kindred said. She will be emailing tournament officials about food for next year's tournament.
Ultimately, though, Foothill placed fourth in sweepstakes, essentially a competition for winning the most trophies.
"I love it. We are so good at what we do," Roberts said.