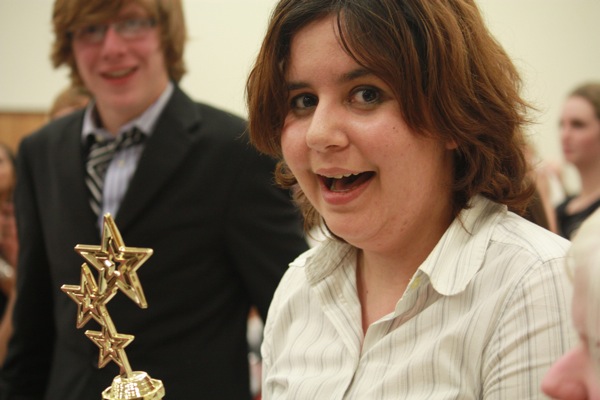 "Speech should be considered a sport," sophomore Molly Roberts said. "We run, we lift heavy objects, we jump and dance and pretend to throw things."
The fall open league individual events speech tournament at Simi Valley High School was no exception. With over 500 entries, Roberts, along with the rest of the Foothill speech team, was one of many trying to talk her way to a trophy.
At a speech tournament, there are two types of events: original and interpretation. Original events tend to follow more traditional methods of speaking. Interpretations more closely resemble acting. Competitors often get creative, incorporating singing, dancing, staged fights, beatboxing, and other techniques.
Original events are comprised of student work, whether it be scripted or purely extemporaneous. In expository speaking, Lindsay Boyd earned a superior certificate for a speech on housewives, and a student who wishes to remain anonymous earned a certificate of excellence in Original Advocacy.
In spontaneous argumentation, or SpAr, Boyd also received a certificate of excellence, and Karen Fox earned a superior certificate. In extemporaneous speaking, Luke Ballmer picked up a certificate of excellence, another limited-preparation event.
Ballmer followed that with a superior certificate in impromptu and Bryan Hickman received a certificate of excellence in the same event.
Kevin Kunes, however, got first place in impromptu speaking out of 122 competitors with a picket fence, which meant he was ranked first in every round he competed in. 
In interpretation events, Brittany Bernardi earned a certificate of excellence in Original Prose and Poetry, with the piece, "Grayson O'Connor is Good at Everything," with which she won first at a tournament in October.
"The speech tournament was super fun," Bernardi said, though she's already looking forward to the next competition.
The El Camino speech team, which is comprised of two members and competes alongside Foothill, had a 100% success rate in interpretation events. Sophomore Mimi Babb took second in Dramatic Interpretation, and Lizzie Chapin got third place in Oratorical Interpretation.
Their success meant El Camino earned fifth place in interpretation sweepstakes. In debate sweepstakes, Foothill took second after a strong performance at the open debate tournament last month.
"We're all really excited about it," Roberts said. "Especially since the season's starting."
She's referring to the period spanning January through March, where there are 8 tournaments over the course of 10 weeks. Next on the team's to-do list, and starting the ten week scramble, is an invitational tournament at Cal Lutheran, where Foothill will be competing next month.