Middle school AVID students tour Foothill (7 photos)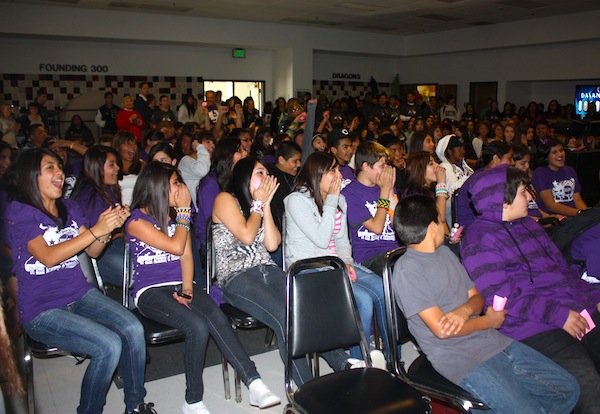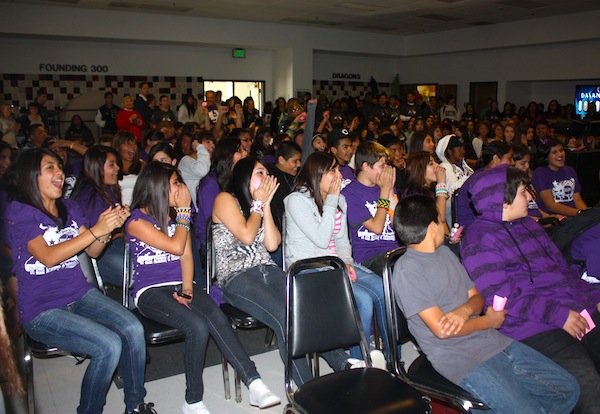 AVID middle school students laugh during an introductory presentation in Spirito Hall. Credit: Eva Morales/The Foothill Dragon Press.
Middle school students walked the halls of Foothill, experiencing a glimpse of what their high school career could be like on Wednesday.
With possible options between Ventura, Buena and Foothill, most students are still unsure which high school is the best fit for them.
A campus visit offers future students a chance to see the campus, experience the distinctive class atmosphere, and meet future classmates.
Since the campus tour was run by the current junior and senior AVID class, the middle school students were able to actually connect with them and visualize how they might fit into the picture as a student at Foothill.
Carol Cook, the AVID teacher at the De Anza Academy of Technology and the Arts said, "I thought the day went great.  The kids really liked Foothill and many kids who really never thought about applying are talking about applying."  Seeing familiar faces on a campus made some realize that Foothill might be a good fit for them.
In Spirito Hall, students were shown the video made by Foothill students to try to convince President Obama to come to Foothill last year. The video included both teacher and student voices as well as an overview of how the school was made and the many awards Foothill has received.
AVID students Sally Kiesow and Kimberly Mendoza both gave a speech on how their experience at Foothill and in the AVID program has changed their life and has given them the options to succeed in life.
After the introduction, the freshman headed outside to the quad where groups of AVID students waited with signs to begin the tour. The tour covered classrooms in each building as well as the pods and the media center. Each classroom visit was five minutes long, so that the middle school students were able to see a lot of classrooms. 
Joselyn Pereda, 8th grader from Anacapa said, "My favorite part was going to the different classrooms because one of the classrooms even had bones on a table and it immediately made me want to know what they were learning about."
But at the same time, some changed their minds about applying due to the lack of a variety of elective classes. However, students were reminded that students can try electives offered at Ventura College which is right across the street from Foothill. A handful of students still remained unsure though of whether they would like the block schedule and small campus.
Matt Walden, counselor at Cabrillo said, "I was impressed by the classroom visits and the AVID student guides. They were cordial and seemed to truly enjoy giving the tours. The classroom environments were welcoming, and the [Foothill] students were engaged in learning but also open to answer questions."