Almost midnight: Harry Potter & Deathly Hallows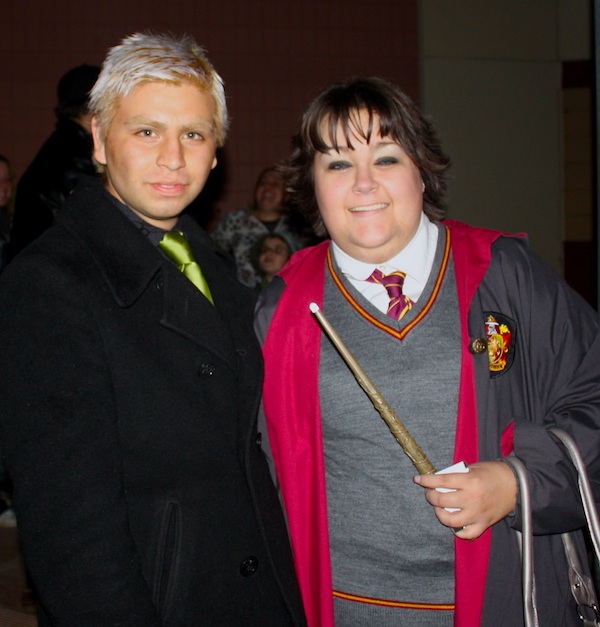 Excited chatter filled the air under the glow of the neon lights spelling out the words 'Century 16' in pink and purple letters. Though it was 10 p.m., people were already lined up halfway down the block, filing in every few minutes as theater employees with flashlights announced that different showtimes were being seated.
Rarely does a film release warrant people lining up in the cold two hours before the show begins, but arriving early was the only way for anyone to guarantee themselves a seat at a midnight screening of Harry Potter and the Deathly Hallows: Part 1.
Costumed fans joked and gossiped with each other as they waited outside on the sidewalk. Anticipation brought the fans together in the night; anticipation of the penultimate film in the Harry Potter franchise and what it would bring. Ventura locals Horacio Sanchez and Laura Harris eagerly flaunted their costumes and assumed British accents.
Many fans like Ventura High School student Malcolm Lowe put effort into their costumes, going all out on details in their last chances to dress up for a Potter release.
"It's the elder wand," Lowe explained, indicating the wand prop he had brought to complete the wizarding look of his black cape, "it's got the design and everything."
Others, like fellow Ventura High student Scryozha LaPorte, came without a costume, but were no less eager to see the movie. The very fact that they had come to a midnight showing of the film on a Thursday spoke to their dedication.
Harry Potter and the Sorcerer's Stone was released in 2001 which launched a worldwide phenomenon. The books and movies have been translated into more than a dozen languages and remain the highest grossing international franchise in history. But now with the seventh film being completed, the series that this generation has grown up with is drawing to a close.
Fans expressed mixed feelings about the release – no more midnight showings, no more frenzied buildups to book or movie releases. Well, almost. Last night's midnight showing was only the first part of the finale, which means fans will have to wait for Harry Potter and The Deathly Hallows: Part 2 to come out on Jul. 15 2011 to see the real conclusion.