BREAKING NEWS: Speech and Debate wins five awards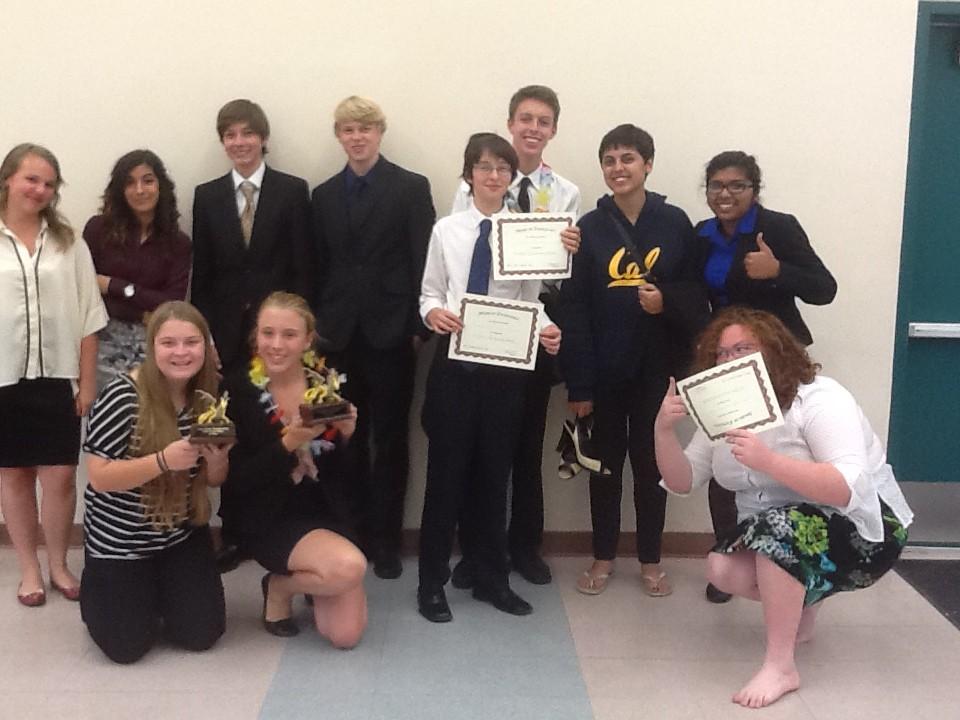 The Foothill Speech and Debate team's first tournament this Saturday at Valencia High School was a successful one, resulting in five different awards.
 Junior Fidelity Ballmer and junior Khalia Hartung-Dallas won first place in Public forum debate

Senior Kiley Becker won third place in Lincoln-Douglas debate

Senior Ben Limpich and sophomore Isaac Goldstein won third place in Parliamentary debate

Junior Ashley Amaladhas won fourth place in the Fortune Cookie Impromptu event
The Golden Dragon Invitational tournament included Parliamentary debate, Public forum, Lincoln-Douglas debate, Poetry Reading, Fortune Cookie Impromptu, and TV Broadcasting.
This tournament took place much earlier in the year than most tournaments, which start in October. Despite this, Foothill Speech and Debate students succeeded in preparing solid cases and competing professionally.
"We do very well during the year, but this tournament was way earlier than most tournaments. Most of the years that we competed, the tournaments started in October, so this is a whole month sooner," Speech and Debate team coach Jennifer Kindred explained.
"It was a little bit of a scramble to get cases ready, so I was really pleased with the results given that we only had a week to put it together."
The different rounds required skills and analytical thinking.
"The way Impromptu works is you either get three words to choose from, or quotes, or some sort of question that you have to answer," described junior Ashley Amaladhas.
"You have to give a five minute speech on that topic that you choose. It's basically like a five paragraph essay condensed into a five minute speech."
Senior Ben Limpich described the process of a Parliamentary debate.
"Parliamentary is a spontaneous form of debate in which a team of two people get 20 minutes to prepare a speech to the negation or the affirmation […] it uses common knowledge and is logic based, so it's a very fun, impromptu form of debate."
The tournament also allowed new speakers to test their skills. Freshman Sean Ward tried out Impromptu with the Speech and Debate team in his first competition.
"It felt good [to be in my first tournament]. I went in confident and I came out more confident," Ward described.
"I felt that it was good practice. I learned a lot; I learned how to act under pressure, and how to be good when you actually have to do the event."
According to students and teachers alike, the skills required in these competitions are gained during speech and debate and are beneficial for a person's future.
"I think it's really important for everyone, not just high school students, but everyone, to be able to look at all sides of an issue objectively," Kindred said.
"Too often, people spend their lives in their little 'bubbles' so debate forces you to look at the other side– a side you may not agree with, and at least, see the merits of those arguments or those beliefs."
The competition was rigorous, but it was also fun and provided a couple laughs.
"The school that was hosting the tournament got 250 extra donuts and I saw people out-of-the-blue debating whether or not chocolate or glaze donuts were better and it was really funny," said senior Kiley Becker.
Overall, members of Speech and Debate were also very pleased with the outcome.
"We had three rounds and we did really well," junior Khaila Hartung-Dallas said. "[Fidelity Ballmer and I] were undefeated in the [Public forum debate] tournament, so we got first place out of all of the other teams that were there." 
[soundcloud url="https://api.soundcloud.com/tracks/167637853″ params="color=ff5500&auto_play=false&hide_related=false&show_comments=true&show_user=true&show_reposts=false" width="100%" height="166″ iframe="true" /]
After the tournament, they had a chatty dinner at Santino's Pizza.
"It's really a great team to be on. First of all Foothill has a really great Speech and Debate team and second of all, it's really satisfying to see people win from our team because we've all worked really hard and it's a nice start to a hopeful year," Amaladhas said.