Speech team snags trophies at Fullerton invite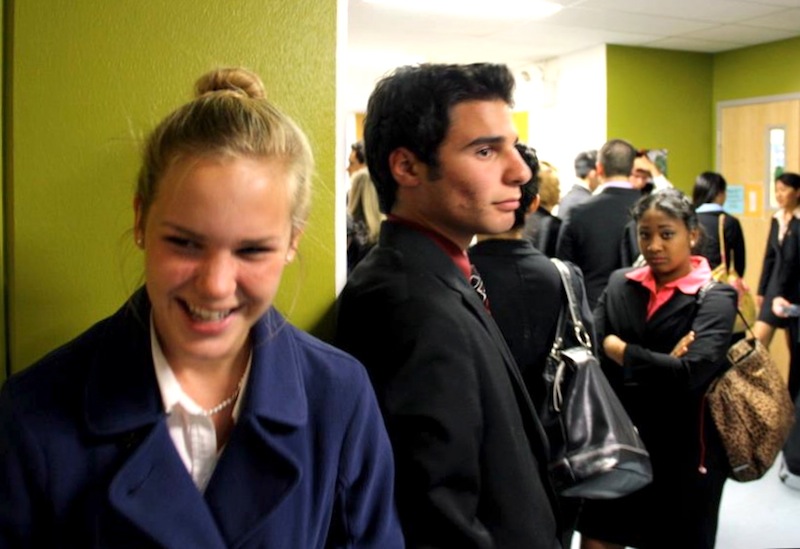 Juniors Kevin Kunes and Nicole Teitel perform their duo in Fullerton on Oct. 24. Anaika Miller/Foothill Dragon Press
The Speech and Debate team rolled out of Foothill's driveway at 7 a.m. on Oct. 22 in order to reach California State University Fullerton in time to attend the beginning of its invitational tournament. 
Students competed in policy debate, public forum debate, and various speech events, including humorous interpretation, duo interpretation, dramatic interpretation, original advocacy, and original prose
and poetry.
The tournament spanned three days. On Friday and Saturday, team members debated six rounds before octofinalists were announced.
In open public forum, two Foothill teams advanced to the quarterfinals: Sam O'Donnell and Aron Egelko, and Bryan Hickman and Jim Bern. Kevin Kunes and Anaika Miller advanced to the semifinals before being eliminated on a 2-1 decision.
Kunes was ranked as the best speaker in the open public forum portion of the tournament , and Egelko was ranked third (as determined by speaker points).
In novice public forum, freshmen Ana Bello and Ami Ballmer advanced to quarterfinals; Ballmer was ranked third speaker in the novice division.
"I expected to break," Ballmer said. "I'm just happy that I beat Luke."
 "I didn't do Pofo as a freshman!" Luke Ballmer, Ami's brother, muttered.
On Saturday and Sunday, the speech team competed in individual events. In humorous interpretation, Luke Houska placed sixth. In duo, Aron Egelko and Anaika Miller placed sixth, and Molly Roberts and Karen Fox placed seventh.
In OPP, or Original Prose and Poetry, Brittany Bernardi placed first with a speech entitled, "Grayson O'Connor is Good at Everything."
"She's the best at what she does," Ami said.
As exciting as the team found Bernardi's accomplishment, most members were primarily concerned with food.
"There was a copious amount of team bonding over lack of breadbowls," Jim Bern said. Competitors were left to fend for themselves for sustenance, as no food is sold on campus at invitational tournaments.
Anthony Villa, coach of the FTHS debate team, remarked, "I had a great time because the entire team really pushed each other to have fun and find really great restaurants."