Talent flourishes at Artwalk (21 photos)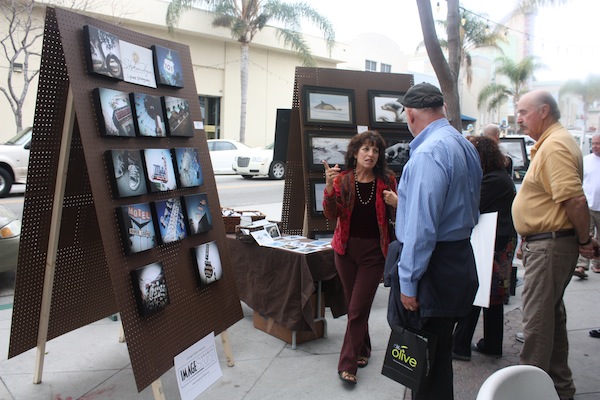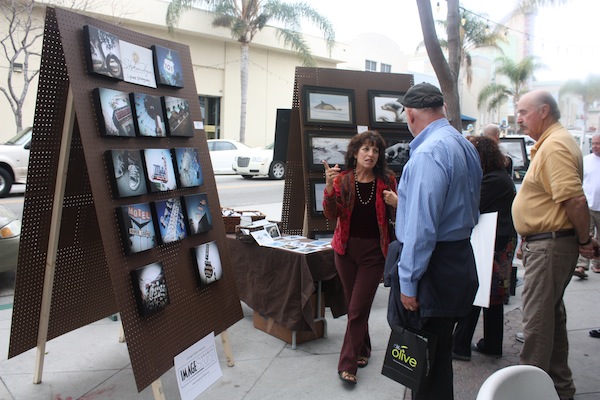 An artist explains their photography to passersby at the Ventura Artwalk last weekend. Chrissy Springer/The Foothill Dragon Press.
The Artwalk brought culture to downtown Ventura this past weekend; local artists and bands showcased the hidden talents of Ventura. The Artwalk was a free two-day self guided tour with various galleries set up in shops. There was a variety of artists including painters, photographers, and sculptors.
"I love doing it because it brings out a lot of the locals," said Cheryl Collins owner of Cheryl Collins Signature Style. She hosted sculptor Chris Provenzano's gallery in her shop. Saturday was a particularly busy day, "There must have been eight to nine hundred people in here," exclaimed Collins.
Visitors were also treated to live entertainment.  Jodi Farrell and the Front Street Prophets played a classic rock- blues set from 3p.m. to 4p.m. They rocked out in front of small audience at Plaza Park. Various locations were set up with different local bands.
Terry Bray, the curator for the gallery at the Crowne Plaza, explained why the Artwalk is so important to her personally. "This gallery is on board with Art Share, which is a fundraising program for Ventura County Food Share. So far this year we've raised over twenty three thousand dollars in food purchasing power for Ventura County Food Share." Food Share is a nonprofit organization that distributes food to those in need. Artist who participate in the Artwalk are encouraged to donate a certain portion of their profits to Food Share.
At Tipp's Thai photographer Steve Munch had set up a gallery. He featured beautiful pieces meant to symbolize Ventura, including coastal scenes. Munch does not have a particular style of photography, but his passion for photography was evident. "I'm really excited about getting all of my work in front of the public. It seems to be received very well," Munch said as he looked at his work.
Each artist had their own reasons for their passion of art, including Foothill alumni Andrew Uvari. "If I didn't go to Foothill, I probably never would have started…Mr. Frazier and Mr. Crouch both, you know. I showed them my beginning stuff and they both started egging me on, telling me to keep going for it, keep going for it."
Foothill's art teacher, Justin Frazier, commented on Uvari's participation in the Artwalk, "It's nice to see students take what they learn and apply it in their own way." Frazier plans various events to showcase his students' artwork in the community, including the Artwalk in spring.
However, Uvari received more than positive feedback. "Foothill tried to shut down my photography. I pretty much took that as like an 'umph' to get me started, like doing my own stuff, bigger, better, bigger, better."
Uvari plans his future and said that his photography is more of a passion than a business, "Hopefully this will get me through school.  [I've] got to pay for that. Every time I start making it a business it takes away the fun of it, so…[I'm] trying to stay away from that. As far as I can."
The Artwalk exposed all of the hidden artistic creativity in Ventura and brought out the community.  No matter what medium artists work in, they share a common passion for the arts  and a pride in their work.