Foothill showcases BioScience program to state and local leaders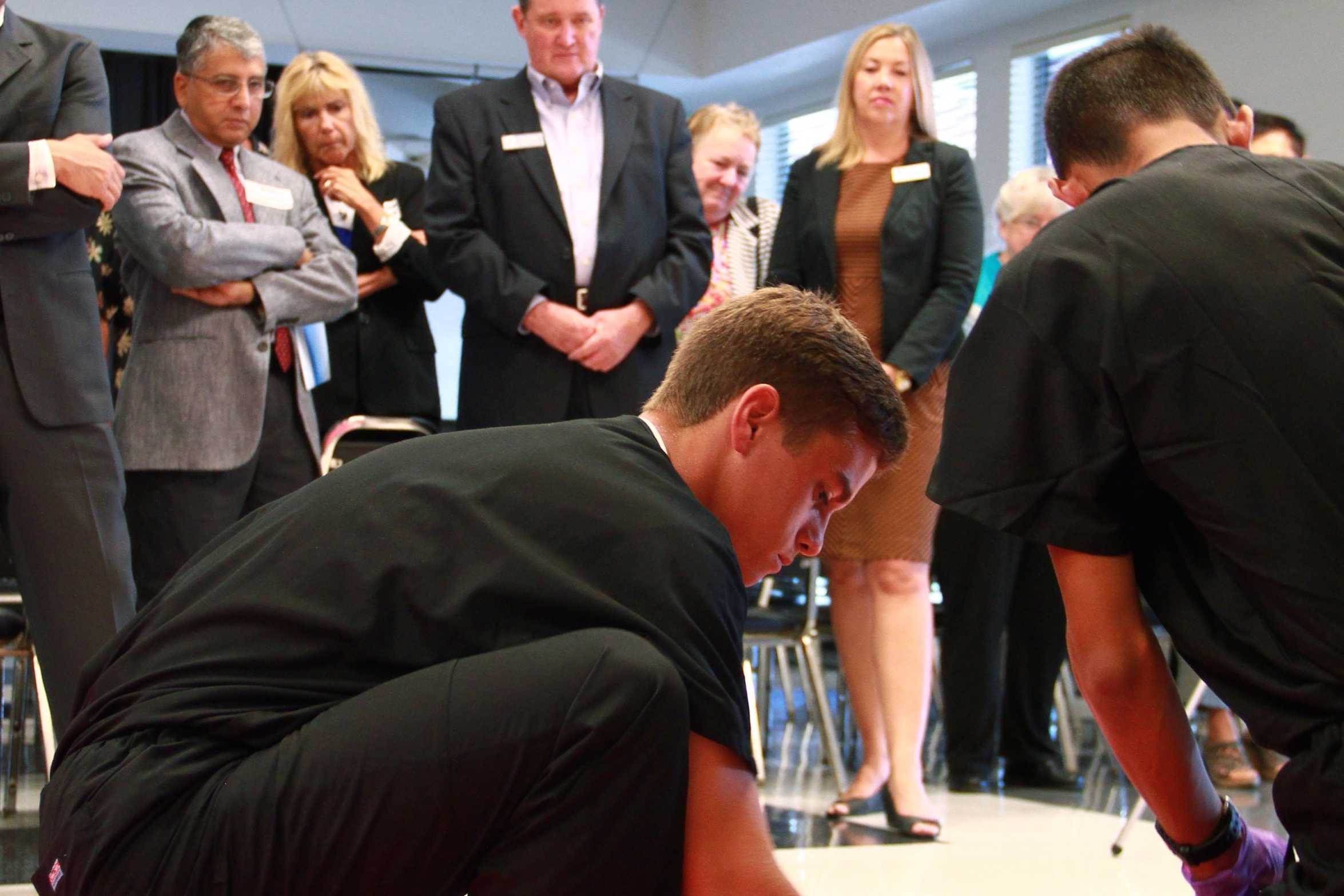 Local and State business, educational, and community leaders highlight Foothill's BioScience pathways
More than 80 educators, business leaders, and educational representatives, including State Superintendent of Public Instruction Tom Torlakson and California State Senator Hannah-Beth Jackson, D-Santa Barbara, met Wednesday at Ventura College's Wright Center and Foothill's Spirito Hall to discuss the recently awarded $13.2 million Ventura County (VC) Innovates Grant.
Affecting seven school districts and Ventura County community colleges,  the VC Innovates grant will bring together high schools, businesses and community colleges to form defined career pathways.
"Before, a high school district might of had a program here, another there, another one here and community colleges might of had the same programs, they weren't aligned in any way," Ventura County Office of Education Deputy Superintendent Roger Rice said.
Rice said that before, if, for example, a student wanted to study robotics or manufacturing throughout high school  and then go to community college to receive a degree or certificate, it was "hit or miss."
"Some of them [the students] articulated through community college, [but] most of them didn't," Rice said. "What this grant did is it allowed us to have the resources we need to sit down and plan that every pathway was articulated through, and that's a huge challenge and a huge investment, but without the grant, I'm not sure that would have been possible."
With everything from emergency training, to agriculture, to manufacturing, the VC Innovates' goal is to prepare students with the skills and business knowledge they need to join the Ventura workforce.
"The end point of the pathway is movement into a career. The clear measure of success is we'll increase the number of students that start a pathway in high school, complete it at the community college and move into the workplace," said  Ventura College President Greg Gillespie.
California State Senators Das Williams and Hannah Beth-Jackson also spoke of the importance of the VC Innovates grant to workplace and economy.
"We're going to see this community developing- robust, strong, 21st century economy filled with young people who are well-educated and motivated and have all the hope and aspiration that continues to make this country great," Beth-Jackson said.
Foothill receives $25,000 for equipment and $4,000 for field trips
Torlakson stated that Foothill's BioTechechnology (BioTech) program and established community relationships helped Ventura County receive the grant from the state. Many counties and districts put in requests for grants, totaling at $1 billion.
Foothill's BioTech program and established community relationships were important contributing factors in why Ventura County, out of the one billion dollars in grant requests that state received, was awarded the grant, Torlakson said.
Ventura County chose to use Foothill to hold part of the presentation because of the already well-defined pathways, possibilities for continuing improvements in the future and proximity to Ventura College, Duffy explained.
[soundcloud url="https://api.soundcloud.com/tracks/166144992?secret_token=s-jwXvC" params="color=ff5500&auto_play=false&hide_related=false&show_comments=true&show_user=true&show_reposts=false" width="100%" height="166″ iframe="true" /]
"[Foothill and BioScience is] awesome, fantastic, fabulous. Adventures in learning- fun- but the skill level that the students here are developing and their ability to make choices, to see opportunities and choices that they will seize on to direct their learning and direct their lives […] is so real, so relevant," Torlakson said.
"You [Foothill] already had established relationships […], you had a history, but you were going to bring it another level, and share it with more students. It's great," Torlakson said.
Of the $13.2 million awarded to the county, Foothill's BioTechnology program will receive $25,000 for equipment, $4,000 for field trip funds, 50 paid teacher developmental hours, and 4 sub days per teacher per year.
BioScience Coordinator Darcy Duffy said that the money and resources Foothill receives will either be split between the BioTech and Medical Technology (MedTech) programs or doubled by the county if Medical Technology is added as it's own official pathway.
Duffy and MedTech teacher Mika Anderson are hoping to use the field trip money to fund possible research trips to collect bees and ants on the Channel Islands, participate in triage events, and continue collecting rockfish specimens on the annual BioScience fishing trip.
Bioscience "first responder" demonstration from The Foothill Dragon Press on Vimeo.
Foothill students and alumni share regarding the program, demonstrate skills learned
After introductions at the Wright Center, attendees walked to Foothill's Spirito Hall to view a presentation by BioScience Coordinator Darcy Duffy regarding the current MedTech and BioTech programs.
Ventura Unified Superintendent Trudy Arriaga, after introducing Foothill as the "crown and jewels of VUSD," thanked Beth-Jackson, Torlakson and other education and  business partners for their work in promoting education and career readiness.
Foothill senior Ciera Georgi spoke of her job shadowing experience at Ventura County Medical Center (VCMC) and how it helped solidify her goal to work as a nurse in the Neonatal Intensive Care Unit (NICU), while alumna Ami Ballmer spoke to how her work with Coastal Marine Biolabs (CMB) gave her hands-on work experience.
Cheryl Lambing, Ventura Family Medicine Director for Professional and Community Education and Outreach, also spoke to the audience about the importance of laying a foundational basis with the grant that will continue, "one year, five years, and ten years" from today.
Narrated by Anderson, students then demonstrated emergency response practices, or triage,  including how to communicate with someone who is injured, take someone's pulse, put them on a stretcher, perform CPR, use a defibrillator, and more.
A tour of the BioTech lab was cancelled due to lack of time.
Torlakson said that the pathway Foothill already has in place can be used as a model for developing future pathways and similar programs.
"That's the whole goal, the whole program […] We want to 'clone', using a biological term, the wonderful programs here; 'clone' the inspiring teachers, and have students like Ami, who was so articulate," he said.
A panel was held afterwards at Ventura College to answer questions about the grant. Participating was Foothill alumnus and Founder and Managing Director of Aspire: Entrepreneur Education Initiative, Sean Bhardwaj.
[soundcloud url="https://api.soundcloud.com/tracks/166145719″ params="color=ff5500&auto_play=false&hide_related=false&show_comments=true&show_user=true&show_reposts=false" width="100%" height="166″ iframe="true" /]
Grant leaders; implementers define their idea of success for Ventura County
Grant lead Tiffany Morse said Ventura County will be measuring the success of the grant by looking at two main factors.
First, Ventura County will make sure that all 35,000 students in one of the 62 career pathways will have a work-based learning experience, such as seeing guest speakers, having a mentor, going on a job shadow, or being an intern.
"That's one of our measures of success, is that every student have some kind of real-life contact with businesses," Morse said.
The second measure is that pathway classes are "articulated" between high school and college, meaning that students get community college credit for high school classes.
"I think our largest endgame, or what we're looking for, is that outcome that we've increased pathways so the students can go right from high school to college to a career," Ventura County Community College Chancellor Jamillah Moore said.
"This is all about streamlining and making it easier for students to say, 'This is what I want to do. Let me kind of make sure my time […] is going to be efficient,' but also see [that] their learning skills are going to help them transition more […] It's all about serving students and putting students to work."
Deputy Superintendent Rice said that he thinks one of the largest goal of the grant is to give the students the business skills and foundational knowledge they need, even after the grant's money has been spent.
"Right now there's been a disconnect there where businesses are constantly expressing concerns that the kids have academic knowledge but don't have the business skills that they need, and that's being closed," he said.
"What this grant does is it forces us to come together and play nice in the sandbox and really consolidate our efforts in a way that has never been seen before in the county," Rice said. "I think the lasting impact will be to build a structure where people can continue to collaborate long after the grant is over."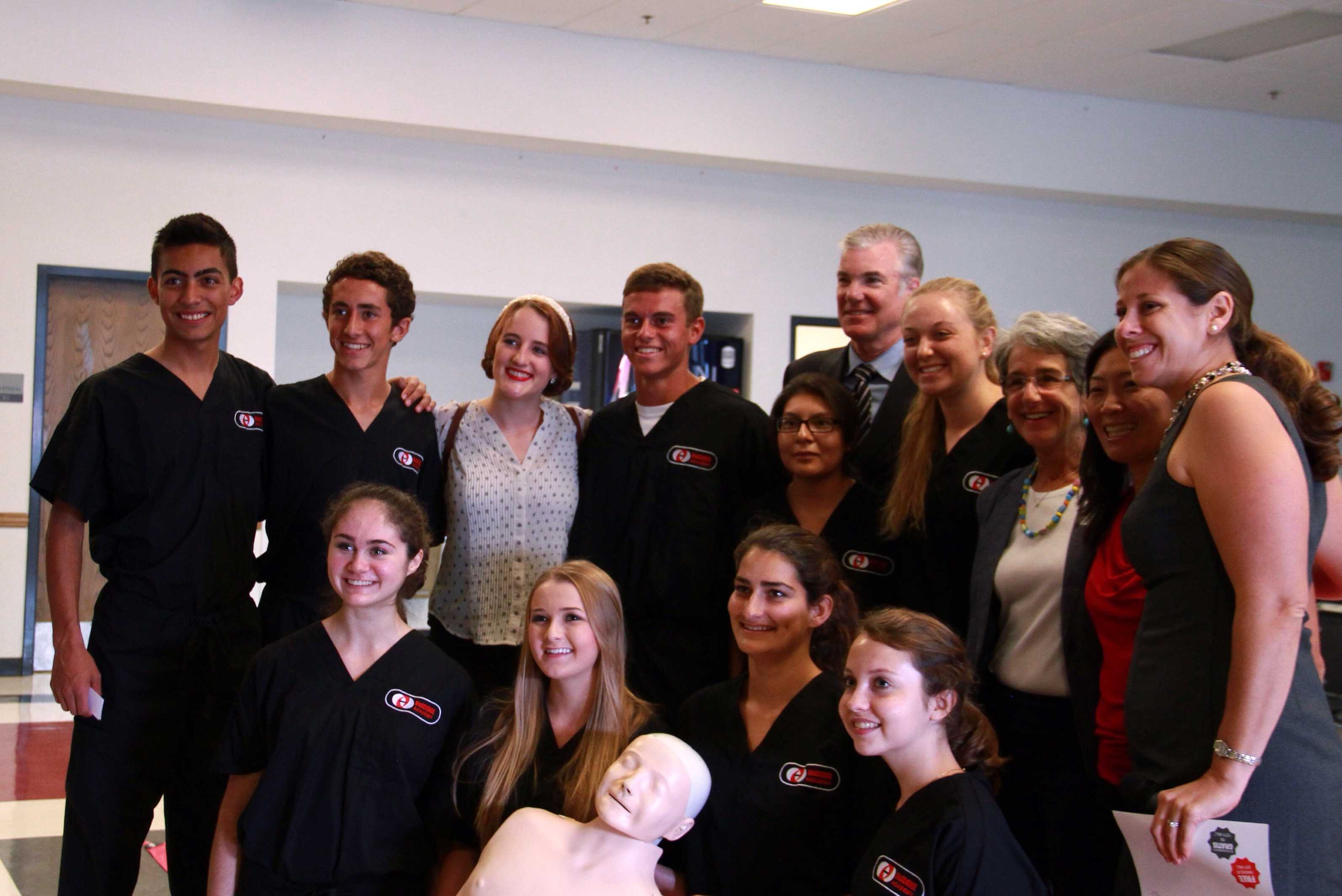 Background Photo Credit: Kazu Koba/The Foothill Dragon Press
Video Credit: Fidelity Ballmer/The Foothill Dragon Press