Reduce carbon footprints, save the world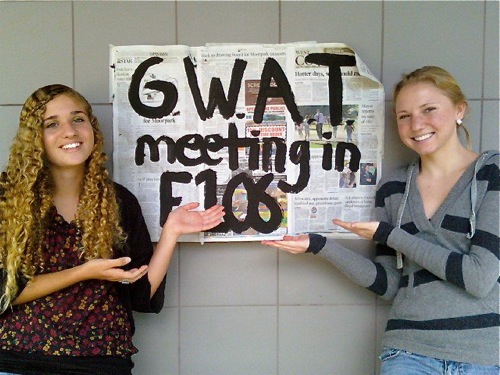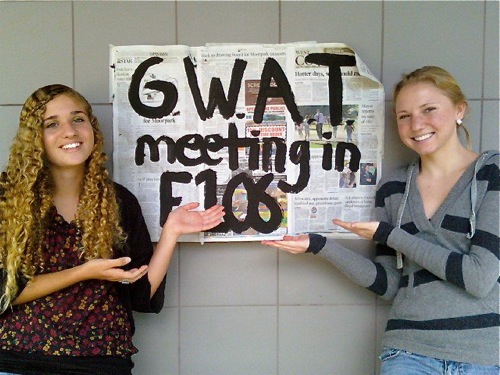 On Wednesday Oct. 6, 2010, the members of the small but driven club contemplated the idea of planting a tree on Foothill's campus.
"The school is strategically architecture [sic]  so planting a tree might be difficult," says junior Hannah Alday during a Global Warming Action Team (GWAT) meeting.
Foothill's campus is specially designed, and placing a tree just anywhere will put the architecture off-balance.
Rick Villano, the Algebra 2, Honors Algebra 2, and Honors Trigonometry/Precalculus teacher suggested that the group may instead consider planting a garden of some sort – perhaps a vegetable garden – behind the H-pod where it would be more hidden.
Before the meeting comes to a close, junior Lujain Al-Saleh, the president of GWAT, led the group in a discussion of various earth-friendly related topics such as the importance of unplugging electronics when not in use, and the possibility of reusable lunch trays for the cafeteria.
The next day, Al-Saleh shared how she got involved with GWAT.  She once went to school with Alec Loorz, the founder of the organizations Kids vs. Global Warming and SLAP (Sea Level Awareness Project). Al-Saleh says that Loorz was trained by Al Gore to start school clubs that raise awareness about global warming. Then, Loorz asked Al-Saleh to start GWAT at Foothill.
So what does GWAT do?
"Sit around and talk!" Alday, the secretary of the club answers, laughing. "Just kidding. We try to save the environment by changing our lifestyles in small ways. Small things add up, like reusing water bottles," she adds.
Every Friday, GWAT recycles and uses the money earned from recycling for the club. They also plan events for saving the planet, such as beach cleanups, which students in need of community service hours should think about participating in.
"Last year it seemed like we had a lot more people…I think most of them were seniors, though," Al-Saleh notes. She is eager for more people to join GWAT, and encourages them to think about it. "If they're interested, they'll learn more and be able inform others [about global warming]."
The members of GWAT refer to a book called 30 Simple Energy Things You Can Do to Save the Earth for implementing eco-friendly habits. Al-Saleh and Alday share some of their best ideas:
Cutting showers by even a minute conserves a lot of water.
Appliances that are turned off but still plugged in still use energy. If you're done charging your cell phone, unplug the charger.
Think about what you're going to get from the fridge, and then get it quickly instead of standing in front of it thinking about what you want to eat with both the doors wide open.
When it comes to saving the world, Al-Saleh says, "People say 'Oh I can't.' But even little things count!"