Spirit is alive at Foothill (7 photos)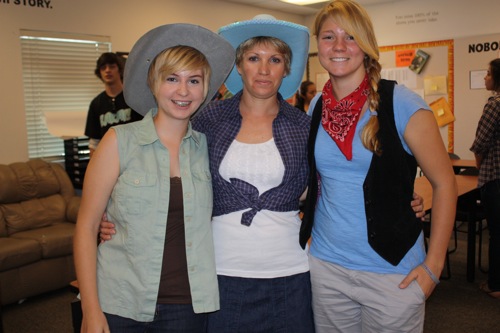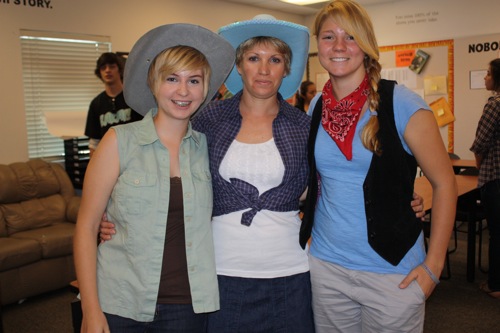 Old, wild-west styles like this came back to life on Western Day at Foothill. Maya Morales/The Foothill Dragon Press.
There is a big commotion on campus — cowboys, superheroes, hippies, nerds, and those lazy kids who didn't feel like changing out of their pajamas that morning. What's the reason for such wacky outfits, such haphazard taste in clothing, and so many oversized cowboy hats? Spirit Week came to Foothill.
Spirit week occurs twice a year, one week each semester. Students have the opportunity to dress up according to the theme of the day. For semester one's Spirit Week, the themes were as follows: Monday was tie-dye day, Tuesday was Western Day, Wednesday was Superhero Day, Thursday was Pajama Day and Friday was Buena v. Ventura Nerd Day.
Students dressed up in tie-dye t-shirts, in cowboy boots, as superheroes and came to school in their pajamas. Buena v Ventura Nerd Day was especially exciting, as students who represented the schools dressed up as a nerd of their rivals. The reason for such crazy themes? Well, Foothill is known for the extraordinary.
"We try to pick themes so that every person can participate," said Jessica Entrekin, ASB Lunchtime Activities Director.
Each dress-up day even has its own activities during lunch. For example, there was a round-up on Western Day, a pillow sack race on Pajama Day and a Tug-O-War on Buena v. Ventura Nerd Day.
Despite the interest that some students are taking in Spirit Week, there are those students who do not choose to participate.
When asked why he didn't want to participate, senior Joseph Newman replied, "Because it's kinda dumb."
However large the percentage of students who did not participate was, there is still a significant portion of the student body that seems to really enjoy showing their school spirit.
"I'm surprised at the turn-out with the heat wave," Entrekin said, shrugging.