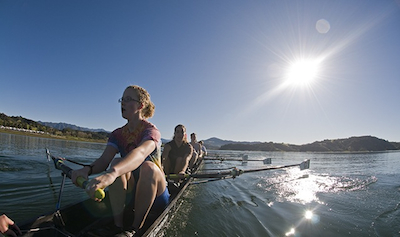 With school starting, students are throwing footballs, setting volleyballs and swimming in the early morning for water polo, but what about rowing?
The Lake Casitas Rowing Association has announced tryouts for their high school crew team and is offering free rowing trials on either Saturday, September 4, or Saturday, September 11.
To reserve a tryout spot, call Coach Wendy Gillett at (805) 642-2288 or send an email to [email protected]. No previous experience is necessary.
The association is made up of students from over 20 high schools and is coached by Eric and Wendy Gillett, both highly experienced rowers. Eric received a silver medal in Germany during the 1998 World Rowing Championships and Wendy was on her college rowing team.
Rowing may be a good choice for someone who wants to try a sport that isn't offered at Buena or Ventura High School. If students decide to join the team, there are four after-school practices during the week and one on Saturday morning at 8:30 am. Scholarships are available.
For more information, check out the official website. To find out whether rowing for the association can be counted as P.E. credit at Foothill, contact Emily Stevens at [email protected] or call (805) 289-0023 ext. 2701.