Valedictorians and Salutatorians announced at Star Wars themed S.O.A.R. rally
During fourth period on Wednesday, Feb. 24 the Class of 2016 flooded into Spirito Hall for the Star Wars themed Seniors Only Academic Rally (S.O.A.R.).
During fourth period on Wednesday, Feb. 24 the Class of 2016 flooded into Spirito Hall for the Star Wars themed Seniors Only Academic Rally (S.O.A.R.).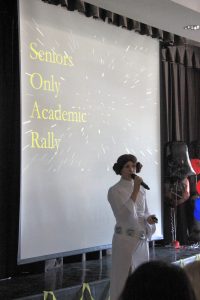 The goal of the rally was to motivate seniors to continue working hard for their last semester of high school. "It's always important to let kids know that you know that they're accomplishing, that they're achieving, and that you see their character," Associated Student Body (ASB) Advisor Melanie "Captain" Lindsey said.
With Lindsey dressed as Princess Leia and art teacher Justin Frazier as Obi-Wan Kenobi, certificates were awarded to students who had been nominated by their teachers in one of four categories: Most Achieved, Most Inspirational, Most Improved and Most Participatory.
Next, seniors who had earned Magna Cum Laude (4.00 to 4.39 GPA) and Summa Cum Laude (4.4 GPA and above) were recognized and congratulated.
Clad in full Darth Vader attire, Principal Joe Bova then announced the class Salutatorians and Valedictorians. Salutatorians are students who have achieved a 4.8 GPA and Valedictorians are students who have achieved a 4.9 GPA. This year, there are five Salutatorians: Emma Birch, Myan Ahron-Ezer, Cliff Danza, Holden Kenedy and Ashley Quezada. The three Valedictorians are Fidelity Ballmer, Charlotte Fox and Bryn Treloar-Ballard.
"It's such a huge honor to be able to stand up in front of the senior class with Fidelity and Charlotte who are just amazing, hard workers. It really feels like a vindication of all the hard work we've put in," Valedictorian Treloar-Ballard said.
Ballmer agreed. "It was a lot of hard work, but it was worth it," she said.
Fox felt the same. "It's really fantastic to be able to see all of your hard work throughout the years pay off," she said.
Throughout the rally, the seniors played games, such as Star Wars trivia. They answered questions like: who said, "Aren't you a little short for a stormtrooper?" They also had a Star Wars impersonation contest, where students had to sound like Darth Vader, Chewbacca and a lightsaber sound effect.
[soundcloud url="https://api.soundcloud.com/tracks/248933733″ params="color=ff5500&auto_play=false&hide_related=false&show_comments=true&show_user=true&show_reposts=false" width="100%" height="166″ iframe="true" /]
At the end of the rally, Lindsey left the seniors inspired by reminding them that they are "some of the sweetest human beings, the most genuinely kind and thoughtful kids [she has] ever seen."
"Believe in the power that you have to continue to change this world, because you will. You only have 64 days left with us, and we're sad about that, but then you're moving on to even more incredible things," Lindsey said.
Seniors then watched a video clip from Star Wars: The Empire Strikes Back. "There are specific words in that, words that I think you should live by: 'Do or do not, there is no try,'" Lindsey concluded.
…………… 
……………
Editor's Note: Fidelity Ballmer is Editor-in-Chief and Bryn Treloar-Ballard is Sports Editor of the Foothill Dragon Press. Neither were involved in the writing or editing of this article.