Student and teacher perspectives on high school relationships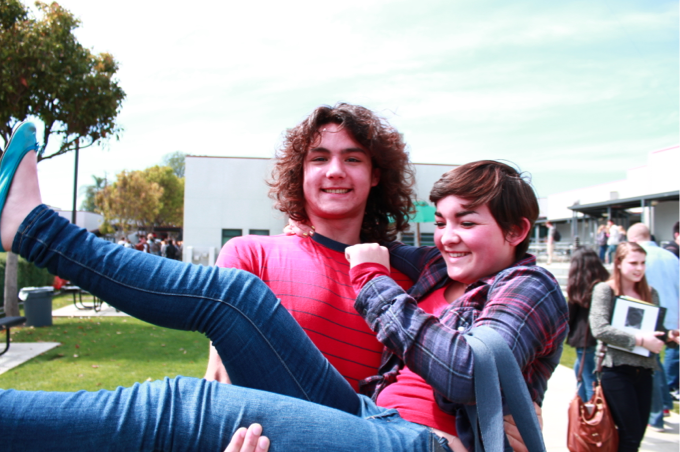 Authors like Jenny Han and Sarah Dessen tend to convince high school students that teenage love will conquer all and will always last. Looking around campus, it is not hard to tell who is in a relationship and who is not. Those couples often look at each other with googly eyes and cartoon hearts surrounding them. However, some adults look at them only as temporary flings.
High school couples tend to be more involved with each other than adult couples, according to sophomore Spencer Malone, who has been with his girlfriend Jennifer Vasquez for ten months.
"I think that teenage love is different from adult love because teenage love seems to be a lot more involved because you see a lot of adult couples who seem so distant from each other," Malone said.
Everyone can feel love and feel affection for something or someone, but it is understood and described differently all around the world.
Junior Ben Limpich describes love in one sentence as, "an overwhelming feeling of affection for someone else that absorbs them above all else."
Whatever the definition may be, most couples eventually say to each other the three words that nearly everyone in a relationship craves to be on the other end of and that's, "I love you."
Approximately two-thirds of high school students reported that they have dated before or are in a romantic relationship now, but only three percent of relationships in high school last into college and even less individuals marry their high school sweethearts.
Not enough experience
Relationships in high school tend to be experimental, rather than long-term plans. High school sweethearts can be overhyped and overdramatized. According to health teacher Claire Adams, teenagers don't have enough experience, so the pain lasts longer when couples break up.
"When you're a teenager who's in love, and it's your first love, you take it very seriously," Adams said. "You sort of feel it's the be all and end all and then when things go wrong and when love doesn't last, you're devastated and think that you'll never be in love like that again. With everything in life, love is an experience. The more times you have relationships or times you fall in and out of love, the impact isn't quite the same."
Being in a first relationship, it's easy to become too attached to the other person.
[soundcloud url="https://api.soundcloud.com/tracks/139927754″ params="color=ff0000&auto_play=false&hide_related=false&show_artwork=true" width="100%" height="166″ iframe="true" /]
Junior couple Wyatt Kufta-Kuntz and Susannah Chilton have been dating for nine and a half months. Chilton believes that relationships in high school are about having new experiences and testing the water, except under certain circumstances.
"I know a couple that has been dating since seventh grade and they're still together. They've been dating for ages and they're perfectly fine and they're great for each other, so it just depends on if you need someone, that you both care about each other enough to want to make it last or whether you're just doing it to have a partner," Chilton said.
As you grow older and mature, Chilton says that things like experiences fade away and are replaced with thought of needing "to settle down and get a routine."
Media influence on teenage romances
Watch 10 minutes of a movie based on teenage relationships and you'll notice right away that the main couple seems to spend little time with their friends and more time with their significant other. Look around your school campus and you'll probably see the same thing.
Teenagers often overhype their romances due to the lack of experience and reference.
"I find that teenagers do seem to fantasize and overhype their first experiences with romances and that's because they don't really have a lot to go off of," Limpich said.
Because teenagers are new to love and relationships, the thought of being with another person can be comforting and exciting. The lack of experience can cause you to drift apart from your friends and spend more time with the person you're in a relationship with.
Nearly 70 percent of teenage girls that are in a relationship said that they spend less time with their friends than with their boyfriends.
"It does worry me to see intense couples always together on campus, because this is an important time to just enjoy yourself," Adams said. "Even if you're dating someone, if you hung out in a big group, that would be nice. Obviously, keeping your friends is important too. But sometimes, what happens is these couples sequester themselves away in this intense relationship and when it breaks up, they realize that they lost a lot of their close friends."
Maturity
One of a parent's most commonly said argument against dating in high school is "You're not mature enough."
According to Chilton, parents often see teenagers as, "immature and lesser, even though they were kids once."
To be fair, maturity is important in a relationship. It influences a great amount on a person's trust and their commitment to the relationship. Maturity also helps couples to communicate effectively and efficiently.
"I think [a relationship] could last, under the right circumstances and between the right people. If they're mature about it and they don't [do] stupid stuff," sophomore Tess McLaughlin said.
Early teenage years tend to look at relationships as recreational and fun, while older teenage years start to look for intimacy and affection. By the age of 16, most romantic relationships last an average of two years.
"You're still figuring things out and people aren't exactly mature enough. It's more of a fling and trying this out and, 'Do I like this guy? He likes me, so I'll date him,'" Chilton said.
Limpich believes that a person's maturity level matters a lot in a successful relationship.
"I think that fundamentally, [relationships] are the same, but the maturity levels in teenagers make love a lot more sporadic and much less sustainable than adult love," he said.
As students become older, it's natural to mature and grow as a person.
"I think that as you get older, you mature and everybody changes slightly as they get older. I think that the way a person is today might be completely different the way they are in ten years. I think that obviously, that's going to change," McLaughlin said.
A common reason why couples break up is that as the relationship matures, both of the people in it begin to discovers things about the other person that alters their original perception on them. Some discoveries could bring two people closer together, while others can push them apart. Discovering them could cause intoleration towards one another, ultimately causing the relationship to fall apart.
"It hurts temporarily, but time is a healer and you will get through it and you will meet someone else," Adams said.