New spring Renaissance Rally at Buena with group "Happiness is Now" planned for April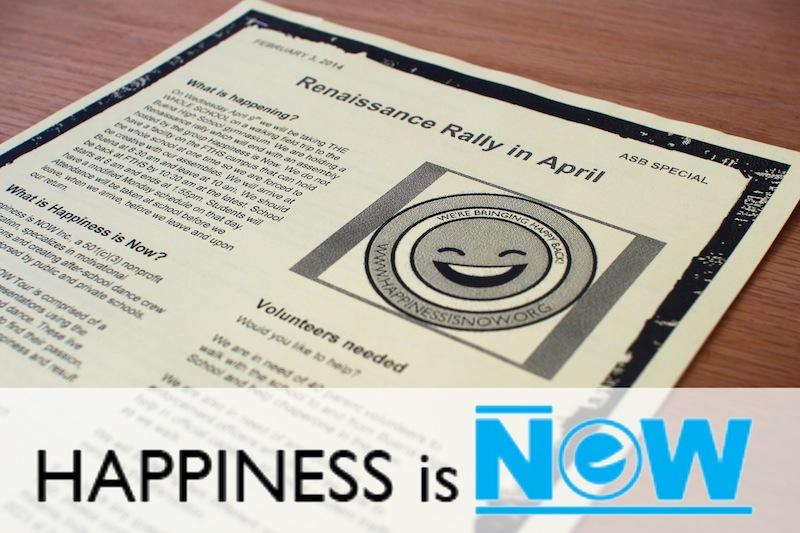 A new Renaissance Rally in the Buena gymnasium ending with a presentation from the group "Happiness is Now" is planned for April, Foothill's Associated Student Body (ASB) announced during first period Thursday.
On Wednesday, April 9, all Foothill students will go on a walking field trip to the Buena gymnasium. Two paths will be taken to minimize the disturbance, with students projected to arrive on the Buena campus at 8:30 a.m.
When students return to campus for lunch, food and games will be offered to students who are on Renaissance.
Renaissance Rally Director Chris Ramirez said the food will mostly likely come from Presto Pasta, and Senior Class President Anna Cogswell said that the fallback is Corrales.
Since Foothill does not have a facility that can fit the entire study body at one time, ASB decided to seek out an alternate facility. Some students have expressed concern about this.
What is Happiness is NOW? Check it out NOW 🙂 http://t.co/rtKcHjhnWc

— Happiness is NOW (@happyNOWtour) January 22, 2014
Senior Liam Egan said he questions if the new rally will build school spirit.
"It doesn't make sense to have a school spirit rally at a school that isn't your school," Egan said.
For the first part of the rally, awards will be given to students for academic achievements. These awards will be through teacher nominations.
"Most likely what we're going to do is select a group of students from each class, and we're going to do academic awards. Some will be on Renaissance and some won't be Renaissance, so they'll feel included," Ramirez said.
ASB is also planning to add games to the first part of the rally, but this is still being decided.
"Captain wanted to divide up the Renaissance Rally and do something new since she was the new adviser, so I went with it," Ramirez said.
For the second part, the group "Happiness is Now" will put on a presentation. According to ASB Adviser Melanie "Captain" Lindsey, the cost for this presentation is $750.
According to the "Happiness is Now" website, their "high-energy presentations use the power of speech, music, and dance." They also, "motivate students to find their passion."
The group's name comes from many people putting off the idea of happiness to the future instead of finding happiness in the present.
Cogswell said that some ASB members have seen the group perform at various leadership conferences, and it is very different than the typical carnival-style rallies at Foothill.
At the conference, Cogswell said the "Happiness is Now" group had students participate in the dances. They also asked what the students liked to do that made them happy, which led to many of them singing or showing their talents for the crowd.
[soundcloud url="https://api.soundcloud.com/tracks/134892142?secret_token=s-9Nwbi" params="color=ff0000&auto_play=false&hide_related=false&show_artwork=true" width="100%" height="166″ iframe="true" /]
The "Happiness is Now" rally also focuses more on inspiring students.
"The 'Happiness is Now' Rally is all based upon the spirit of a real rally," Cogswell said. "What we've always kind of done is, Captain always describes it more like a carnival, because rallies are meant to lift your spirits and get you excited for what's to come, inspire you, and our rallies are more like carnivals to celebrate things."
Cogswell said she hopes that the presentation will inspire kids, instead of only celebrate them.
"We're trying something different this year with 'Happiness is Now,' hopefully to inspire kids on a more personal level instead of just celebrating what they've already accomplished. It's like a motivational speaker, but with dance," Cogswell said.
Some students dislike the idea of a motivational speaker.
"Don't you think if I already got on Renaissance, I already am encouraged to do well in school? You don't need to encourage me more. The people who should go to Buena are the ones who didn't get on Renaissance," sophomore Chloe Yahner said. "I don't really need extra encouragement. A Renaissance rally should be celebrating it. It should be a reward." 
Cogswell said that the rally is divided between motivation and celebration.
"Half of the rally will be dedicated to celebrating, and half is sort of the lift your spirits half," Cogswell said.
Senior Tyler Cobian said he wishes the rally focused more on students.
"I don't know that the benefit of a motivational speaker is to us. Aren't we supposed to be rewarded for what we've already done, not like, 'Hey, you could do more?'" Cobian said.
ASB is requesting the help of 40 parents volunteers to walk with students to and from the Buena High School gymnasium as well as chaperone students during the rally. They are also asking for the help of local law enforcement officers to help direct student traffic during the walks.
Foothill students will leave Buena after the rally around 10 a.m., and are projected to be back at Foothill at 10:30 a.m. at the latest. The rest of the day will be a modified Monday schedule, with Period 1 beginning at 10:35 a.m.
Those who don't turn in their permission slips will stay in the Media Center while the rest of the school is at Buena.