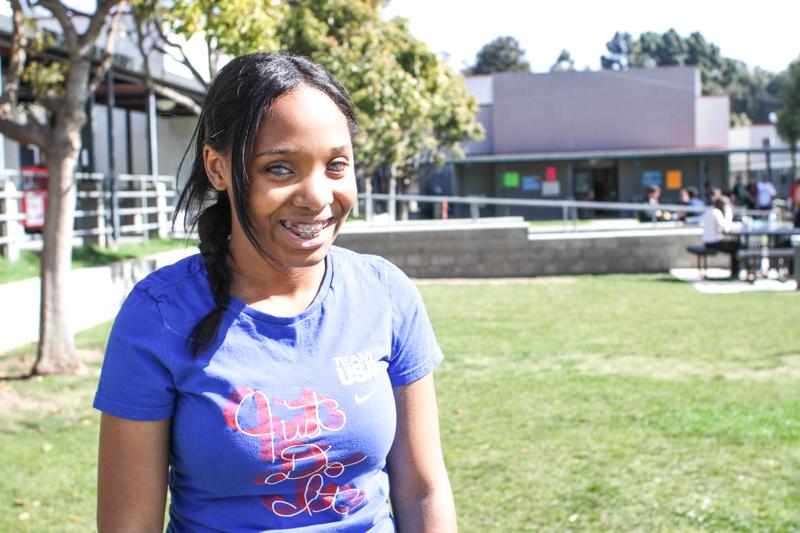 According to the World Health Organization, there are approximately 11.4 million visually impaired or blind Americans. Only one, however, has been presented an award by Stevie Wonder.
Foothill junior Brittany Richardson was the first to receive the Stevie Wonder Star Student Award, and was presented the award in person by the musical legend himself in December. Richardson was acknowledged through her academic and goalball achievements by the Junior Blind Association.
"When I found I was actually going to be able to meet [Stevie Wonder], I was like, 'Wow, that's awesome' because you know, he's Stevie Wonder," Richardson said. "He was really kind and genuine […] He was just fun to be around and made everyone laugh."
The award was established by the Junior Blind Association in celebration of the non-profit organization's 60 years of serving visually impaired and blind students and to honor Stevie Wonder, a longtime supporter and member of the Junior Blind Association's Board of Directors.
Lisett Chavarela, Director of Marketing for the Junior Blind Association, says Richardson's continuous dedication and perseverance were what made her stand out.
"Brittany demonstrated great work ethic, leadership, determination and achievement. [She is] a true inspiration and role model to other youth who are blind or visually impaired," Chavarela said.  "She has pursued all of her interests in life, refusing to allow her vision loss to deter her."
Richardson is a student with a 3.8 GPA, a national champion at goalball, enjoys singing and songwriting, and spreads awareness through humor on her Vine account. She says that this award inspired her to stay motivated and to continue to put her best foot forward.
"It inspired me to keep doing what I'm doing and to not give up, keep trying to do the best I can in school, and not just settling for the easy way out of things, the bare minimum, or just trying to get by," Richardson said.
Richardson wants to not only inspire other visually impaired youth, but make people more aware of the struggles she and millions of people face everyday with their disabilities.
"I want people to be aware, but if I inspire [others] along the way, if I inspire other visually impaired people to do what I'm doing, then that's awesome," Richardson said. "But my first goal is to educate people about the visually impaired and what to do and what not to do and really what the actual struggle is. Just because we're visually impaired and blind doesn't mean that we should automatically get excused from all of life's problems."
[soundcloud url="https://api.soundcloud.com/tracks/133779725″ params="color=ff2c00&auto_play=false&hide_related=false&show_artwork=true" width="100%" height="166″ iframe="true" /]
Richardson credits her teachers for helping and inspiring her to push further and work harder.
"I want to thank Mrs. Rodrigues and Ms. Dowler because they are always helping me with not only the subject I have them in, but with other subjects and just giving me advice," Richardson said.
Chavarela believes Richardson is the true embodiment of an inspirational leader and that she has a bright future ahead of her.
"She should be very proud of all her accomplishments," she said.