Mackenzie Lowry wins Ventura County Farm to School Logo Contest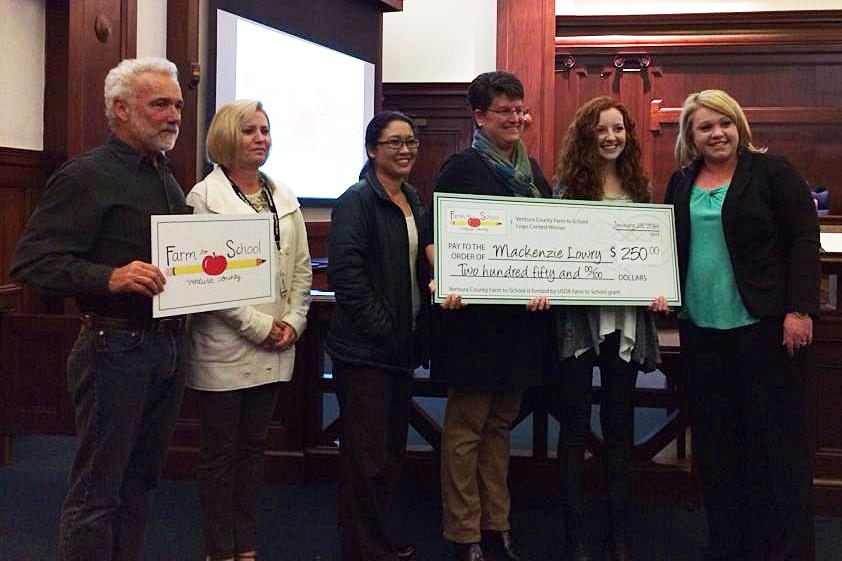 Exhausted and frustrated after taking an hour and a half long AP calculus test, senior Mackenzie Lowry was considerably excited when she learned that she had won the Ventura County Farm to School Logo Contest.
 "I was feeling horrible, but then I got an email and it said my logo won and I was like, 'What?!'" Lowry said. "It definitely made my day."
 Lowry's design will be used as the logo for Ventura County Farm to School, a program that brings farmers and school district officials together to help provide students with local produce. The group motivates children to make healthier decisions and buy local produce whenever possible.
 "[Ventura Unified School District] is trying to find local farmers who want to grow food specifically for school districts so that we can work together to source local food," Healthy School Project Coordinator Alise Echele said. "It's the best for the students and it's the best for local agriculture."
 Lowry entered the contest because she has always been passionate about healthy living and felt an immediate attachment to Ventura County Farm to School's message.
 "I was always very conscious of health. In middle school, I was obsessed with working out and I would make up [exercise] routines and I would refuse to eat fast food when we would go out," Lowry said. "To know that this company wants to take fresh fruits and vegetables to school children means a lot to me."
 Lowry's design was unveiled at the Ventura Unified School District Board Meeting on Jan. 28. She was presented with a $250 check and her design will be used as the company's logo on an array of products such as Ventura County Farm To School menus, newsletters, and aprons.
 "Her design was simple, easy to read, it could be blown up and shrunk down […] and it reflected on the goals of the schools, " Nutrition Educator Kay Clark said.
 In addition to her love of health, Lowry is extremely passionate about art and said that she has been drawing for as long as she can remember.
 Senior Christina Costa, who has been friends with Lowry for 13 years, said that her friend has been an incredible artist since they were little.
 "I was always jealous because she drew the best mermaids," Costa said.
 ASB adviser Melanie "Captain" Lindsey believes that Lowry's artistic abilities are a huge asset to ASB.
[soundcloud url="https://api.soundcloud.com/tracks/133090339″ params="color=ff2c00&auto_play=false&hide_related=false&show_artwork=true" width="100%" height="166″ iframe="true" /]
 "She can make anything look magical," Lindsey said. " I think anytime you want a logo for something or even have an idea about what something could look like, she will take it and transform it."
 Art teacher Justin Frazier has had Lowry as a student for four years and said that he is impressed by her patience and diligence.
 "I knew from the beginning that she was going to be one of my top artists," Frazier said. "She is the kind of person who is meticulous with her work […] she is very outgoing, but she's not the kind of person who dominates the room. She has a quiet grace to her."