Black Friday: An event for the brave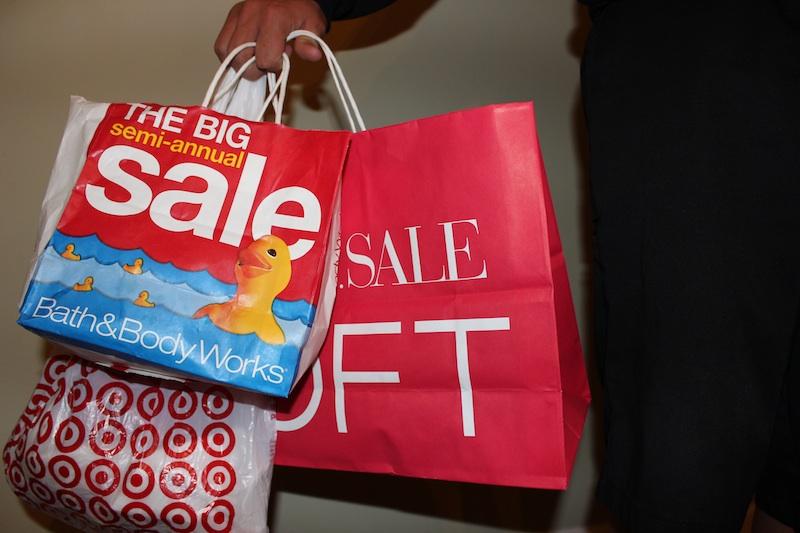 Masses surge and pound their fists on glass doors. A police officer temporarily disables 20 people with pepper spray in an attempt to quell the roaring crowds. A young man is trampled to death.
 Like something out of "The Hunger Games," Black Friday can be hectic, violent, and even sometimes fatal. The event that takes place on the Friday after Thanksgiving is a day where stores nationwide drastically cut prices to draw in consumers, marking the start of the holiday shopping season. Most big retail stores open at midnight, with some opening as early as 8 p.m. on Thanksgiving night.
 The name 'Black Friday' has two suspected origins. Some say it was brought about because police officers hated the traffic jams, overcrowded sidewalks, and shoplifting that came with the first day of the holiday shopping season.
 Another popular theory is that Black Friday is so named because when accounting records were kept by hand, black signified profit.
 [soundcloud url="https://api.soundcloud.com/tracks/122238291″ width="100%" height="166″ iframe="true" /]
 Because of the striking deals offered, shoppers can sometimes be ruthless. Since 2006, there have been four deaths and 63 injuries directly related to Black Friday shopping.
 Freshman Kyla Matthews said that because of the Black Friday media coverage, she's sometimes wary to participate. However, she thinks the Pacific View Mall, where she shops, is safer than the ones we hear about in the news.
 [soundcloud url="https://api.soundcloud.com/tracks/122240390″ width="100%" height="166″ iframe="true" /]
 Matthews gave some advice for first-time Black Friday shoppers.
"Stay with your group. Don't ever get lost," she said. "Especially if you don't have a phone. Well, I got lost last time in the Katy Perry section." 
 Some students have mixed opinions on the holiday, like senior Blake Silva.
"I think Black Friday is good because everybody can get what they want for cheap, but it's ridiculous," he said. "I think you should just have sales seasonally instead of one big day where everyone just goes nuts." 
 The Black Friday event has spread to encompass the entire weekend. In an attempt to combat Black Friday, on "Small Business Saturday" American Express offers $10 cash back to cardholders who spend $10 or more at a small business.
 Due to the rise of the popularity of online shopping, Monday has become "Cyber Monday," where deals are offered almost exclusively online. It's appealing to many shoppers because of the convenience and wide variety.
 Even so, many still prefer the in-store debacle. Sophomore Rachel Horiuchi said, "I think it's the experience. There's no other day where you would wake up at one in the morning to go shopping. And it is really fun to just get together with your friends and get up really early."
 Horiuchi said that if she were shopping at a busy place, there was one item she would definitely bring.
"Heelys. You could just roll down the aisles and grab whatever you need."
 Last year, according to CNN, 194.9 million shoppers spent over $59 billion over the four-day weekend. That was a 13 percent increase from the $54.2 billion the year before. It is estimated that the numbers will continue to climb this year.
 However, not everyone is swept up in this crazy event.
Freshman Issa Aroch said, "I've never been to Black Friday, so I don't know what's happening. I heard Black Friday was cancelled."