D-Tech boats: A battle for buoyancy
On Wednesday, 14 groups of students in D-Tech Academy held a contest amongst themselves to determine whose 3-D printed boat could withstand the most weight and survive the most turbulence.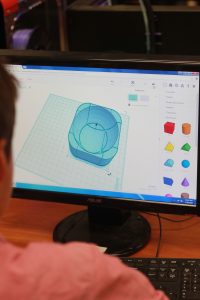 They conducted the two tests with their boat in a tub of water.
The first test consisted of dropping pennies onto their boat until it sank beneath the water level.
In the second test, waves were created by repeatedly dunking a recycling bin into the water as they progressively added pennies to the boats.
The students had been working on designing and printing their boats for several weeks. D-Tech Advisor Kurt Miller explained the goal of the project.
"I told the students that the boats had to be 10-centimeters by eight-centimeters by five-centimeters. Beyond that, I gave them very few other parameters to build these boats," Miller said.
"One [goal] was to work with those rules, number two was to learn about buoyancy and then three was to just let their creativity go wild when it came to designing."
Each student's boat was a different shape and size, and they were all creatively named, ranging from "Eggboat" to "TIE Fighter."
Juniors William Borchard and Jonah Bufford were on the winning team, placing 107 pennies on their boat before it sank.
"Our end results were good, even better than we thought. We thought it might get maybe to 100, and it exceeded that. We got 107 pennies in the first round and in the second wave test we were able to make 30," Borchard said.
[soundcloud url="https://api.soundcloud.com/tracks/246622826″ params="color=ff5500&auto_play=false&hide_related=false&show_comments=true&show_user=true&show_reposts=false" width="100%" height="166″ iframe="true" /]
However, the team faced challenges along the way, particularly with Tinkercad, the software they used to design the boats.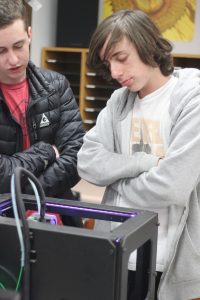 "Due to some limitations with the website we were using to design the boat, there was a seam in the final boat structure and we were just never able to get rid of it, whatever we tried."
Bufford said that the problems with the design website weren't fixable, even after trying different methods.
"We had to glue over that and even after glueing over, there was still a little leak when we had it in water," Bufford said.
Junior Talia Temkin also experienced some difficulties when designing her bowl-shaped boat.
"It was difficult to print certain designs and it's also difficult to make certain things with Tinkercad, which isn't a very detailed program. It's […] more basic shapes so there wasn't a lot of room for really intricate design."
Obstacles aside, she enjoyed the project.
In general, she's happy with the class.
"It's fun. It's really interesting getting to do things that have never been done before at Foothill."
Bufford agrees and is thankful for the opportunity to be a part of it as well.
"I think it's a really good class. I mean, Foothill is a technology school," Bufford said.
Background Photo Credit: Gabrialla Cockerell/The Foothill Dragon Press
……………
Background Photo Credit: Gabrialla Cockerell/The Foothill Dragon Press