At 5:30 p.m., students and parents alike crowded in Spirito Hall for Foothill's Student Information Night Principal Joe Bova addressed the standing-room-only crowd.
……………
At 5:30 p.m., students and parents alike crowded in Spirito Hall for Foothill's Student Information Night.
Principal Joe Bova addressed the standing-room-only crowd with a multimedia presentation along with four other speakers, Technology
Coordinator Wendy Dowler, Assistant Principal Lisa Harvill, Assistant Principal Ron Briggs, and Athletics Director Emily Stevens.
Bova spoke of Foothill's overpopulation problem and the lottery process for any concerned parents and students.
Dowler continued the presentation and spoke about all aspects of technology at Foothill.
Dowler later talked about student opportunities, including the Foothill Intervention Reinforcement and Enrichment (F.I.R.E.) program, Journalism, Associated Student Body (ASB), Speech and Debate, Yearbook, BioScience Academy and the new D-Tech Academy.
Stevens ended the presentation explaining the newly implemented sports program. Foothill now has over 10 sports to offer, from water polo to track and field.
Many students are excited to try out for Foothill's plethora of sports.
"I play soccer so I am really hoping I could get on the team," DeAnza 8th grader Brooke Stolworthy said.
8th grade Balboa student Michelle Kiln "want[s] to try out for tennis" and DeAnza student Forest Johnson wants to run on the cross country team.
After the informational presentation, members of ASB and student volunteers took students and parents around on a student led campus tour, sparing no detail at each stop.
The tour groups learned about the black box, science lab, media center, art class, photography class, and more. In the Media Center, tables were arranged for different classes such as Advancement via Individual Determination (AVID) and ASB. Each explained their program, hoping to persuade future Dragons to join their group.
[soundcloud url="https://api.soundcloud.com/tracks/242281938″ params="color=ff0000&auto_play=false&hide_related=false&show_comments=true&show_user=true&show_reposts=false" width="100%" height="166″ iframe="true" /]
At 7:15 p.m. an intermission was held with a free snack bar and coffee stand, continuing into the second meeting at 7:30 p.m.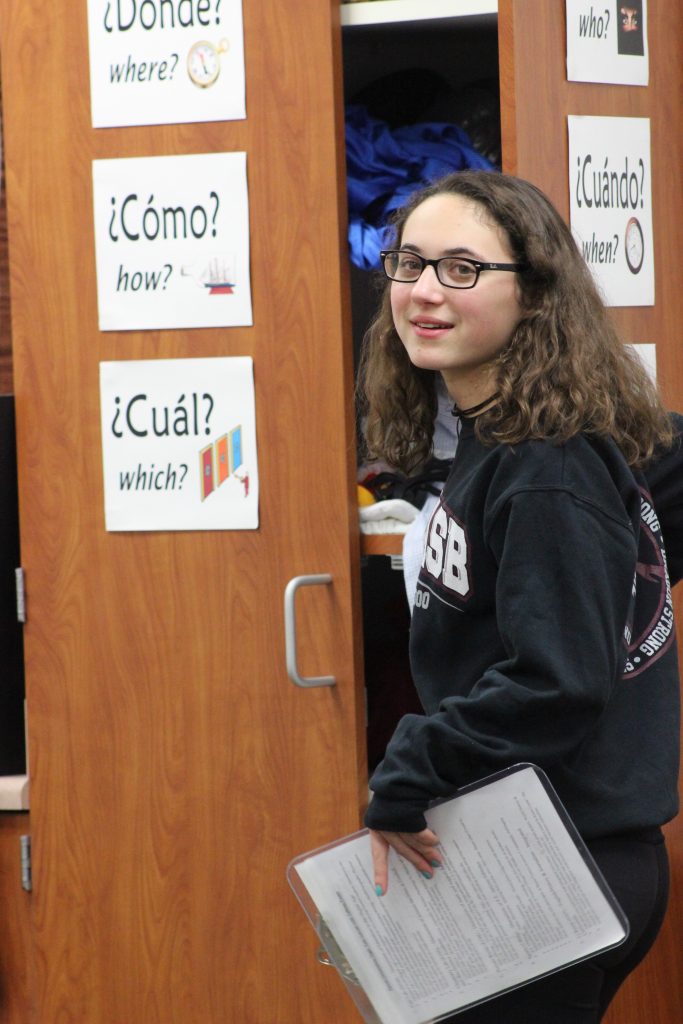 When asked why they wanted to go to Foothill, 8th grade Cabrillo student Tyler Young said he "want[ed] to get a jump start on college."
"I think there's [fewer] students, so you get [fewer] students per teacher, so you learn more, and it's higher ranked, which is also good," 8th grade De Anza student Yuvraj "Yuvi" Narang said.
Stolworthy answered, "It's a smaller school so you get to know more people."
The "School of Choice" lottery applications opened January 8th, and will close on the 22nd.
Students who have siblings currently going to Foothill will be automatically "grandfathered" in, providing that they submit an application, and the remaining slots will be filled in mid-February.
Some students who did not get into Foothill immediately will be put on a waiting list.
After the beginning of the year, students will be notified if a spot has opened and will have the choice to stay at their current school or transfer to Foothill.
Applications can be found online or in the administration office of any Ventura Unified School.
Background Photo Credit: Rachel Horiuchi/The Foothill Dragon Press