New state law for transgender students creates concern
[dropcap size=dropcap]R[/dropcap]ecent Foothill graduate Tobe Dakin didn't think his peers would be comfortable with him using the men's bathroom during his senior year. Even if if he had wanted to do so, as a transmasculine student, it wasn't a right granted to him at that time.
Very few people knew that Dakin was questioning his gender during his years at Foothill, he said in a recent interview, and it was not too long ago that he finally came to terms with his gender preference. He identifies as transmasculine, meaning he was born female but identifies with male characteristics.
"[Transmasculine] differs from transgender in basically one way: I don't particularly suffer from dysphoria, which is an unease with the characteristics that go along with your assigned gender," he said.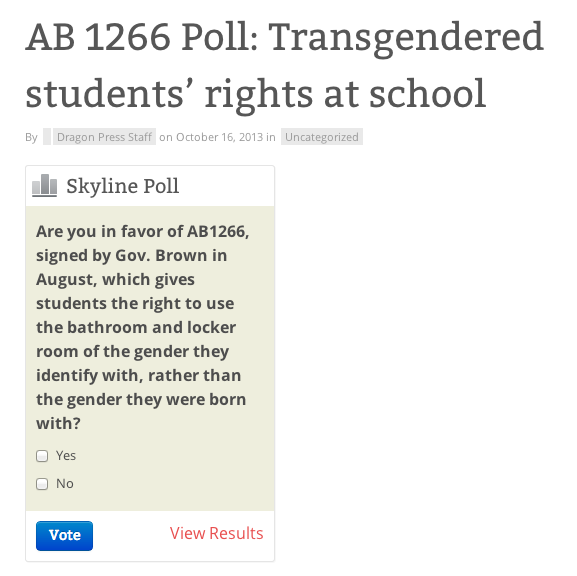 During his last semester at Foothill, Dakin started to present himself as more masculine. Despite this, he said he still felt the most comfortable in the girl's bathroom. No one seemed to mind that he was in there, he said.
"I didn't mind using the girl's restroom," Dakin said. "I would have felt out of sorts using the boy's. They would have been uncomfortable with it."
To help make school more comfortable for students such as Dakin and to protect transgender teens, the California Senate passed Assembly Bill 1266 in July.

AB 1266 gives students the right to use the bathroom and locker room of the gender they identify with, rather than the gender they were born with. It also gives students the right to play on their choice of gender-specific sports team.
California is the only state to give these rights to transgendered public school students.
The bill was signed on August 12 by Gov. Jerry Brown after it passed on the California Senate Floor. It will take effect January 1.
Principal Joe Bova stated that in the past, some schools had an informal policy to allow students to use a single stall bathroom in the health office, but he doesn't know if any previous Foothill students have opted to do so.
"That issue has not really come up in the past here. We haven't dealt with it before," Bova said.
 

Have a strong opinion about this bill? Check out the pros and cons of it. 
Some students fully support AB 1266. Credit: Lucy Knowles/The Foothill Dragon Press
A possible implementation of the bill at Foothill might be to ask students to identify themselves as transgender, Bova said.
According to Superintendent Trudy T. Arriaga, policy will be set at the district level and apply to all schools. 
"This isn't a school-by-school decision, this would be a district decision that we would implement the law in a standardized way," Superintendent Trudy T. Arriaga said.
The district must also decide how the new law affects sports teams and locker rooms. Foothill will begin athletics programs in the 2013-2014 school year. 
"We're having a conversation now at different levels with our board and with our cabinet, and eventually it will be with our principals as well," Superintendent Trudy Arriaga said.
Arriaga doesn't envision that a huge change will occur because of the bill's passing.
"We have addressed the needs of transgender youth in our high schools before this bill was written… I don't really see any big changes," Arriaga said.
Despite this, some Foothill students and staff expressed concerns about students using the law for nefarious purposes.
"It basically creates a huge loophole that anyone can just say that they are transgendered and go into any bathroom they choose and they could not be, and that's kind of creepy, and it makes me uncomfortable," said junior Ethan Tan, a member of Foothill's Gay Straight Alliance (GSA).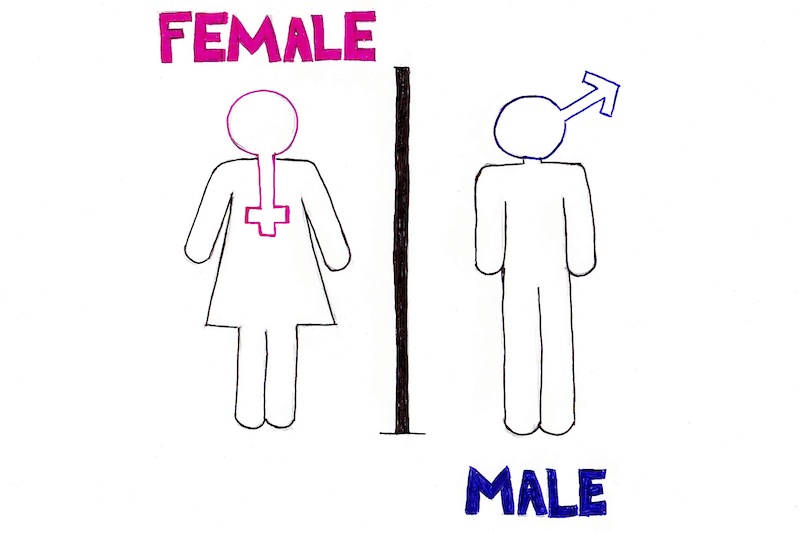 Junior Nick Vaughn said he feels similarly and wonders if the bill is detailed enough.
"Even if [a student] is not transgender, they wouldn't be able to stop him from going into the girls bathroom if he said his right is to go in," Vaughn said.
 However, Arriaga said she does not believe that this will be a problem and believes strongly that students are mature enough to handle the bill.
 "I guess I have great faith in our students, and I don't see that we're going to have students who are going to pretend to be transgender so they can have a peek in the locker room," Arriaga said. "It's never been a problem in my thirteen years as superintendent, and I don't foresee it becoming a problem."
Dakin also said he does not foresee peeping to be a large issue.
"Being transgender, or trans in general isn't something to joke about," Dakin said. "It takes a lot of mental stress to even begin to question something as 'straightforward' as gender is taught to be. I don't see students going out of their way just to peep."
Other students and staff members worry that some will be made uncomfortable by the new rules.
"I'm conflicted about the transgender bathroom law, because even though it's important that we make others feel welcome and comfortable, [the law is] at the expense of making the majority uncomfortable. It makes it a difficult decision," said Coni Carr.

"It basically creates a huge loophole that anyone can just say that they are transgendered and go into any bathroom they choose and they could not be, and that's kind of creepy, and it makes me uncomfortable," said junior Ethan Tan.

 
Dakin said he also worries that the locker room situation could be very difficult for some.
"I feel that students who are cisgender (their gender aligns with their assigned sex) could possibly feel uncomfortable with sharing a locker room with someone who doesn't have their 'parts'," Dakin said.
Despite group action to repeal the bill, doubts from students, and some parent phone calls, Arriaga said she does not believe this bill compromises students rights or safety.
"Ventura Unified has always done our very best to ensure that all students feel safe and comfortable, and so as we respond to the legislation or as we respond to the individual needs of students, we will continue to respond to the needs of all students," Arriaga said.
Senior Kristina Garcia, president of Foothill's GSA, strongly supports the bill and is happy to see greater representation for transgender youth.
"I would honestly want to support it, because I know some transgenders," Garcia said. "I know what it's like to be alienated and not being able to be yourself."
Photo illustration: Aysen Tan/The Foothill Dragon Press