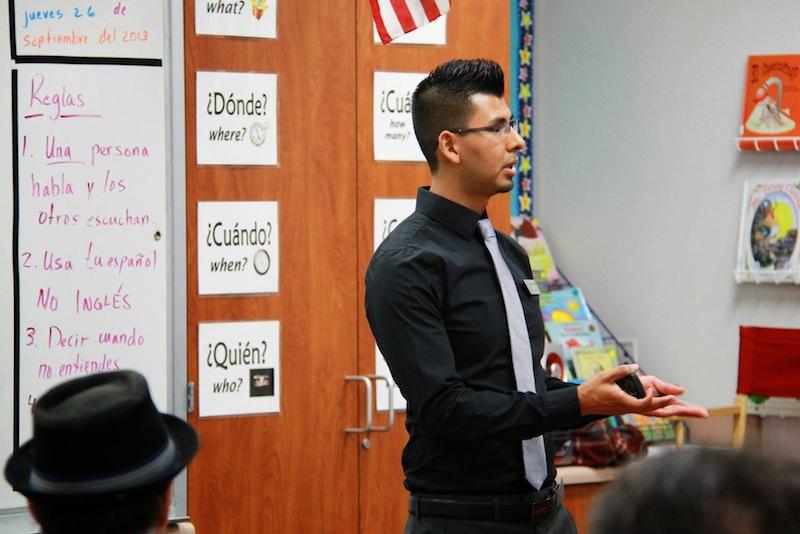 [dropcap size=dropcap]T[/dropcap]winkling lights, jazz music, and the aroma of baked goods enveloped parents and teachers alike at the annual Back to School Night on Thursday.
The evening started with dinner and performances by Foothill students in the quad as teachers and parents mingled before the scheduled classroom visits.
The event was put together by ASB, who also distributed maps of the campus and assisted in guiding the parents to their children's classes.
By connecting with the teachers and listening to information about the projects and expectations within each class, parents got an idea of what their children do every day and what it means to get involved.
"In ten minutes it's always difficult to try and explain what's happening in the school and what's happening in the classroom but I'm hoping the parents get insight of what their child does every day at school and how important it is that they talk to their child," Geography and History teacher Claire Adams said.
New attractions this year also included a "Technology Petting Zoo" in the I-Pod, where parents could see the tools and technology used within the school, such as ipads and chromebooks, and how they are incorporated in the everyday classroom.
"To make technology available to everybody is a very important part in learning and resourcing in the digital age. I think it's great," parent Tim McHale said.
Information booths along the quad gave information about organizations such as Renaissance and a chance to talk to the counselors as well.
The night ended with gift basket raffles and laughter as the campus cleared.
"We just really want to show the parents that Foothill's their school, their house and they're more than welcome here," Assistant Principal Carlos Cohen said.
.
Credit: Josh Ren/The Foothill Dragon Press
[embedvideo id="75589017″ website="vimeo"]
Credit: Kazu Koba and Lucy Knowles/The Foothill Dragon Press