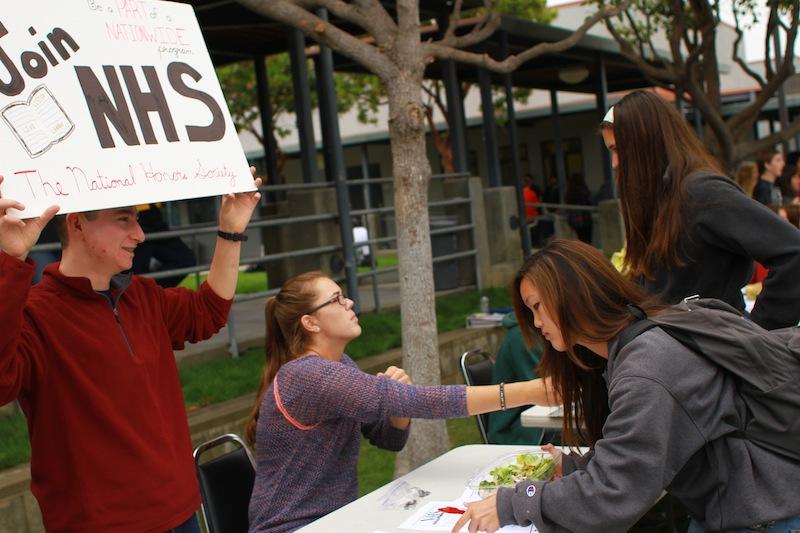 Senior Hailey Winfield boiled the philosophy of her club down to 12 words.
"We are here to party, but we're also here to do art," said Winfield, who is co-president of the National Art Honor Society club, along with senior Cali Mahoney.
The NAHS table was one of many booths across the quad during Friday's Club Rush. The annual event is put on in order to introduce new and returning students to the variety of clubs offered at Foothill.
Many established Foothill clubs sent representatives to the event. Among them were the Gay-Straight Alliance, the Anime Club, MECHA, and the Swing Dance Club.
Another one of the returning clubs at the exhibition was the Speech and Debate team, advised by Foothill teachers Jennifer Kindred and Anthony Villa.
Sophomore Khaila Hartung-Dallas is a second-year member of the Speech and Debate team. She described the type of student likely to be interested in the club as charismatic.
"I mean, it [Speech and Debate] is not for everybody," Hartlung-Dallas said. "If you like to talk, and you like to argue with people for no apparent reason, you should probably join Speech and Debate."
Several new organizations took their places alongside returning clubs, including the Asian Culture Appreciation Club, represented by juniors Josh Ren and Maddy Do-Linh and the Ping-Pong Club, founded by sophomores Karina Cole and Daisy Myring.
Senior Blake Silva is one of three presidents of Club GC, a new club on the Foothill campus. His organization was created to promote a fun and positive atmosphere for students.
"We want to have an environment in which people can just come and not feel uncomfortable, and have a positive environment where they can just be themselves, and not be judged for it," said Silva.
The club has splintered off of the Generation Church, a branch of the Christian church, though Silva attests that it is not faith-based.
Another new club to Foothill is Girl Up, an affiliate of the United Nations. Its mission is to educate girls both in first-world nations and in developing countries about health and violence prevention.
Sophomore Kailey Schuyler was pleasantly surprised at the high interest level for the humanitarian club.
"I didn't even know if we'd get 15 people, but so far, we have about 40 people signed up," Schuyler said. "People, I think, are really just excited to unite and help girls all around the world."