On Sept. 23 and 24, 2023, Main St. was enveloped in a sea of intriguing exhibits and an air of imagination as Ventura's thriving community of artists took center stage. After a hiatus due to the COVID-19 pandemic, ArtWalk Ventura returned in full swing, featuring hundreds of local artisans, musicians, poets and dancers over a weekend-long celebration of creativity. A bustling crowd of people flocked from booth to booth admiring unique creations and engaging in friendly conversation. Artists of all ages and backgrounds were recognized for their incredible contributions to our community. 
Nicole Myers
"
I love earrings. I love wearing earrings, I love fun earrings and I love big earrings.
— Nicole Myers
Myers started making small batch resin earrings about two years ago on a whim, her passion project has since turned into a business. She fell in love with the creative process and the functionality of her original jewelry, and now has a vast collection of earrings and keychains for sale online and in person at events like the Ventura ArtWalk. You can find her products for sale on her website. 
"I make small batch resin earrings and I use very special non-toxic resin…  [The earrings] must set for 24 hours minimum, but they take 72 hours to fully harden. Every time there's an imperfection, I just keep the earrings for myself! I paint in the grooves, and I clean them off. The cool thing about resin earrings is that they're so light you can wear them for a long time and they don't drag on your ears."
Frank Bauer – Bauer Krafts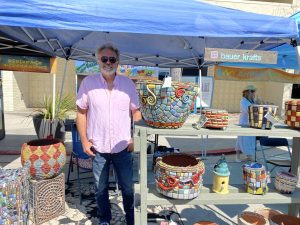 "It's Ventura, I love Ventura … I came for the crowds, the people here are really great." 
Bauer is a local artist who creates vibrantly colored, handcrafted tile pots. His art caught the eye of many passersby at the festival, and his extraordinary work is on display in multiple courtyards at The Collection at RiverPark in Oxnard. Art of this caliber requires much dedication, as just one project can take many days and even weeks to complete. 
"What makes my work a little bit different is I make the tile, I don't use broken dishes or broken tile. I start with wet clay, I roll it out with a slab roller and it comes out like a cookie sheet. And then I'll take that and I'll press it to the bottom of an antique milk crate to get the shapes … or I'll form the shapes to the contour of the piece. And then obviously I got to let it dry, glaze it, fire it, glue it on and then I have to grout it … it's a process!" 
Carrie Adams – Oceanview Woodworks 
Carie Adams is inspired by the environment around her and the power of recycling otherwise forgotten materials. She takes local scrap wood and turns it into stunning bowls, dishes and candlesticks. Adams uses her talent to give back to the community by volunteering at Cabrillo Middle School's woodshop, where she teaches her craft to Ventura's next generation of woodworkers. Visit her website to support her business and browse the selection of one-of-a-kind creations. 
"
I take old wood that they usually just throw away and make cool stuff out of it.
— Carrie Adams
"I take fallen trees and repurpose them into pieces of art. I mentor at one of the junior high schools here, and teach them how to work with wood … we do all kinds of really fun things. So I do this [Ventura ArtWalk] and then I just do art shows." 
Yvette Franco – YF Designs 13
"I like doing things that are a little on the creepy or weird side!" 
Franco sells slightly scary, yet endearing and adorable gadgets and artwork. The artist's special designs have a signature quirky touch, making them especially perfect for gifts and Halloween decor. Social media is the best way to find and support Franco, and you can follow her on Instagram.
"I create one-of-a-kind robots from recycled materials – things I find at thrift stores, yard sales and things that people give me. I also enjoy watercolor painting … and I've been doing it for about 10 years now. I do pop-up markets around town every month."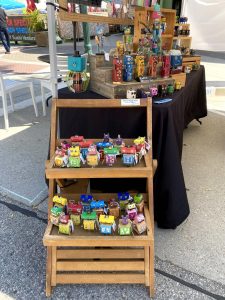 Abby Gonzalez '25 – D.A. Davidson Community Leader Award Recipient 
To add to the weekend's festivities, talented young artists were put on display in a special exhibition by D.A. Davidson. Hundreds of students entered their original work to win educational scholarships, and the exhibition of winning pieces opened Saturday, Sept. 23, in conjunction with the Ventura ArtWalk. D.A. Davidson creates a space for their outstanding work to be shared with the community, and these scholarships support high school and college-aged artists in their creative endeavors. Gonzalez, an art student at Ventura High School, won the Community Leader Award and a $2500 scholarship for her phenomenal oil painting.  
"My piece is called 'Hand with Pearls'. I painted it last school year and it was my first time using oil paints which were really fun to use. I'm really excited about the scholarship and I'm still considering what I will use it for, but I think it would be awesome to go to the UCLA Summer Art Institute next summer." 
Creativity is a human trait that possesses the power of unification, and the diverse displays that lined downtown's walkways did just that. By giving a voice to  young and the old folks alike, Ventura ArtWalk was able to bring together people from all walks of life. Inspired by the local environment, upcycling forgotten goods and crafting functional accessories, artists undoubtedly add light to our lives by sharing their gifts with the world. Whether it be paintings, music or creative writing, artistic expression comes in as many unique forms as there are people in the world. Nearly everyone can find art that resonates with them, and this freeing form of creativity is the glue that holds society together, reminding us that despite our differences, we are one.