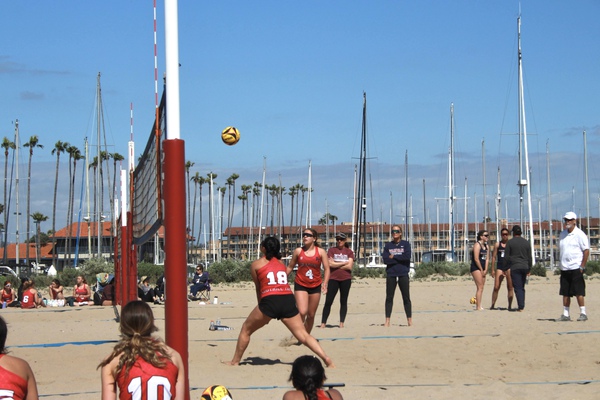 Girls' beach volleyball
2023 marked the second year of girls' beach volleyball's contumacy at Foothill Technology High School (Foothill Tech) and established the sport as an integral aspect of Foothill athletics. 
The season kicked off with the team taking the first two games of the season against Rio Mesa High (Rio Mesa) and Buena High School (Buena) 3-2, respectively. The team however could not keep a winning streak longer than two games. The team ended the season with an 8-7 record overall and 3-1 in the league, and these results pushed them to CIF.
When entered into CIF play, the team took on Oak Park High School (Oak Park) in the first round, taking the team on their home ground 3-2. However, when the team was posed against St. Margaret's High School who were undefeated in league play, they fell 1-4. 
The team was proud of their accomplishment in progressing in CIF and being able to truly display their skills outside of league play. Coach Lynz Mullaney spoke on the team's first year in CIF play and how they were able to reach this achievement, "Persistent pursuit of improvement [helped] us earn the opportunity to qualify for competing in the first-ever postseason CIF competition for beach volleyball."
Despite the teams' loss in CIF, their league performance was undoubtedly more fruitful than the previous years which has a record of 1-3 and 5-3-1 overall which brings hope for future years.
The team continues to prove themselves and earn a lot of respect for the upcoming year. The team looks forward to the next season, Mullaney stating,  "Last season, half of our players were seniors, this year, only one of our team members is a senior, and half of our players are freshmen … I can't wait to see the growth and development of our team in the seasons to come." 
Comments on articles are screened and those determined by editors to be crude, overly mean-spirited or that serve primarily as personal attacks will not be approved. The Editorial Review Board, made up of 11 student editors and a faculty adviser, make decisions on content.