Ventura's third annual Justice for All March unites community for the cause of women's rights
Amidst an array of booths highlighting disparities in equality that women face, a sea of protestors gathered in solidarity with the cause for women's rights as part of the third annual Justice for All march.
Their chants—including "no hate, no fear, everyone is welcome here" and "show me what democracy looks like—this is what democracy looks like"—could be heard from Bombay Bar and Grill. The protesters gathered in a parking lot near the grill on Jan. 19 at 10 a.m; the venue was originally planned to be Plaza Park, but it was changed due to complications in the aftermath of heavy rains.
The march's speaker lineup ranged from Foothill students like Hannah Yale '20 to political figures like Assembly Member Monique Limón, Congresswoman Julia Brownley and Senator Hannah-Beth Jackson.
In her speech, Limón devoted the march to "speaking our truth."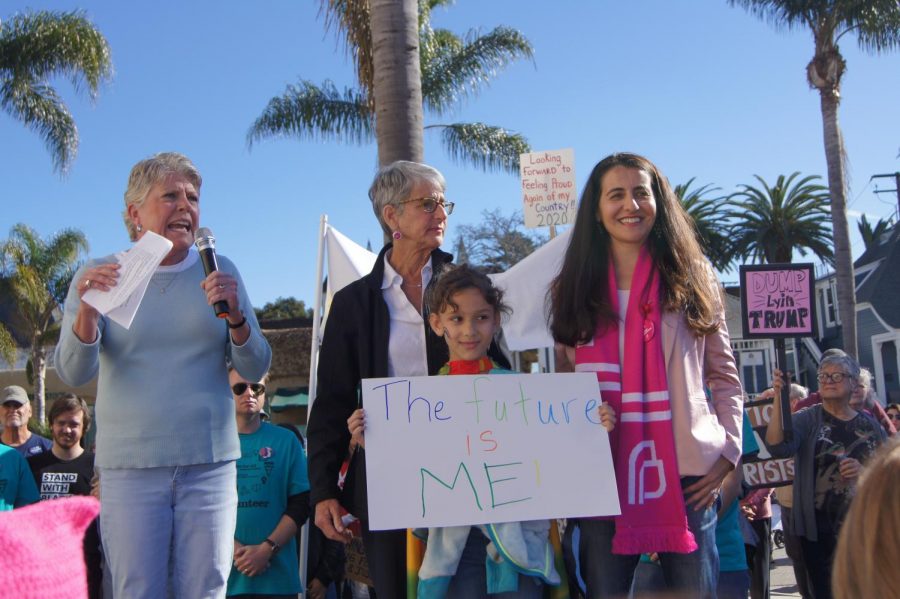 "My truth is that […] I'm using my role to empower our community to fight for the needs of working families, paid family leave, reproductive justice, access to quality, safe and affordable child care, and jobs that pay women for the incredible contributions that we make in the workforce of California," she said.
She hopes the march will help begin to heal "issues that are difficult but necessary to change."
Limón believes that in the idea behind this march, there is a paradox: on Jan. 21, the United States celebrates Martin Luther King, a "leader in the equality movement," but the same issues he sought to repair in his time "remain the core reason why so many of us are here today."
Foothill teacher Cherie Eulau, who came to support Yale, similarly expressed that although it is the "100th anniversary of women getting the right to vote, […] human's rights and women's rights are still an issue."
"Yes, we should applaud that and be thankful for that and pat ourselves on the back," she said. "But there's a long way to go."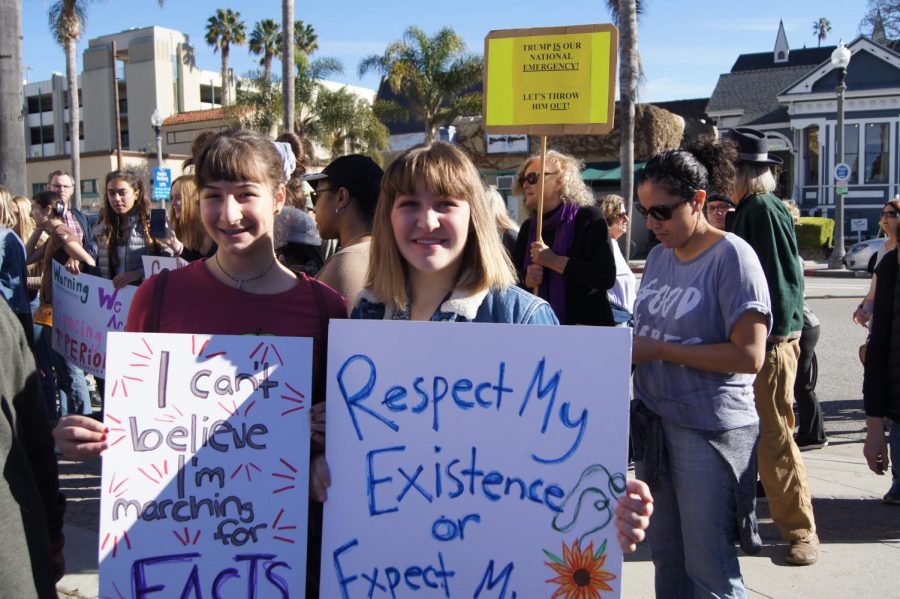 Before hundreds of enthusiastic spectators, Yale spoke about the prejudices that continue to fester in our community, and the nation as a whole. She initiated her speech by explaining that "seeds of hatred were planted carefully by our ancestors; they buried them far into the dirt, out of fear that one day, people like us would come together and try to uproot them."
"Marginalized groups have been hacking at those weeds for hundreds of years now, and as time passed, some people gave up," she continued.
However "passive" the community and citizens became, Yale was adamant that the "2016 elections brought a wake-up call for many."
The election, according to Yale, eliminated the sense of "matter" in a woman's experiences.
However, in the recent 2018 elections, which Limón claimed was "the women's march [which also] happened in November of 2018," she saw an "increase in women in office," and therefore "we are making a difference and we will continue to fight."
This is why Ventura High School student Talia Wilcox believes that the march is critical; in her opinion, it's imperative for "girls in the next generation" to "know that they can do whatever they want to do."
Jackson also mentioned the fight for future generations, saying that "whether you're nine or 90, and we've got some of the young folks here today—we are looking to you to carry that baton."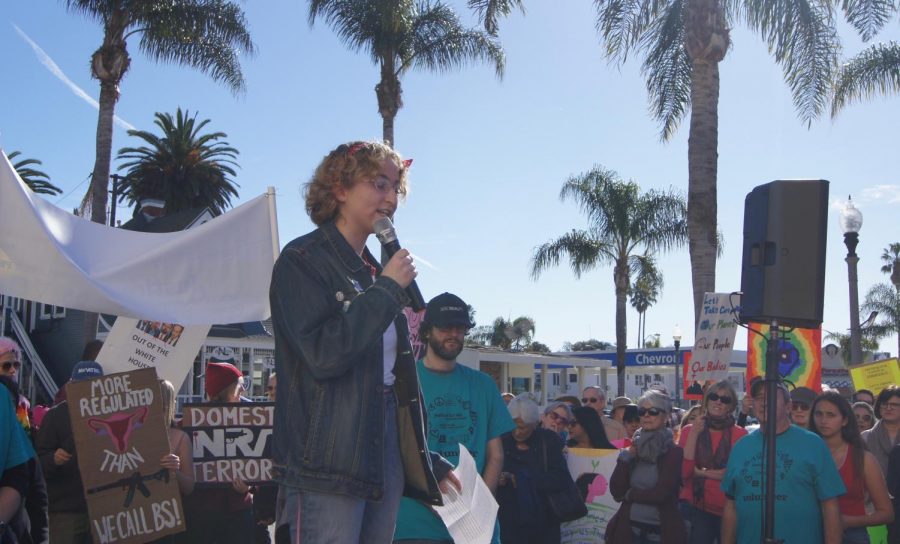 "They have the freedom to be in government, and to be in science and engineering and all those other fields that are predominantly men-dominated," Wilcox claimed.
Wilcox hopes that this march reaches the attention of the White House, and that "they do something about it, and they see how angry we are and that they see that we need change and we need it now."
Eulau believed that this march brought her into closer contact with those in the government that represent her.
"You just feel like maybe you can make a difference, locally, even if national politics feels like there's nothing you can do about it," she articulated.
By attending this march, Eulau displayed her "solidarity" with the cause for women's rights, reminding her of the strength of her First Amendment constitutional rights, as well as the idea that "democracy is a participatory sport."
Although the march was mainly focused on women's rights, many other issues were spoken about.
Yale, who attended on behalf of Foothill's "Students Against Gun Violence," touched on the subject of gun violence. She said that "when we talk about gun violence, we can't just talk about school shootings; we have to talk about gang violence, police violence and domestic violence."
She asked the crowd, "what is so fundamentally wrong with our culture that 10 million Americans are physically abused by a partner each year?"
In the conclusion of her speech, Yale urged everyone to "shout, write, paint, post, lift your signs high. Perfection may be impossible, but that doesn't mean we aren't going to try."
Leave a Comment