Track and field
Track and Field had an overwhelmingly positive turnout, with athletes progressing to either the state or regional level and taking the lead on most events along with breaking many of the school's records.
Some meets that truly highlighted the team included the Don Green Memorial Invitational, Carpinteria-Cate-Foothill Tech Tri-Meet, and the Tri-Valley League Finals. At Don Green, the largest meet in the country thus far, Jonah Billing placed seventh in the boys' 3200 meters amongst 50 other schools, running the race at 9:16.93. This broke the school's previous record and placed the athlete's time 26th nationally.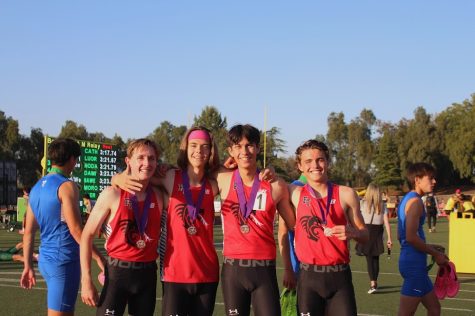 However, he went on to push the boundary of success when he hit his personal record (PR) at the APU Meet of Champions with a time of 9:08.26.
In hurdles, Charys Pyle '23 ran 17.31 in the 100m Hurdles and 48.72 in the 300m hurdles both scores setting new school records. 
Foothill also shone in the 400m relay with athletes Ashley Crist '23, Lauren Kaller '25, Adrianna Paul '23, and Brooke Pyle '23 running 50.89, also setting the school record.
As for field events, the team was very successful in breaking several records, the first of which was for shot put and discus. Maycie Duston '23 threw 107' 1" in discus and 34 '0" in shot put and Cody Bondy '24 threw 124' 1" in discus and 42' 5" in shot put, these scores setting new school records. 
Another standout competitor, Lily Shadden, advanced to CIF Masters for high jump, and her PR was reached at the Rincon Races & Field Meet at 5' 2.
Another top athlete, Cole Dinkler '23, went on to compete at Moorpark High School his seasonal PR for pole vault was 15' 2.
He also competed in the long jump. One meet that truly displayed his prowess in the event was the Carpenteria-Cate-Foothill Tech Tri-Meet where Dinkler jumped 20' 11.5" which was over two feet further than his previous scores. However, he went on to PR at the Tri-Valley League finals where he jumped 22' 1". This score placed him first in the league for the long jump and although he did not go on to compete further in the event, his PR remained unparalleled.
Comments on articles are screened and those determined by editors to be crude, overly mean-spirited or that serve primarily as personal attacks will not be approved. The Editorial Review Board, made up of 11 student editors and a faculty adviser, make decisions on content.