Boys' tennis Senior Night
Foothill Technology High School (Foothill Tech) boys' tennis embarked on their final home game of the season on April 19, where the team bid farewell to their seniors: Benjamin Wang '23 and Pascal Hayward '23. In the midst of an up and down season that culminated  in a league record of 3-2, the team was eager to prove themselves against Villanova Preparatory School. The two seniors were sent off with a win by way of a final score of 12-6.
After the athletes lined up and the competition was announced, Head Coach Daniel Fitzpatrick and Assistant Coach Richard Geib stepped forward to deliver parting words for Wang and Hayward. 
"Both of them have played all four years here … and the foothill tennis program has a lot to owe to these individuals, they are great players and a joy to have on our team," reminisced Coach Geib as flowers were awarded and tears were shed before the team began to prepare for the game ahead. 
To kick off the competition, Wang took an unsurprising win 6-0 on all three lines of singles play. Moreover, one of the three was a "golden set," meaning he did not lose a single point, a particularly unbelievable feat while continuing his undefeated streak throughout the season. 
"To watch him grow up and develop as a tennis player has been incredible and he is a wonderful player and such an important part of our tennis program," stated Fitzpatrick, reminiscing on the season and Wang's contributions.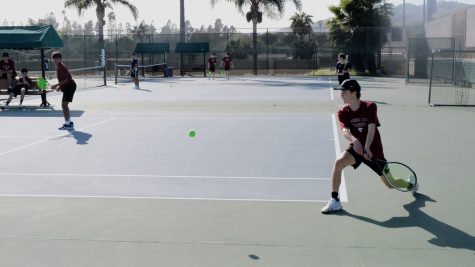 On line two, Shaurya Shyam '25 played against line one and due to a combination of the opponents consistent strokes and aggressive serves Shyam fell 0-6. In the second set, Shyam lost once again 4-6, but came back for a decisive win of 6-0 in the third. 
Closing out on line three, Greg Davis '26 lost against line one 1-6, but easily took lines two and three 6-2 and 6-1, respectively. 
With the overall score at 6-3 in favor of the Dragons, doubles only needed to keep their lead and the doubles lines delivered. Line one team Hayward and James Sokoloski '24 held up line one with two easy wins 6-4 and 6-0, utilizing aggressive net play and strong communication. 
Coach Geib reported that, "It has been such a pleasure to have [Pascal] on the team and I can speak for the team when I say they will all miss him." 
Against line three, the duo was substituted by Kelly Quinn '24 and Preston Alford '24, who won 6-3. Ansh Joshi '26 and Dylan Files '26 faltered against line one, losing in a close match 4-6 but they delivered against line two 6-4 then closed out against line three 6-0. 
The final team of Kiran Maserang '25 and Kieran Buxton '24 lost against line one 2-6 then proceeded to fight against line two, but lost again with a score of 6-7. However, the two players showed up against line three, taking the final match of the night 6-0.
As the final points were hit and the team huddled up to do one final cheer on their home turf, Mahir Shyam '25 reflected on how the season had gone, "We have had a lot of close matches … I think we have a great chance of progressing in CIF."
The following week the team competed in the first round of CIF where they lost 7-11 against Geffen Academy, this defeat concluding their season.
Comments on articles are screened and those determined by editors to be crude, overly mean-spirited or that serve primarily as personal attacks will not be approved. The Editorial Review Board, made up of 11 student editors and a faculty adviser, make decisions on content.