Fentanyl Awareness Day: With rising teen opioid overdoses, is Narcan accessible at Foothill Tech?
May 9, 2023
Fentanyl Awareness Day is May 9, a day to remember those who have been lost and teach prevention with this deadly drug. With a rapidly growing number of Fentanyl and other opioid teen overdoses in the United States, Narcan (naloxone HCI) nasal spray, a life saving medication from opioid overdose, is severely necessary to potentially save lives. But, is it available in the Ventura Unified School District (Ventura Unified) for students of schools such as Foothill Technology High School (Foothill Tech)?
What is Narcan?
Narcan is a nasal spray with Naloxone, an ingredient in Narcan that can grapple with the effects of the opioids through binding with similar receptors in the brain. In late March of 2023, Narcan was approved by the Food and Drug Administration (FDA) for over-the-counter purchase, making it available in all 50 states.
Narcan does not contain a needle because it is simply a spray, making it intentionally easily operated by those who are inexperienced. They come in simple kits that anyone can follow. Narcan is also not addictive, is unable to be overdosed and cannot get someone high, making it perfect for youth and uninformed operation. 
This drug allows time for first responders to get to the scene, potentially saving the patients life.
Do Foothill Tech students have access to Narcan?
With no announcement on Narcan availability at Foothill Tech, it had to be investigated. Anne Marie Bidlingmaier, the coordinator for Health Services and Prevention Programs in Ventura Unified, explained the Narcan availability by stating, ¨VUSD does not currently provide Narcan to the school sites. However, our Ventura Police Department School Resource Officers do carry it. Currently, our staff is working towards implementing a Narcan policy and protocols that we plan to have in place for the Fall of 2023.¨
Bidlingmaier also reassured that once they have dealt with the training and contact with distributors, they will share the future protocol with students and families of Ventura Unified.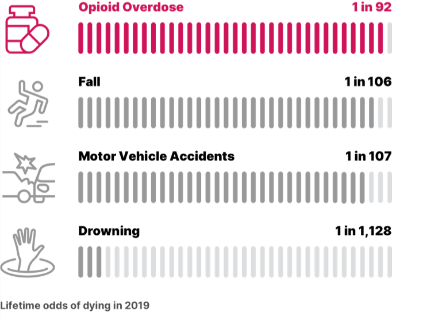 Since Ventura Unified does not yet provide Narcan to schools, Bidlingmaier said there is no Narcan currently available at Foothill Tech.
Bidlingmaier finished with emphasizing, ¨We share the same concerns expressed in our communities about the increasing risk posed by fentanyl. This dangerous narcotic is now found in many illegal drugs and can lead to overdose.¨
In a conversation with the Ventura Unified School Board president, Sabrena Rodriguez, she explained that they were currently in the process of approving Narcan at schools. Stating that opioid overdoses are a ¨totally legitimate concern,¨ Rodriguez explained that the board would be discussing the issue on May 9, 2023 during the school board meeting. The first step is a board resolution updated for drug overdoses. If approved, it will be adopted by the board during the meeting in June 2023. 
Rodriguez added that the location of the Narcan at schools would be ¨someplace that is accessible and when it's needed it's quick to grab¨ but also a location where it could not be misused or stolen. ¨Another thing that is important is to talk to students about what has changed¨ when trying substances, Rodriguez added. It's important for ¨students to understand the risks in those activities¨ and it is ¨important for them to get help¨ if there is ever a crisis, Rodriguez finished. 
Do high school students in California have access to Narcan?
According to cbsnews.com, in California a bill was introduced in the California State Assembly that ¨would require all schools to keep at least two doses of naloxone, the generic drug known also sold as brand name Narcan, on campus.¨
According to Politico.com, ¨Gavin Newsom called in his recent budget proposal for $3.5 million to supply middle and high schools with naloxone—even as a potential deficit looms and some programs face cuts.¨ Also stating, "This is a top priority," the Democratic governor said last month. "There's not a parent out there that doesn't understand the significance of this fentanyl crisis."
The Los Angeles Unified School District (LA Unified) began stocking up on Narcan immediately in the beginning of 2023 after the death of a 15 year old from an overdose and already had some stock in the beginning of the 2022-23 school year. Also in LA Unified, students will soon be able to carry around the Narcan nasal spray at school, in regards to the concern of accidental Fentanyl consumption. The LA Superintendent Alberto M. Carvalho explained the decision saying Public Health supported it as well.
What are the effects of an opioid overdose?
A high consumption of opioids overwhelms the brain and then interrupts the body's ability to breath. Types of opioids include hydrocodone, morphine, oxycodone and methadone. 
Fentanyl, now with its rainbow candied colors, is stronger than other opioids because it is used to treat severe pain. Fentanyl consumption can happen unknowingly in pills such as OxyContin and Xanax and can easily be overdosed. This overdose then leads to brain damage and/or death.
Brain damage from an opioid overdose can occur in only four minutes and fatality in four to six minutes. Opioid overdose is also the leading cause of accidental death in the United States, according to narcan.com, ¨Approximately every 8 minutes, on average, a person dies from an opioid overdose. There are many reasons for opioid overdose emergencies, and most often they happen accidentally and at home.¨
What are the signs of an opioid overdose?
The signs of an opioid overdose includes slowed breathing, unresponsiveness, blue nails and lips, skin is cold and clammy, tiny pupils, low blood pressure and slowed heartbeat.
According to nsc.org, 71% of preventable deaths from opioids occur among ages of 25 to 54 and it is only continuing to grow. Teen overdose death has also grown with the increased use of Fentanyl, making Narcan a way to help solve this issue and save lives.