Love Pho Cafe
April 6, 2023
Love Pho Cafe is one of the original restaurants in The Annex. Although pho is their signature item, the restaurant offers a great range of Vietnamese foods. From spring rolls to vermicelli noodles, Love Pho Cafe is great to visit for a quick bite or a full meal. 
Ruby: I chose to try out the cafe's signature pho. The rice noodle soup came with a light broth, slices of beef and various veggies. The broth in this pho is spicy but even people with the lowest spice tolerance can enjoy it. Every soup dish is served with a little bag of basil, jalapeños, lime and bean sprouts; these fresh additions are great inside their soups. When eaten with the provided hoisin sauce and sriracha, it is simply perfect. The pho at this cafe is a hidden gem and is nothing short of perfection. Restaurants like Love Pho Cafe don't typically have a great take-out system, but something about their quick and attentive service proves this wrong. They offer so many different foods, but each is given a high level of attention. You can't go wrong with anything from their menu. I've tried most places in The Annex Food Hall and I have found that Love Pho cafe is one of, if not the, best. Love Pho Cafe is the perfect addition to The Annex. I would give this restaurant a 10/10 rating. 
Maggie: While eating at Love Pho Cafe, I ordered the grilled tofu plate. In addition to the many flavorful bone broths and meat options you can get at Love Pho Cafe, they also offer a variety of choices for a vegan or vegetarian diet. The grilled tofu is a perfect example of its variety. If you choose to dine in you are welcomed by an inviting presentation: the flavorful tofu, grilled to perfection, by a mountain of steamy white rice, and a colorful salad available as a side dish. The food is perfect, as you take your first bite you taste the delicious, slightly crispy tofu paired with the fluffy white rice to balance the flavors; the taste is amazing. For additional flavors, the meal comes with an optional fish sauce. The tofu imitates grilled meat, giving customers a good alternative to meat options, while still tasting delicious. Overall, I give the dish a 9.55/10.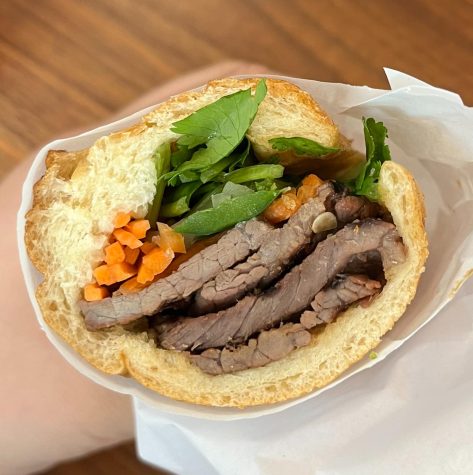 The grilled tofu is not limited to the rice plate — it is also used in Banh Mi, sold individually as an appetizer and used in other dishes, never disappointing its consumer with its flavorful taste and crispy texture. To perfect my meal I also ordered a flavorful fruit and tea drink. Love Pho Cafe sells a variety of teas, jellies and bobas that customers can mix and match. My personal favorite is Lychee green tea with rainbow jelly; their drink variety is truly impressive. My only complaint would be the seating at Love Pho Cafe: when the weekend comes around the establishment is packed and crowded, and there is limited seating. Sometimes, the wait can be a struggle. 
Julia: I ordered the Grilled Beef Banh Mi, which featured grilled marinated lemongrass beef, cilantro, pickled carrots, onion and more, all wrapped in a crispy French roll. The beef was savory and flavorful, however I personally thought that it was a little bit dry and rough to chew through. Despite that, the refreshing cilantro was definitely a great contrast to beef and it pulled the sandwich together. This sandwich was a refreshing and satisfying meal that I would rate a 6.5/10. 
I also tried the Grilled Pork Fried Rice, which is easily my favorite item on the menu at Love Pho Cafe. I am a huge fan of fried rice and I've tried it at many different places. The fried rice at Love Pho Cafe may not be particularly outstanding in my opinion, but it is definitely worth trying. The rice was aromatic and mouth watering, complemented by vegetables like carrots and peas. In comparison to other meat options at this restaurant like chicken and shrimp, the grilled pork is by far my favorite due to it being very flavorful and juicy. This dish is something that I get almost every single time I come to The Annex, and I rate it a 9.5/10.