Girls' basketball
CIF matchup
On Thursday, Feb. 9, girls' basketball will host Glendale High School (Glendale) at Ventura College in the first round of the Southern Section Division 4AA playoffs. 
Glendale comes into the matchup with an overall record of 18-8, and a record of 8-6 in the Pacific League, good for fourth place. 
Foothill Tech enters the playoffs at 14-6, with a league record of 5-1. In a eventful finish to the season, they looked poised to take first in the Tri-Valley league, sitting at 5-0 before a final matchup against Bishop Diego High School (Bishop). Without star point guard Esmi Casarez, they fell short and were defeated 43-25. 
The loss forced the Dragons to share the league title with Bishop, and introduced doubts for the team playing without their top scorer and floor general in Casarez after she injured her ankle on Senior Night versus Santa Clara High School. Previously thought unlikely, Casarez plans on returning against Glendale to the best of her ability. 
Supporting her will be the duo of Olivia Huynh '23 and Mia Gray '23, a formidable pair of veteran shooters and defenders who have been consistent contributors for their entire careers at Foothill Tech. Juniors Petra Falcocchia and Alexa Taylor provide size for the Dragons and are a dominant force inside on both ends of the floor. 
Jan. 18 league game vs. St. Bonaventure
The night of Jan. 18 saw the girls take on their rival St. Bonaventure High School (St. Bonaventure) in a league rematch. The previous competition between the two resulted in a nail-biting 30-29 victory for the Dragons at St. Bonaventure, but this time the Dragons earned a victory with a commanding score of 50-29 on their home court at Ventura College. 
The back and forth first half demonstrated offensive struggles for both teams. Turnovers and missed field goals were consistently interspersed with every made basket. Foothill Tech was able to establish early dominance in the rebounding battle, which St. Bonaventure countered with makes from behind the arc. 
The first basket of the game came from an offensive rebound and put back floater by Alexa Taylor '24, and an and-one from Esmi Casarez '23 gave the Dragons a 4-2 lead following two free throws from St. Bonaventure. 
After a lull caused by defensive fouls on each end of the floor, Seraphs shooter Bella Rico hit the first of many outside shots to give her team their first lead. A smooth post fade from center Talia Behrens '23 and a long two from Rico extended their advantage, but the Dragons clawed their way back to an 8-9 deficit after a two pointer from Olivia Mowad '24 and another from Casarez to punctuate the end of the first quarter.
The second period featured a remarkable four jump balls, as each team reasserted their presence on defense. Mid range shots from Mia Gray '23 and Casarez were matched by another three from Rico, and one free throw for both teams evened the halftime score at 13 all.
Commenting on her team's defensive focus, Gray stated, "We've had a lot of discipline during practice and have worked together as a team, and I think just being disciplined and communication has been good for us."
With the game seemingly on track to finish similarly to their last matchup, the Dragons opened the floodgates in the second half. Casarez kicked to starting shooting guard Olivia Huynh '23, who hit a characteristic corner three to end her first-half struggles. Their momentum increased when a three from Gray on the ensuing possession gave Foothill Tech a 19-15 lead.
On fire, two layups from Gray bracketed a deep straightaway three from Casarez to increase the lead to 27-17. Emma Coray '23 joined the party from behind the arc with a wing three of her own, and Petra Falcocchia's third free throw of the game pushed it to 31-19. 
Coray attributed the win to fundamentals, namely, "Communication, intensity and really good defense.
Inspired full court defense from Lauren Kaller '25 led to a two for Coray, and an offensive flurry of buckets from Mowad, Gray, and three consecutive transition layups for Casarez put the game out of reach with just a few minutes to go.
Taylor iced the game even further with six straight points, and five more points from Rico proved to be futile in the contest that finished 50-29 to give the Dragons a 4-0 league record. 
Head Coach Chuck Ferris noted his team's growth, saying, "I think they've kind of found their identity, and they're pushing the ball down the court, they've turned into one heck of a defensive team, I'm real proud of them." 
The girls are finishing out the season with high hopes according to Coach Ferris. "If we can continue playing like we're playing right now, we'll do just fine. We'd like to close out league and hopefully get a good draw in CIF, take it game by game."
Senior Night
One of these remaining league games was Senior Night, on the evening of Jan. 31. The emotional game followed a ceremony in which the Dragons appreciated their four seniors by giving speeches and handing out flowers, necklaces and letters. 
Gray remarked on the festivities, "It was nice feeling celebrated and seeing all of the work our team put in to make us feel appreciated that night"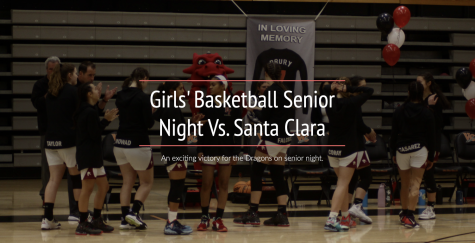 They bested Santa Clara High School with relative ease, at 46-35, but the joy attached to the win was severely dampened by a severe injury to the ankle of Casarez with less than a minute remaining.
The disheartening finish to an otherwise impressive regular season has tested this team's adversity as they approach their first round playoff matchup, hoping to avoid a repeat of last year's first round exit on the same floor against Burbank High School.
Comments on articles are screened and those determined by editors to be crude, overly mean-spirited or that serve primarily as personal attacks will not be approved. The Editorial Review Board, made up of 11 student editors and a faculty adviser, make decisions on content.