Best of 2021: TV shows
Fate: The Winx Saga
Tune in to this Netflix original fantasy show to bring back the nostalgia of the 2004 animated series, Winx Club, and to partake in an adventure with the students of the Alfea College for Fairies. The story is told through the lens of new college student Bloom Peters (Abigail Cowen), who wants to discover her magical abilities. She joins in on the occult adventures with her suitemates Stella (Hannah van der Westhuysen), Terra (Eliot Salt), Musa (Elisha Applebaum) and Aisha (Precious Mustapha). Along the way, Bloom has the opportunity to meet more fairies including Beatrix (Sadie Soverall), Riven (Freddie Thorp), Sam (Jacob Dudman), Dane (Theo Graham) and Sky (Danny Griffin). 
Ted Lasso
This year, we received another season of Ted Lasso, a heartwarming TV show about American football coach Ted Lasso (Jason Sudeikis) coaching a British soccer team. With the help of his assistant coaches, Coach Beard (Brendan Hunt) and Nathan (Nick Mohammed) he works to not only help the team improve and win games, but also to help them bond with one another and better themselves as people. As that is going on, former player Roy Kent (Brett Goldstein) explores ways to reconnect to the sport all while building a relationship with his girlfriend, Keeley Jones (Juno Temple). Despite the show being thought of as a comedy, this season made an effort to scratch deeper than the surface by addressing serious issues such as mental health awareness, coping with loss and the dangers of an abusive relationship. The contrast between the joyful, comedic aspects and serious issues added depth to the show and reminded viewers that there are both elements in life itself. 
Squid Game 
Watch the psychologically-thrilling Netflix original that took the internet by storm to see an interesting perspective of triumph and defeat portrayed by protagonist, Seong Gi-hun (Lee Jung-jae) and side characters Kang Sae-byeok (HoYeon Jung) and Abdul Ali (Anupam Tripathi). These characters, along with 453 others, must compete in a series of children's games to win a lucrative financial reward that can pay off any debt they have. However, with these games comes a new and twisted definition of "elimination" that leaves viewers shocked and on the edge of their seats, wondering what will happen next.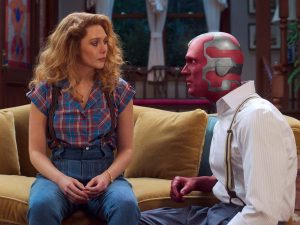 Wandavision
Wandavision is a television show set in the Marvel Cinematic Universe (MCU). The whole show takes place within a different show starring the two superheroes, Wanda Maximoff (Elizabeth Olsen) and the deceased synthezoid Vision (Paul Bettany). Each episode is based off of iconic television shows from each decade, starting in the 1950's and ending in the 2000's. The show follows the lives of the happily married couple as they navigate their lives in the town of Westview. However, as time goes on, they start to notice that things are not quite right in the "simple" town they call home. This show is a cinematic masterpiece, complete with stunning graphics and costume/set design. Not to mention the storyline, which draws you in with constant plot twists. 
Ginny and Georgia
Watch this Netflix original drama to see the adventures of 16-year-old Virginia (Ginny) Miller (Antonia Gentry) in Wellsbury, Massachusetts. Upon moving to Wellsbury, Ginny is thrust into the tumultuous situation of maintaining relationships with her friends Maxine (Max) Baker (Sara Waisglass), Abby Littman (Katie Douglas) and Norah (Chelsea Clark), her mom, Georgia (Brianne Howey) and her love interests, Marcus Baker (Felix Mallard) and Hunter Chen (Mason Temple). Follow along with the drama to find out which relationships Ginny will maintain and which ones she will cut off. 
Comments on articles are screened and those determined by editors to be crude, overly mean-spirited or that serve primarily as personal attacks will not be approved. The Editorial Review Board, made up of 11 student editors and a faculty adviser, make decisions on content.