Romeo and Juliet laws: Understanding the age of consent
December 26, 2021
It started when as a starry-eyed freshman, I overheard a group of seniors discussing their two friends, a couple, one of whom turned eighteen before the other. They were talking about this thing called the Romeo Juliet law, which legalized sex between legal adults and minors if they were close in age. Or if they were in a relationship before one turned 18. Or something to that extent.
As it turns out, there isn't a Romeo and Juliet law, or a close-in-age exception in California: any situation of sexual intercourse between a legal adult and a minor is considered statutory rape.
There are two stipulations to make. It's worth noting that the term "Romeo and Juliet exception" sometimes refers to the lighter fines and sentencing in statutory rape cases where the perpetrator is no more than three years older than the minor. 
By a similar logic, a strictly statutory rape case that involved two individuals very close in age could be dismissed as a frivolous lawsuit. And obviously, close-in-age exceptions exist in other states. The second stipulation is that, technically, all sex between people under eighteen is statutory rape. 
The law is encased in California penal code 261.5. Any person who engages in sexual intercourse with a minor, within three years older or younger, is guilty of a misdemeanor. If the minor is more than three years younger, then the person can be found guilty of either a misdemeanor or a felony and imprisoned for up to one year in county jail. (This law applies even if they're both minors.) 
If a person of 21 years or older engages in sexual intercourse with a minor who is 16-years-old or younger he, she or they are guilty of a misdemeanor or a felony and may be imprisoned for up to one year in county jail or according to any imprisonment laid out in section 1170.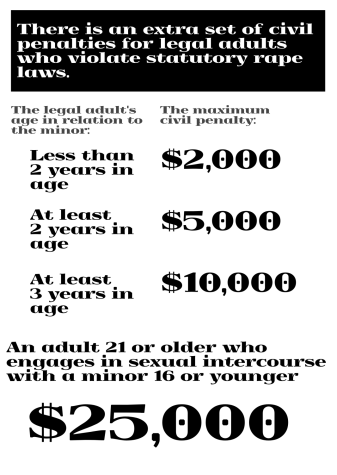 In some ways, it seems arbitrary that consensual sex between two people can be "okay" one day, and not "okay" the next. High school is the perfect setting to observe this dynamic in real-time. Legal adults mixed in with minors—fresh out of middle school—and plenty of 17 and 18-year-olds dating each other. 
Another interesting feature of statutory rape laws was the way that oral sex was classified up until recently. Leftover from old anti-sodomy laws, if convicted of oral copulation with a minor, the perpetrator would have to register as a sex offender. In the modern area of sex positivity, this split between oral copulation and sexual intercourse is almost inverted.
California passed a bill in 2020 which eliminated LGBTQ+ bias in statutory rape cases and left sex offender registration to the discretion of the judge.  
Statutory rape has gotten ensnared in feminist convictions throughout the centuries. Early feminists advocated raising the age of consent to protect young women from exploitation and to preserve the sanctity of marriage and virginity. During the sexual revolution of the '60s and '70s, feminist convictions shifted towards lowering the age of consent, as not to impede women's sexual freedom.
Also emerging in the 1970s was a movement to apply statutory rape laws to all minors, regardless of gender. But in 2003, the US Supreme Court ruled 5-4 that it is constitutional for statutory rape laws to apply differently to young women than young men because the consequences of sex (i.e. pregnancy) are different for women. 
The age of consent is a complicated concept, but statutory rape laws are vital in making sure that rape cases involving minors are processed to the fullest extent of the law. It seems that your love story won't be a tragic one, as long as you and your star-crossed lover are faithful at heart in refraining from suing each other for statutory rape.