Anna Tivy (used with permission)
Nick Tivy '22: "Being on the ice is completely different than anywhere else"
Ice hockey, while not overly popular in sunny California, is a common sport in the majority of the United States. The fast-paced and physical game is played on—you guessed it—a slab of ice. Five players from each side cue off at center ice, covered in copious amounts of gear and armed with a stick to puck handle, pass and shoot with. The two defensemen and three forwards on each team work together to get the puck behind the opposing team's goalkeeper and into the net.
Nick Tivy '22 is one of the six defensemen on the Ventura Mariners 16U team, preferring the left wing. Unlike most other sports, ice hockey is played in short shifts where players change out with someone who plays the same position about every two minutes. This is due to how strenuous ice skating is, and ice hockey is a sport that's almost constantly moving. It is extremely competitive and "some would say it's a little violent," according to Tivy.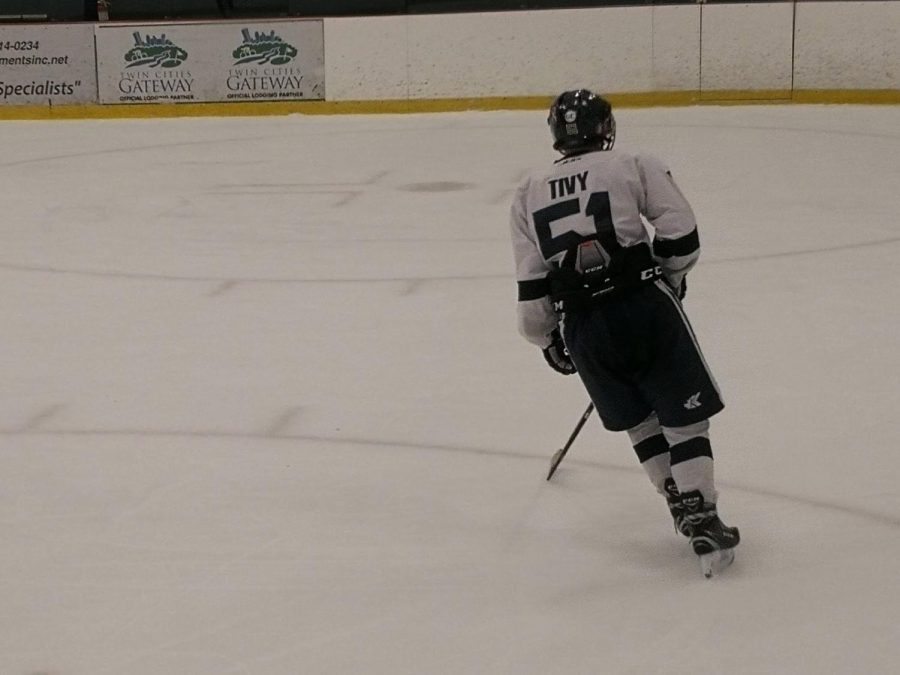 Due to the fact that hockey is played on ice, the athlete doesn't only have to have good technique as far as shooting or passing, but also have the qualities of a good skater. This requires dedication and a time commitment, as "it's not just what you do in practices; it's what you do in your own time," Tivy says.
He spends his time off the ice at the gym and keeping up with healthy eating habits. Tivy pointed out that stamina is a big factor: "how much you can recover, breathe" and stay energetic on the rink has a huge impact on your playing time and effectiveness—iin addition to skating, speed and puck-handling skills.
"If you're not good in one of those areas, you won't be good overall as a player," he said.
Tivy reflected on his comical beginning in ice hockey: "I have allergies, and I was just allergic to the environment and literally every sport has grass. I'm allergic to grass."
As an alternative, his mom encouraged him to try skating on the ice, and he loved it. Tivy was a natural, and after about of month of skating at age 5, he was asked to join one of the rink's teams by one of the hockey coaches. Ever since then, Tivy has played travel hockey at "tons of rinks," spanning from Oxnard to Valencia to Simi Valley.
Playing ice hockey has afforded Tivy many great experiences to travel to lots of different states throughout the United States. One of his most memorable trips was in 2015 when his team won the state championship. His biggest takeaway is something that has affected multiple facets of his life: "Success doesn't happen right away; you have to work hard for it, and you can't stop working hard."
This self-discipline and determination has translated into everything Tivy does.
Although Tivy started at a young age, he believes that "you don't have to start really early to be good and to be competitive."
While the oldest Tivy suggests is around 12, there are adult leagues for every level from beginners to advanced. Some rinks even provide a special 40 and above league for older individuals who still love the game. While the prime age for professionals in the National Hockey League  (NHL) is around 25, many people continue to play into their 50's.
He loves the community feeling and the fact that each new team means a new set of friends to share his love for hockey with. "Being on the ice is completely different than anywhere else," Tivy said.

Comments on articles are screened and those determined by editors to be crude, overly mean-spirited or that serve primarily as personal attacks will not be approved. The Editorial Review Board, made up of 11 student editors and a faculty adviser, make decisions on content.